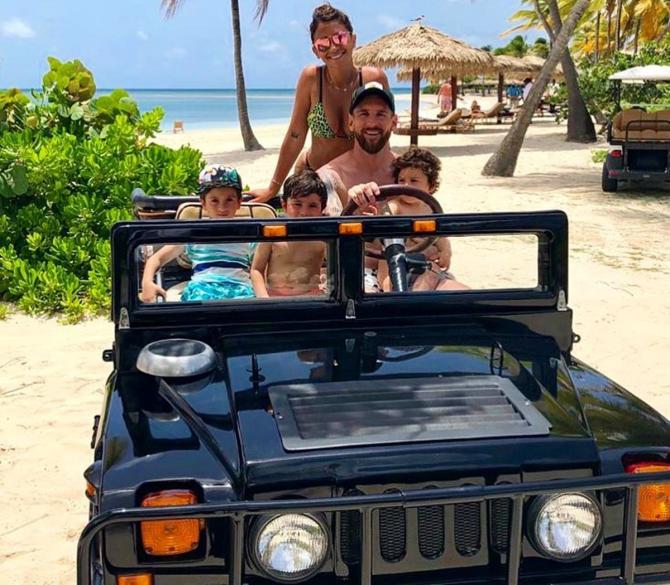 Lionel Messi has been at Barcelona for two decades and has established himself as arguably the greatest player to have ever played the game.
Despite his wealth and popularity, Leo lives in a comparatively modest house in the suburbs in Barcelona.
He drives his kids to school and plays football with his sons.
The Argentine was in the news as he wants to leave his boyhood club, but remains an irreplaceable presence for Barcelona.
The six-time World Player of the Year and Barca's all-time top scorer came close to leaving the Catalans in August after his relationship with then club president Josep Maria Bartomeu turned sour. The soccer superstar later confirmed he would stay at Barca as he did not want to face a legal battle.
The 33 year old opened up about the toll the saga took on his family.
He told Goal.com: 'Mateo is still little and he doesn't realise what it means to go somewhere else and make your life a few years elsewhere.'
'Thiago, he is older. He heard something on TV and found out something and asked. I didn't want him to know anything about being forced to leave, to have to live in a new school, or make new friends.'
'He cried to me and said, "Let's not go." I repeat that it was hard, really.'
'My sons, my family, they grew up here and are from here. There was nothing wrong with wanting to leave. I needed it, the club needed it and it was good for everyone.'
Messi's love for Barcelona, who he joined when he was just 13, is so deep that he could lower his salary demands in order to stay.
The aura and talent that Messi brings with him is unmatched. Take a look at his life in Barcelona: