'If we had not won the gold medal, then hockey would have suffered in India.'
'There would have been so much negativity if we came back empty-handed.'
Hockey greats Vasudevan Baskaran, M M Somaya and Mervyn Fernandis tell Harish Kotian/Rediff.com about India's gold medal-winning campaign at the Moscow Olympics 40 years ago.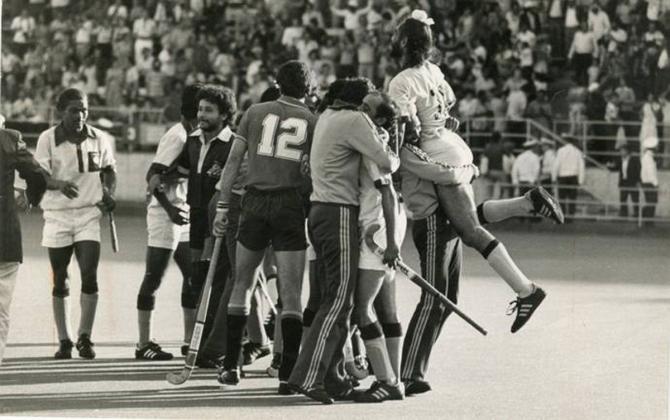 July 29, 1980 is a day Indian hockey fans and players will always remember.
It was the last time India won the men's Olympic gold medal, a record eight, at the Summer Games.
Four decades have passed since that historic achievement by Captain Vasudevan Baskaran and his young Indian team in Moscow, but the memory remains as fresh as ever.
The Moscow Olympics was boycotted by 66 countries to protest the then Soviet Union's invasion of Afghanistan in December 1979. Among them were top hockey nations like medal winners at the previous Games -- New Zealand, Australia, Pakistan, Germany and The Netherlands.
Despite the absence of top teams, the Indian hockey team knew they had their task cut against European champions Spain, Poland and hosts the USSR, whose players were well-accustomed to playing on astroturf.
India's path to the gold medal at the 1980 Olympic Games in Moscow:
League stage:
India beat Tanzania 18-0 (Surinder Singh Sodhi 5 goals; Davinder Singh 4; Vasudevan Baskaran 4; Zafar Iqbal 2; Mohamed Shahid 1; Merwyn Fernandis 1; M K Kaushik 1).
India drew with Poland 2-2 (Davinder Singh 1; Merwyn Fernandis 1).
India drew with Spain 2-2 (Surinder Singh Sodhi 2).
India beat Cuba 13-0 (Surinder Singh Sodhi 4; Mohamed Shahid 2; Davinder Singh 2; Rajinder Singh 2; Amarjit Singh Rana 2; Vasudevan Baskaran 1).
India beat the USSR 4-2 (Davinder Singh 1; Surinder Singh Sodhi 1; Mohamed Shahid 1; M K Kaushik 1).
FINAL:
India beat Spain 4-3 (Surinder Singh Sodhi 2; M K Kaushik 1; Mohamed Shahid 1).
India, having finished a lowly seventh at the 1976 Games in Montreal, took a gamble by fielding a young, inexperienced, team, many of whom were featuring in their first Games.
Many of the newcomers had never played on astroturf, which was the playing surface in Moscow.
Having received a pep talk from the legendary Field Marshal Sam Manekshaw -- the former army chief who led India to victory in the 1971 War -- before leaving for Moscow, the Indian team started on a rousing note.
Captain Baskaran remembers how Field Marshal Manekshaw's eye for detail helped the team immensely during preparation for the Games.
"There was no Indian Olympic Association or Indian Hockey Federation those days, so Fielf Marshal Manekshaw was there to oversee the camp in Bengaluru as chief of the All India Council of Sports," Baskaran recalls.
"The field marshal came in person to watch the team train and he spoke to the players. He was the one who made me the captain, and he said it was not because of my seniority, but looking at the future of Indian hockey," Baskaran remembers.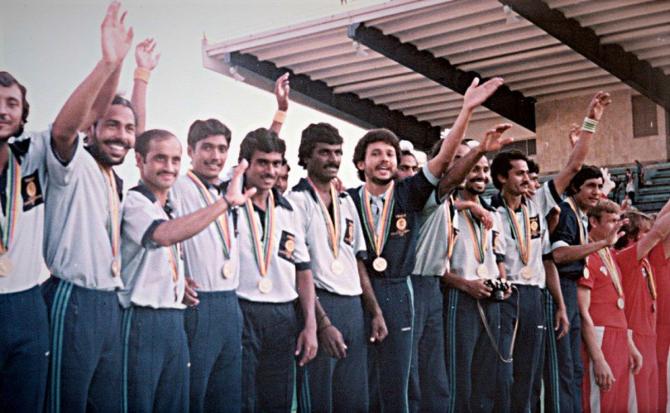 Basakaran believes that Fielf Marshal Manekshaw's decision to send the team early to Moscow to get the players accustomed to playing on astroturf was key in their success.
"He felt we should go 10-12 days before the tournament so we were sent early and because of that we got the chance to practice on astroturf."
"We did train hard in Moscow. We spent more time on the hockey field practicing rather than at the village. I think we hardly slept for 4-5 days because we spent all our time practicing on the astroturf."
M M Somaya, playing in his first Olympics, remembers when Field Marshal Manekshaw refused to budge and dropped an experienced full-back for reaching the camp in Bengaluru a couple of days late.
"Surjit Singh, a famous full-back, came to the camp a few days late and that was the time Sam Manekshaw came too; and because he did not come on time he dropped Surjit from the team."
"He was a strict disciplinarian. If not for that incident, Surjit may have captained the team at the Olympics," Somaya recalled.
"Sam Manekshaw gave us a pep talk, saying you need to play well and give your best. He had an aura around him, so his presence was inspiring. At least half the team was very young, Merwyn (Fernandis), (Mohammed) Shahid, Ravinder (Pal Singh), me and a few others."
"It was a good pep talk and it did boost our morale; it was an inspiring speech.
Only four players in the Olympic-bound squad -- Baskaran, Merwyn Fernandis, Somaya and Zafar Iqbal -- had played international hockey before the Olympics.
Veterans Ashok Kumar, Govinda, Ajit Pal Singh and others dropped from the Moscow-bound team.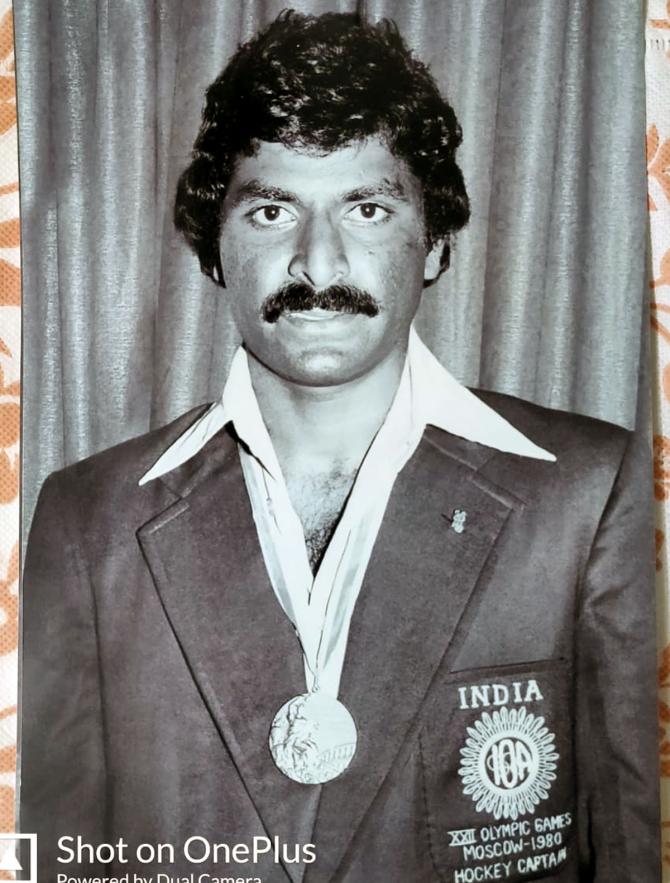 Fernandis, who scored the crucial equalizer against Poland in the league stage, credits Olympic legend Leslie Claudius -- who had taken part in four consecutive Olympics -- and Muniswamy Rajagopal, the selectors of the Olympics-bound team, for the success.
"They were great motivators. They would tell us all the time that there is nothing better than winning an Olympic medal. Rajagopal was my coach in 1979 for the junior World Cup, so there was a lot that he and Leslie Claudius taught us about the game," remembers Fernandis. "Those days we had the 5-3-2-1 formation, so they were in sync with the game."
"In 1980, we played the same formation, so they had a lot of ideas to share about how the game was played," remembers Fernandis, who after captaining India at the junior World Cup in Versailles, France, in 1979, represented India at the 1980, 1984 and 1988 Olympics.
Somaya believes that Coach Balkrishan Singh, who had coached the Australian women's team, was a master tactician. He remembers that when it came to the final against Spain, it turned out to be the battle of coaches -- Balkrishan and the legendary Horst Wein, who was coaching Spain, and later went on to work with the Barcelona football team.
"Our coach Balkrishan Singh was a very good tactician so he made us play a very attacking style of hockey in the final. In the league matches, we were playing a little cautious because we didn't want to take risks, but in the final we played an all-out attacking game."
One of the turning points for India during the tournament was Fernandis's crucial last-gasp goal against Poland which enabled India escape with a 2-2 draw.
40 years later, Baskaran still can't get over the goal, which he describes as his life-saver!
"That goal by Merwyn saved me. I had missed a penalty-stroke in the match and I would have been thrown out of India if he had not scored the last minute goal. That was the biggest turning point for us," the captain says.
"We were struggling in that match, there was some rain too and Poland is a tough team to play against. They rely on defence, they don't come out and they form a wall which is difficult to penetrate, they are very good at man-to-man marking also."
"That goal was magical for us, it gave us a lot of hope going forward in the last couple of matches," Basakaran remembers.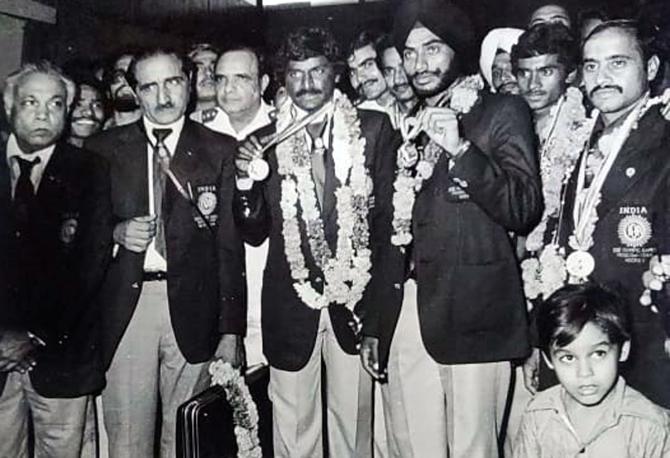 "Having a young team meant that the team did not carry any burden of the past and the players were able to express themselves freely on the field," says Fernandis.
"There was no burden at all. At the same time, when you are representing your country at the Olympic Games, the pressure is always there."
"We had a great captain in Vasudevan Baskaran who was like a brotherly figure, a friendly figure; he always kept all of us very comfortable in the team, not putting any pressure on us."
"When you are playing in a team under pressure it makes things difficult for you some times. As a captain, he was a great guy."
"Since we were all youngsters, Mohamed Shahid, Somaya, Ravinder Pal Singh, Surinder Singh Sodhi, myself, we were all trying to help each other, create the understanding in the team to perform well."
"The pressure was not much because we were hardly known then. We were hardly spoken about. The big names were missing. I don't think anyone even spoke about us going into the Olympics because there was a boycott by the top teams," he says.
Baskaran remembers how no one gave the young Indian team any chance of winning a medal in Moscow before they left for the Games.
"I remember we stayed in Delhi for two days before we left for Moscow to meet the officials. Before we left, some senior journalists had given us the title 'Babes of Indian Hockey'. So when we returned with the gold medal I gave it back by starting my interview with 'The Babes of Indian Hockey have won the gold medal'," remembers Baskaran.
If India had not won the gold medal Baskaran believes players like Somaya or Mohammad Shahid would not have the careers they did.
"If we had not won the gold medal, then hockey would have suffered in India. There would have been so much negativity around if we came back empty-handed. This bunch of players that played in 1980 went up to the 1988 Olympics and did quite well for the next 8 to 10 years," he says.
"If not for that gold, I think people like Shahid or Somaya would not have made any history in Indian hockey. Maybe they would have been dropped or they would have given up after a few years."
---