'Indian hockey will lose out on one of its most important nurseries of good hockey talent.'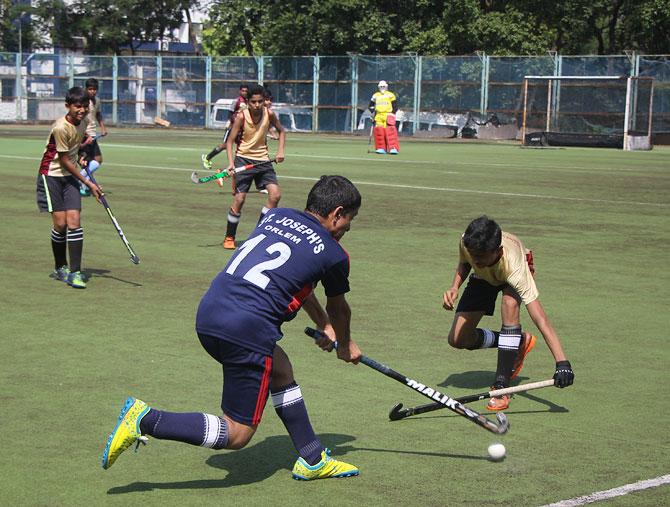 The Indian Olympic Association's latest directive to implement the 'One State, One Association' diktat across all sports federations in the country threatens the existence of hockey in Mumbai.
Hockey and Mumbai go a long way, the Mumbai Hockey Association having been in existence for nearly nine decades.
The MHA was founded as the Bombay Provincial Hockey Association Limited on October 2, 1934 at the Oval Maidan in south Bombay.
The Bombay Gold Cup, one of the most popular club tournaments in the country, has been played for 65 years and its first final in 1955 was attended by then prime minister Jawaharlal Nehru.
The recent developments threaten to bring Bombay/Mumbai hockey and Indian hockey's long and fruitful partnership to an abrupt end.
The reforms suggested by the Justice R M Lodha Committee, initially meant to bring about sweeping changes in the Board of Control for Cricket in India, have now been recommended for all sports associations in the country by the Indian Olympic Association from July 1.
As per the ruling, Hockey India will have one association from the state of Maharashtra, thereby rendering the end of historical hockey associations like the Mumbai Hockey Association and the Vidarbha Hockey Association who will both come under the Maharashtra Hockey Association, based in Pune.
M M Somaya, a member of India's gold medal-winning team at the 1980 Moscow Olympics, believes if the 'One State, One Association' recommendation is implemented, it would jeopardise the future of hockey in the city.
"If we don't have a separate team for Mumbai at the Nationals, which is an important selection tournament, then you are reducing the chances of people representing the state," Somaya, an offspring of the Bombay hockey system, tells Harish Kotian/Rediff.com.
"People may not get jobs in major organisations because of this. This is part of the ecsystem here," Somaya points out.
"If you don't have teams supporting hockey, then gradually schools and colleges will not make their children play hockey," the hockey ace warns.
"It is already happening; many business houses, like the Tatas, Mahindras, Air India, are all out of the league here (Mumbai)," says Somaya who played for the Mahindras for many years.
"In colleges in Mumbai, you don't find many teams playing the game; you will be surprised to know that there are only 4 or 5 teams now. In schools, you have just about 15 or 20 teams playing," he adds.
"Interest in hockey is waning. Football, in particular, is taking students away (from hockey). The interest of schools is largely in cricket and football."
"Now if this happens ('One State, One Association') then it pushes us back even further," says Somaya. "In the last few years there are not many who have played (for India) from Mumbai. In the 1980s and 1990s, there would be around 6, 7 Mumbai boys in the India camp."
"Among them 3, 4 would make it to the India team, but you would have 6, 7 in the Indian training camp because they had a chance to play for Mumbai in the Nationals and got recognised for that or got spotted by the selectors," he says.
"Now if you don't give them a chance, then all the talent from here (Mumbai) will either move to some other sport or just play at the club level; that is the worry," he adds..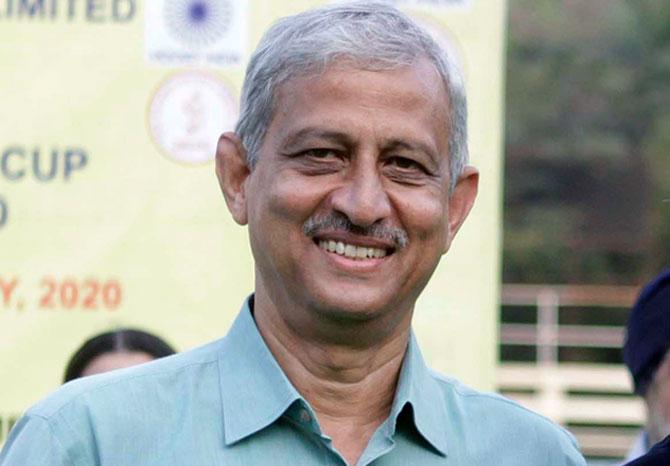 "Mumbai has a great hockey culture, tradition and ecosystem of 'gully' hockey, school hockey, club hockey and Mumbai players going on to represent India at the Olympics," says former hockey captain Viren Rasquinha.
"We must not let our kids lose out on the opportunity to represent Mumbai at the Nationals in the sub junior, junior and senior categories -- men and women. Else, that will be the final nail in the coffin for Mumbai hockey," Rasquinha warns.
"Indian hockey will lose out on one of its most important nurseries and feeder system of good young hockey talent," he says.
As in cricket, Mumbai is one of the most successful domestic teams in hockey, having produced a long list of Olympians and international hockey players.
Along with Punjab and Uttar Pradesh, Mumbai has provided the maximum number of players to Indian teams over the years.
India won a whopping six gold medals in a row in men's hockey at the Olympics from 1928 to 1956 and Bombay players played a major role in those triumphs.
Leo Pinto, Walter D'Souza, Randhir Singh 'RS' Gentle, Govind Perumal and Kishen Lal were all Olympic gold medallists in the 1940s and 1950s.
In the 1960s and 1970s Balbir Singh Grewal, Gurubax Singh Grewal, Joe Antic, Cedric Pereira and Kulwant Arora were part of India's Olympic medal-winning teams.
The glorious tradition of producing champion players continued in the city with the likes of Dhanraj Pillay, Mervyn Fernandis, Joaquim Carvalho, Marcellus Gomes, Somaya, Darryl D'souza and Mark Patterson winning accolades for the country in international tournaments in the 1980s and 1990s.
Viren Rasquinha, Jude Menezes, Gavin Ferreira, Yuvraj Walmiki and Devendra Walmiki represented India with distinction at the turn of the century.
In women's hockey too, Bombay/Mumbai players have left a mark at the international level through the likes of Eliza Nelson, Selma D'Silva, Fiona Albuquerque, Margaret Toscano, Angela Dsouza, Donita D'Mello.
The glory days of hockey in Mumbai have been on the wane in the last 10 or 15 years, especially at the grassroot level.
"One of the reasons could be that schools find hockey more expensive than football. To play hockey on astro turf you need a special kit -- shoes, stick. That is more expensive than football. In football you require just boots, and you can just play," asserts Somaya who switched over to football coaching last year.
"In earlier years access to astro turf was not good, but now some schools like St Andrews, St Stanislaus, Don Bosco Matunga have access to it," he adds.
"I feel injuries at a younger age were more, so parents were reluctant to send their children to play hockey. This, in addition to cricket and football being bigger attractions, could have contributed to the decline in the number of teams playing hockey in Mumbai's schools and colleges," Somaya, a former India hockey captain, points out.
Somaya recalls how when he took up hockey as a young boy the sport was very popular among the youth.
"Many good players had their careers only at the club level because they couldn't break through into the Bombay team," Somaya recalls. "There was such great talent in Bombay. In 1975, we had 150 people coming for for the junior Nationals trial."
"Mervyn Fernandis, Joaquim Carvalho, Marcellus Gomes, Diego D'Souza and myself were there, and the five of us went on to play for the country," he adds.
One way to revive hockey in Mumbai, Somaya believes, is to attract more youngsters to the sport, to stop them taking up cricket or football.
"Interest in children to play the sport should be generated by some sort of incentive or the children should take a liking and come on their own. Neither is happening," says Somaya.
"I did the soccer coaches's course because I see at every ground children from the ages of 7 or 8 to people right up till 60 playing football. That's the interest in football; there is a passion for that," he adds.'
"If the passion is not there for hockey, it needs to be created by incentivising it or making it simple to come and play," he says.
"I don't see that incentivisation happening by the association. The incentive or encouragement to come and play hockey has to be there; it is not self-driven. If you are not passionate, then you have to create the interest for it. That is not forthcoming from the Mumbai Schools Sports Association or the MHA," he points out.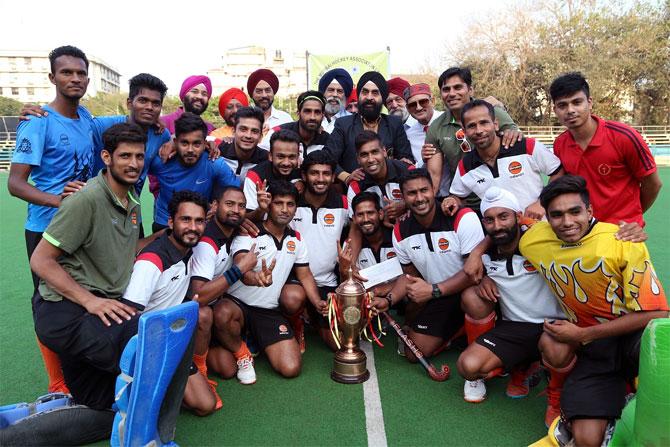 Somaya and other illustrious Mumbai hockey stars have accepted the challenge to save the city's hockey.
Dhanraj Pillay, Mervyn Fernandis, Joaquim Carvalho, Balbir Singh Grewal, Viren Rasquinha, Eliza Nelson among others have mailed a letter to Sports Minister Kiren Rijiju, Indian Olympic Association President Narendra Batra and Hockey India chief Mushtaque Ahmad asking them to reconsider their decision.
Even the BCCI did not apply the Lodha reforms in toto and convinced the Supreme Court on the 'One State One Association' reform which saw it retain full membership of historic associations like the Mumbai Cricket Association, the hockey legends pointed out to Rijiju, Batra and Ahmad in their letter.