'The feeling that we were Olympic champions only dawned on us when we reached India.'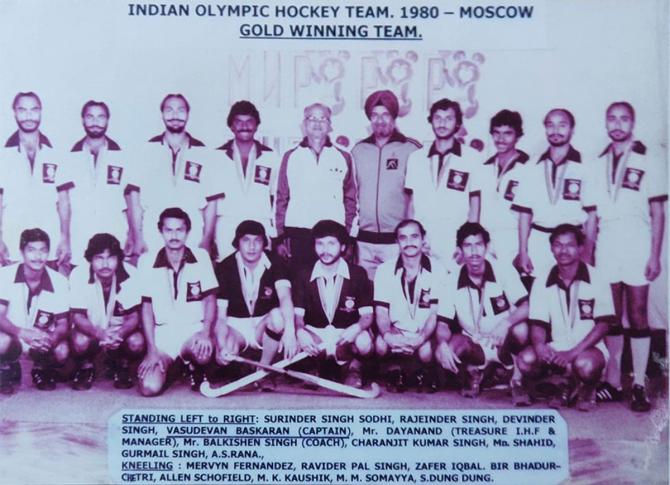 M M Somaya, who went on to feature in the 1984 and 1988 Olympics, captaining the team at the Seoul Games, is all praise for Captain Vasudevan Baskaran's leadership skills, saying he did well to handle the young bunch and motivate them to give their best at all times during the 1980 Moscow Games.
"Baskaran was a very good man manager and a wonderful person," Somaya tells Rediff.com's Harish Kotian. "He was very fair in dealing with situations and people. He was very even-handed dealing with either players or situations, so that built confidence and trust."
"Leadership is all about building trust amongst your players. And because he was a fair and judicious leader, he earned the trust of his team very easily and that that was evident in the game."
"This was my first trip outside India. He built my confidence. I was his roommate at the Olympic Village. I don't know whether it was deliberately done so that he could raise my confidence, but I learnt a lot from him."
"And when I captained India in 1988, all these things probably played a role because he was my first captain," recalls Somayya.
Did You Know?
The top nine hockey nations including the top three medal winners at the 1976 Olympics in Montreal -- New Zealand, Australia and Pakistan -- along with The Netherlands, Argentina, Great Britain and West Germany boycotted the 1980 Moscow Games to protest against the Soviet Union's invasion of Afghanistan in December 1979.
India, Spain, hosts the USSR, Poland, Cuba and Tanzania were the six nations taking part in the hockey tournament in Moscow.
Champions India, who finished unbeaten, scored 39 goals in the tournament to win a record eighth Olympic gold medal and their final one till date.
Surinder Singh Sodhi scored 14 goals in the Olympics -- the second most by an Indian in the history of the Games after the legendary Udham Singh's 15 goals in the 1956 Melbourne Olympics.
The India versus Spain final was not telecast live on television in India and fans could only follow the title clash on All India Radio, with Doordarshan highlighting the triumph in its nightly bulletin.
Facts: Kind courtesy International Hockey Federation
India began the tournament in smashing fashion, a 18-0 rout of Tanzania, before being held 2-2 in successive games by Poland and Spain.
"Spain and Poland were the two teams in our group; these were the two good sides. Spain had top players, they were the European champions. Poland were very stubborn. We had played Test matches against them before and it was not easy. They had a very good defence and it was not easy to pierce it," recalls Merwyn Fernandis.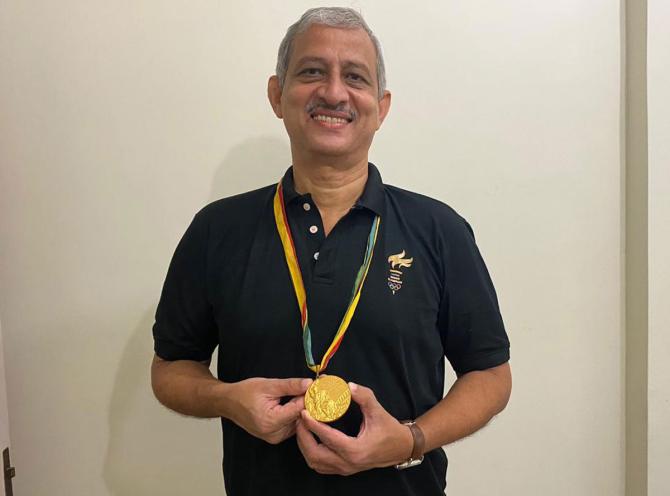 India then got back to winning ways as they thrashed Cuba 13-0 and then registered a hard-fought 4-2 victory over the USSR.
The final against Spain was a thriller. Having taken a 3-0 lead, India were well in control with nearly 20 minutes to go before Spain bounced back to reduce the margin to 3-2.
Mohammad Shahid then doubled the lead to 4-2, but penalty-corner ace Juan Amat completed a hat-trick to keep Spain's hopes alive.
Spain had a couple of corners in the last few seconds, but India's defence, marshalled by veterans Baskaran and Sylvanus Dung Dung along with the rock solid Bir Bahadur Chettri in goal, kept the Spaniards at bay.
"Unfortunately, they don't have a video of the entire match. The last few minutes we were under terrible pressure; we were just trying to get away. (Sylvanus) Dung Dung was hardly 5'4", but a great guy in the defence," recalls Fernandis.
"We had Dung Dung in our defence, we had Somaya, we had Ravinder Pal. These are the guys who manned the defence really well. Baskaran was also there in our defence. He was our captain; To have them hold the defence in the dying moments was very creditable," adds Fernandis.
Somaya says the Indian team battled in the last few minutes when the Spaniards threw everything at them.
"We had a good forward line: we had (M K) Kaushik at right wing, Merwyn Fernandis at right-in; we had Surinder Sodhi as centre-forward, then we had Shahid and Zafar (Iqbal). We had a very good forward line, we had scored three goals and right up till 20 minutes to go for the match we were 3-0 up," remembers Somaya.
"Then Spain scored two goals through penalty-corners, and in the last 20 minutes put an all-out attack against us and we conceded two goals. Then we scored one at the other end through Shahid and in the last five minutes, they got one goal to make it 4-3," Somaya adds.
"It could have gone any team's way at that stage because polygrass is such a fast surface and they had nothing to lose so they were throwing everything in attack."
"Some good defence by all of us and some good saves by Baskaran and Chettri from the penalty-corners saved us in the final."
Having won the gold medal, the Indian team celebrated in style by showing off some dance moves at a Moscow discotheque. They were joined in their celebrations by the women's hockey team and other athletes like sprint champion Adille Sumariwalla and weightlifter Ekambaram Karunakaran.
"We had a long night because it is important to celebrate such big wins.I remember the next morning we had breakfast only at 11.30. Those days we didn't have mobile phones so we could not call our families back home and the feeling only dawned up us that we were Olympic champions when we reached India," says Baskaran.
"We had to stay back two days for the next flight and we had nothing else to do. It was summer time in Moscow so we got to wear our jeans, t-shirts and go around the city."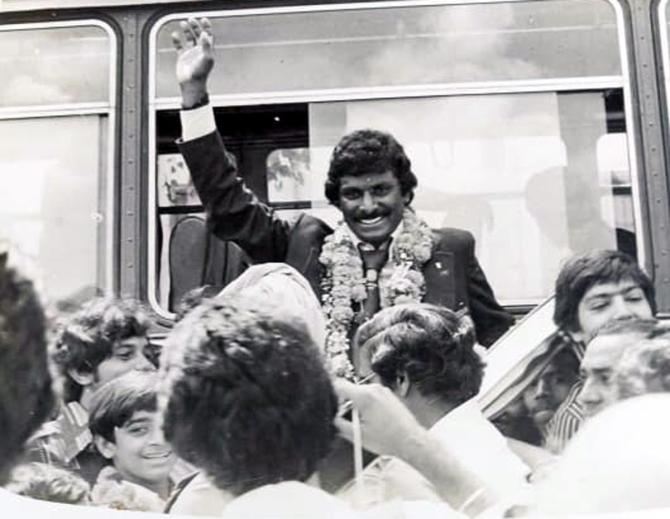 The players were felicitated by then prime minister Indira Gandhi.
Fernandis, who hails from Ambernath, a township in Thane district, can't forget how his entire town celebrated the triumph when he returned.
"I was hardly 20 and can never forget when I came back to Ambernath, the place that I lived. The municipality and my school had a motorcade, they took me around in an open jeep. That was wonderful."
Skipper Baskaran was accorded an even bigger welcome when he arrived in Madras (now Chennai).
"When I reached Chennai," recalls Baskaran, "the great M G Ramachandran was the chief minister of Tamil Nadu. He arranged for a state honour the next day and I was gifted an independent three bed room house by the government," he says.
"I was the first sportsperson in India to be gifted a house," says Baskaran.
India's hockey team at the 1980 Olympic Games:
Vasudevan Baskaran (captain), Bir Bahadur Chhetri, Allen Schofield, Rajinder Singh, Davinder Singh, Sylvanus Dung Dung, Gurmail Singh, Ravinder Pal Singh, M M Somaya, Charanjit Kumar, Maharaj Krishan Kaushik, Mervyn Fernandis, Amarjit Singh Rana, Surinder Singh Sodhi, Mohammed Shahid, Zafar Iqbal.
The 40th anniversary of the gold medal is a good occasion for the 1980 team-mates to catch up on the phone and remember their triumph.
"We will definitely call, we are not in touch with everyone, but definitely 7-8 are in touch, some of them have migrated abroad. I am in touch with at least eight of them so I will definitely call them," says Somaya.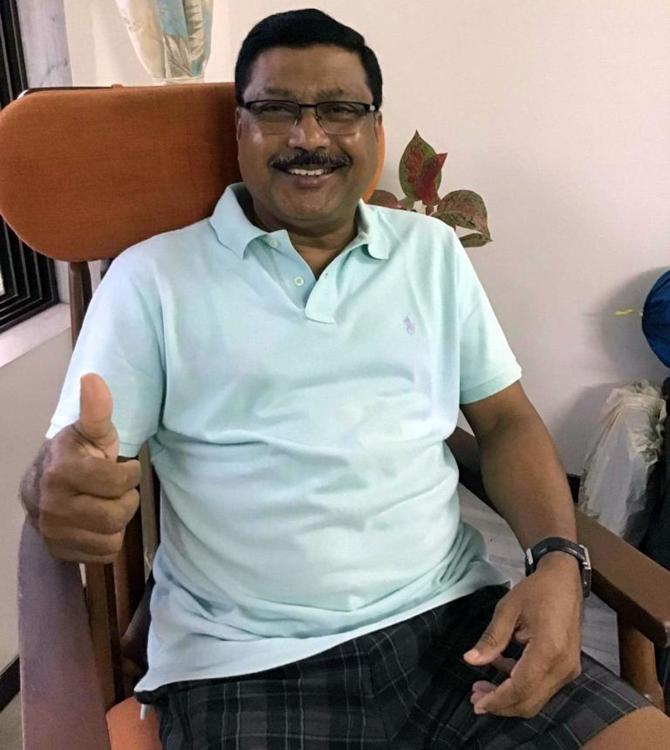 Baskaran is in regular touch with most members of that team.
"I speak to them on the phone every month and have also met a few of them like Merwyn, whom I met in Melbourne a few years back. We watched some tennis. We have made the effort to be in touch with each other," he says.
Basakaran wants to get rid of the tag of being the last Indian captain to win an Olympic gold medal. He hopes the current hockey team can end India's long drought at the Tokyo Games next year.
"I hope the Indian team wins the gold medal in the next Olympics," says the veteran.
"I am tired of hearing that Baskaran is the last Indian captain to win the hockey gold medal in the Olympics."