'He did not take a loss lying down.'
'He inspired us to go to the next tournament with renewed confidence and helped us perform well.'
'That's the way I would remember him.'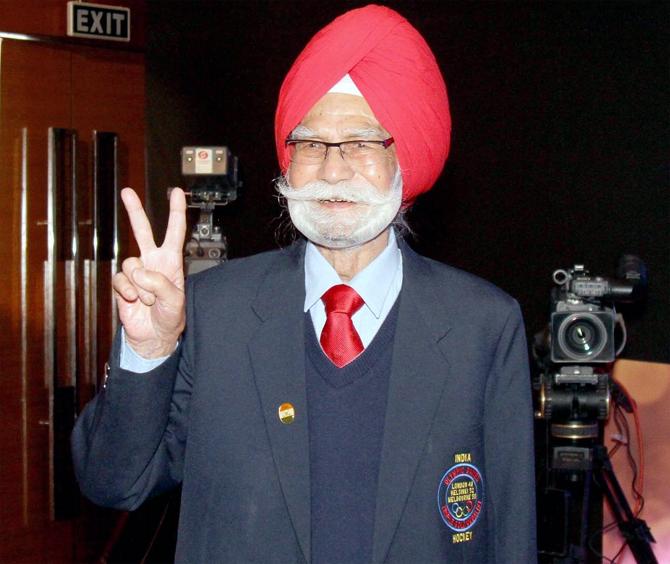 M M Somaya salutes Balbir Singh Sr -- one of the greatest hockey players ever -- who passed into the ages on Monday.
Balbir Singh was part of India's Olympic gold medal-winning teams at three consecutive Games --- 1948 (London), 1952 (Helsinki) and 1956 (Melbourne).
His feat of five goals in the final at the 1952 Olympics in India's 6-1 victory over The Netherlands is intact.
As team manager, Balbir Singh made his mark, guiding India to its only gold medal finish at the World Cup in Kuala Lumpur in 1975.
He also coached the team that won the bronze medal at the World Cup in 1971 at Barcelona.
Somaya played under Balbir Singh Sr when he was the Indian team's manager for the 1982 Champions Trophy, where India won bronze, and the Asian Games the same year, when the team returned with a silver.
M M Somaya -- the ace right-half from Mumbai who was part of the gold medal-winning team at the 1980 Moscow Olympics -- shares his memories of The Hockey Legend with Harish Kotian/Rediff.com.
---
"I played under him at the 1982 Asian Games and the Champions Trophy the same year. We won the bronze medal there. It was outstanding because that result was not bettered by any Indian team until 2016 when we finished as the silver medallist. So it was a record for 36 years.
When he managed the team, we were podium finishers in the Champions Trophy which was one of the premier tournaments on the hockey calendar at that time.
In the Asian Games, we had a very bad match against Pakistan (in the final) but he did not let us get our morale down.
Soon after that we were to go to Australia because we were playing in the Esanda World Cup, where all the top teams in the world were participating.
So what he did was, although it was our fault for losing, he took the blame on himself for the Asian Games defeat.
He prepared us mentally for the next tournament which was the Esanda World Cup in Melbourne. There, in the first match we were playing Pakistan, 20 days after we lost the Asian Games final.
We defeated Pakistan 2-1 and went on to defeat Holland and many other teams. We finished finalists in that tournament, which was a fully participated World event.
He did not take a loss lying down; he would not say, 'Okay, we have lost, I am going to walk away'. He inspired us to go to the next tournament with renewed confidence and helped us perform well. That's the way I would remember him.
He was a strict disciplinarian and laid emphasis on teamwork. To anyone who kept his own individual interest above the team, he was very strict.
But to people who he felt were good team players and good team men who kept the team interests above their individual interests, he was very supportive.
He ensured better contribution by individuals by being fair and very disciplined in his approach.
These were the hallmarks of his training. He was not only disciplined in his approach to the team, but also disciplined in his personal life, whether it was his lifestyle or his diet or his integrity.
He had a very disciplined way of life, which he also transferred onto the team, and the team benefitted in that one year that he was with the players.
He should be remembered as the manager of the 1975 World Cup-winning team (the only time India has won hockey's coveted trophy).
When I met for the first time, because I idolised him, the person behind the legend was even more inspiring.
As a person, he had such tremendous value systems which inspired you. He spent a lot of time with his family after retirement between Canada and India.
All these things made him lead a very complete and balanced life which inspired all of us.
Our generation was inspired by him, not only as a player and manager, but by the person himself.
He was more of a father figure to all of us. We could confide in him.
If you had any personal issues or if you had technical points that you wanted to clarify, he was always accessible.
You felt good to share something good with him, because he was more of a confidante to the people in the team.
He could be very tough when you fell out of line, but generally, a very good and understanding person who understood the psyche of a player well.
You have to keep in mind that he never played hockey on astroturf. He never even saw astroturf because the 1975 tournament was played on grass.
When he came in in 1982, scientific training had come and other countries were training on astroturf for many years.
We had only one astroturf in Delhi and that too came in in 1982. Despite all that, he had a very insightful way of dealing with things.
He was able to study what was happening globally and offer his views to us based on his earlier experiences and his study of contemporary hockey.
So hats off to him that he had two outstanding results -- the 1975 World Cup gold medal and the Champions Trophy bronze medal, an achievement we did not emulate for 36 years though we had a whole entourage of trainers and coaching staff.
His ability to study modern day hockey helped to guide us.
Definitely, he was one of the greatest hockey players ever. I had never seen him play, but from the stories we read and from the small clips and records, it is clear that he was probably on par with the best of his generation.
The last time I met him was in March at the Times of India Sports Awards. He was mobbed by so many people because he had so many admirers.
At the age of 95, he had come from Canada to Delhi. When I went up to him and said hello, he immediately remembered me and said, 'Number 4, how are you?'. Number 4 used to be my shirt number.
He asked me, 'How is Joe? (Joaquim Carvalho)', because Joaquim was my playing mate. So even at that age he could recognise me and remember my shirt number in such a big crowd.
I felt so touched. That's the last memory I have of him."