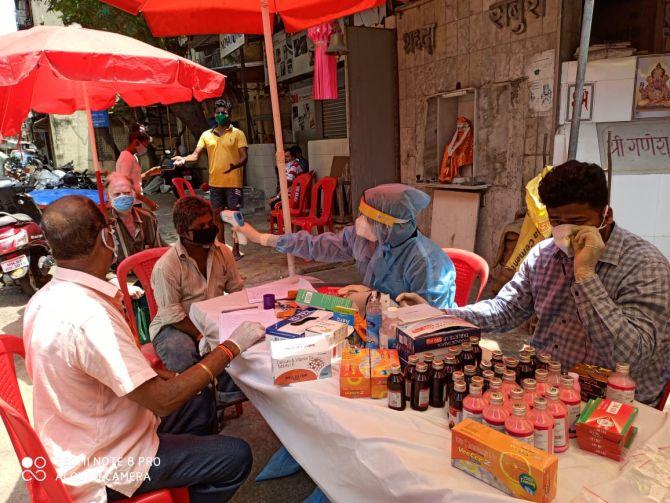 Sweta Shervegar knows a thing or two about overcoming challenges to taste success. Hailing from a middle-class family in Mumbai, she beat the odds -- financial and others -- to win an 2018 Asian Games silver medal in sailing.
Sweta was a member of the two-woman team that sailed to a silver medal in the 49er FX Class at the 2018 Asiad.
A qualified homeopath, the 29 year old has now taken it on herself to fight another battle for the country, this time against the coronavirus.
With the Olympic qualifiers postponed and no sailing due to the pandemic, Sweta found the right moment to answer her calling.
"After the Asian Games I wanted to pursue my goals in the medical field, but I was not able to completely focus because of my sporting commitments. I got the opportunity now," Sweta tells Norma Godinho/Rediff.com.
"I wanted to serve the community during this crisis," she adds. "I was contacted by various organisations and I decided to help them out voluntarily."
"In this national medical emergency, since the complete focus of healthcare workers is mainly on COVID-19 patients, I wanted to ensure that people suffering from regular diseases, like heart diseases, sugar, BP, are not neglected," she explains.
"I go daily, area to area, not only for screening (of coronavirus cases), but also to provide general health facility to needy patients. I also work at a makeshift clinic, (working in and around south Mumbai) providing medical assistance to around 200 to 300 people daily from 9 am to 6 pm," says Sweta, who works with a non-profit group, the Indian Ex- Defence Service Employees Chamber of Commerce and Industries.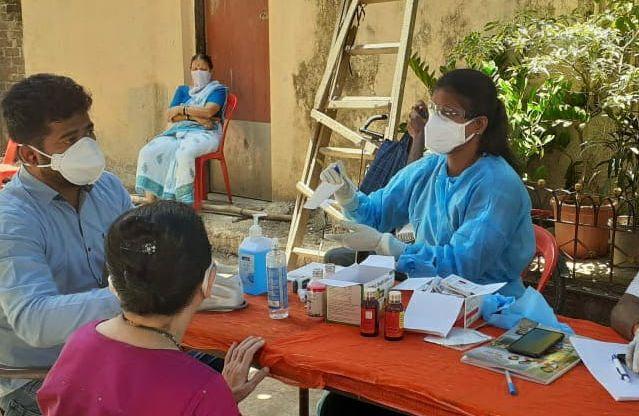 "I am not working in any COVID-19-related hospital yet as I feel the existing medical teams working day in and day out are doing a wonderful job," she says.
"I wanted to focus on patients who can be suspected carriers, hence detecting this disease early, testing patients to stop the spread of the disease is one aspect I am working on. I work with patients suffering from morbid illnesses like diabetes, hypertension, which I feel are killing more people than the coronavirus itself," she adds.
Sweta has also been involved in counselling and helping over 2,000 daily wage workers cope with the pandemic through a Navi Mumbai-based NGO, while doing some charity work -- she has donated sanitary pads and soaps to the Asha Sadan Rescue Home and the Dongri Children's Home, Open Your Arms Foundation shelter for children, all in south Mumbai.
The Asiad winner, who has been working with the IESECCI-COVID YODDHA community for the last two months, reveals that there is a sense of fear around working with COVID-19 patients.
"Last month, two families in my building tested positive for COVID-19. We were asked to quarantine ourselves for 14 days. It was a challenge, but we came through fine.
"It will be wrong for me to say I was not afraid when I went out to work at the beginning," she adds. "I was fearful, as it was not only me but my family that was also at risk of contamination, but with their support and my dedication, I overcame this fear."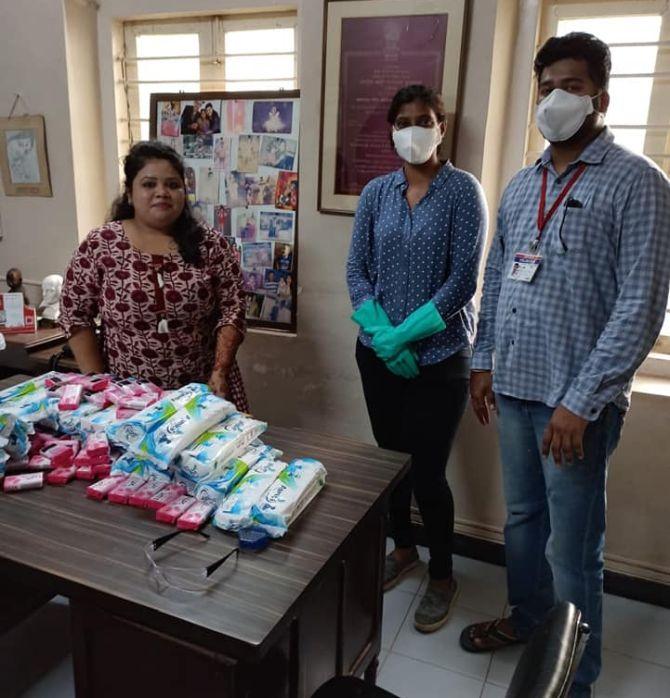 The sailing champion is also working with retired personnel from the armed forces to develop an app to help tackle coronavirus, while efforts are also on to start a telemedicine service.
"I am fully satisfied that I am able to justify both of my professions (sailing and medicine) and work for national pride," she says.
"Rather than sit idle at home, I thought why not dedicate my time for some fruitful work by helping my community. When this is over, I hope to get back to my sports routine and win medals for our nation while dedicating some time to hospital work as well," says Sweta.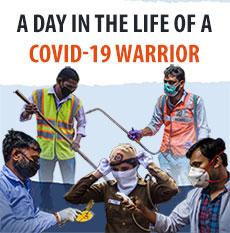 Sweta dreams of qualifying for the Tokyo Olympics next year and winning India a medal.
"We are facing many hurdles like lack of funds, equipment etc, but I am committed to my dream," she says.
"Me and my family are trying all we can, on our own, to achieving it. I am also looking forward to the 2024 Olympics."