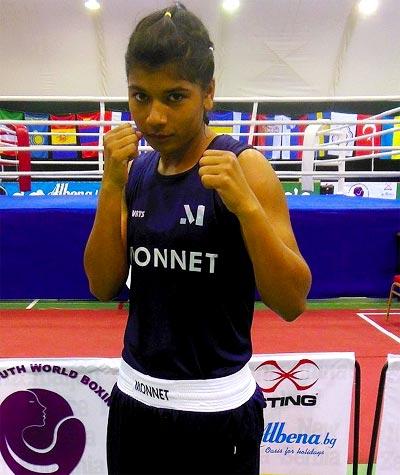 Reigning junior world champion Nikhat Zareen (54kg) settled for a silver medal after her winning run was finally halted at the AIBA Women's Youth World Boxing Championships in Albena, Bulgaria on Sunday.

Up against Yunzi Yuan of China in the final, the 17-year-old boxer from Andhra fought bravely, but her opponent was equal to the task. Zareen tried hard to penetrate Yuan's guard but the Chinese blocked well and kept scoring points on the counter.

The Indian adopted a more aggressive approach in the final round, but her opponent was up to the task and kept the advantage with some precise attacks.

Zareen, who won the flyweight division gold medal at the inaugural edition of the AIBA Women's junior World Championship, has moved into the youth category and fights in the bantamweight division.

She registered a comprehensive victory over Desire Galli from Italy in the quarters. In the semi-finals, the Andhra boxer was up against another junior world champion Viktoriya Virt of Ukraine, whom she outclassed to move into the final.

At the age of 15, Zareen won the gold medal in flyweight division at the inaugural edition of the AIBA Women's Junior & Youth World Boxing Championship in 2011.

"I tried hard to land more scoring blows, but my opponent's defence was hard to break. I suppose she had sound strategy and boxed well technically. I am happy with my performance, but would have loved to get my hand on the gold medal," Zareen said after the final.

Earlier, lightweight boxer Simranjit Kaur (60kg) went down in a close contest against Aidana Arapbayeva from Kazakhstan.

In the junior World Cup, upcoming boxer from Madhya Pradesh, Asha Roka (48kg) showed potential before losing to Assyl Askarova of Kazakhstan. Both boxers had to be content with bronze medals.
Image: Nikhat Zareen
Photograph: IBF Media