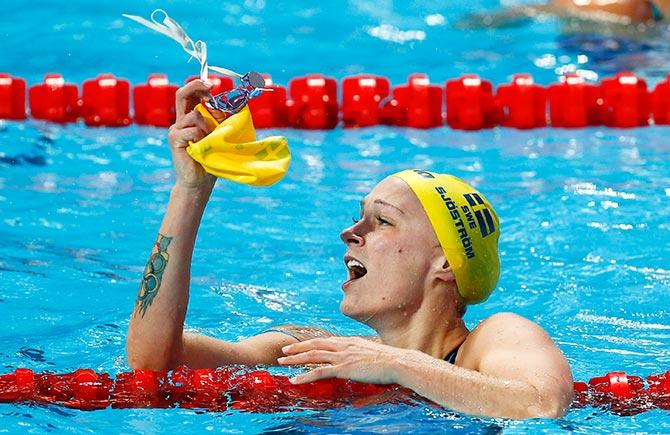 Sarah Sjostrom of Sweden celebrates after setting a new world record in women's 100m butterfly final at the Aquatics World Championships in Kazan. Photograph: Michael Dalder/Reuters
Sweden's Sarah Sjostrom set a world record for the women's 100 metres butterfly at the world swimming championships on Monday.
Sjostrom's time of 55.64 seconds broke her previous mark of 55.74, which she set in the semi-finals on Sunday.
Sjostrom set her second world record in 24 hours in coasting to the women's 100 metres butterfly title.
Her time of 55.64 seconds broke her previous mark of 55.74, set in the semi-finals on Sunday when she became only the second woman to dip below 56 seconds.
"I am really happy I could show myself, show that I can swim fast even with all of that pressure," she said.
Ledecky clocked 15 minutes 27.71 seconds in the 1,500m to beat her previous world best set at the Pan Pacific Championships in August 2014.
Britain's Adam Peaty secured his first world title in the men's 100m backstroke after a whirlwind 12 months on the international scene.
The 20-year-old world record holder claimed gold from Cameron van der Burgh of South Africa in 58.52 seconds, overtaking the Olympic champion in the final three strokes to win by 0.07 seconds and add to his European and Commonwealth collection. Ross Murdoch, of Britain, won bronze.
"I turned and I saw his feet and I though 'right, I've got some catching up to do now," said Peaty, who holds the world record of 57.92 seconds.
"With 25 metres to go he was still out in front but I have trained for moments like this."
Florent Manadou of France won the men's 50m butterfly, touching in 22.97 seconds to beat Brazil's Nicolas Santos.
Mitchell Larkin of Australia will be favourite to win the men's 100m backstroke after qualifying fastest for Tuesday's final, so too compatriot Emily Seebohm who advanced to the women's 100m backstroke with the fastest time.
American Ryan Lochte qualified fastest for the men's 200m freestyle final.
Starting from lane one, having laboured to a semi-final berth in 13th place, the multiple world champion led from the outset to post 1:45.36, edging Briton's James Guy out by 0.07 seconds as fastest qualifier.
Yuliya Efimova, competing in her first major competition since her doping ban ended in February, topped qualification for the women's 100m breaststroke final.