A round-up of all the results from the 16th World Athletic Championships in London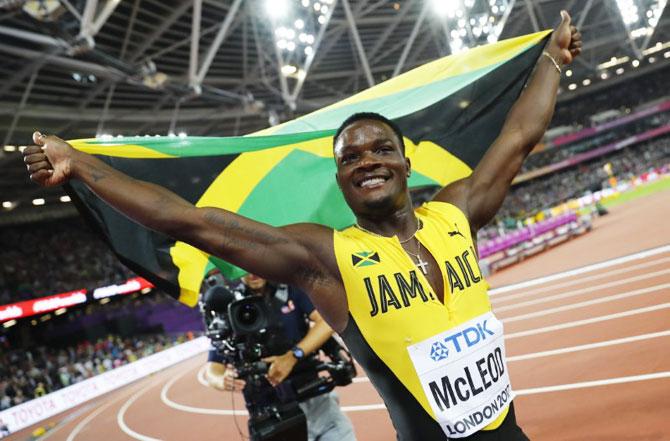 IMAGE: Omar McLeod of Jamaica celebrates winning the men's 110 metres hurdles final on Monday. Photograph: Kai Pfaffenbach
Omar McLeod brought the smile back to Jamaican sprinting as he powered to the 110 metres hurdles title at the World Athletics Championships on Monday before dedicating his triumph to Usain Bolt.
Following the shock defeats of Bolt and Elaine Thompson in the 100 metres events, McLeod, another overwhelming race favourite from the Caribbean island, made no mistake as he added the world crown to the Olympic title he won last year.
The 23-year-old dominated the race, winning in 13.04 seconds, a metre clear of the defending champion Sergey Shubenkov, the Russian who was competing as an 'authorised neutral athlete' with his country's federation still banned from international athletics.
"He's still legendar! Usain, brother, this is for you!" McLeod, who had celebrated by running across the track afterwards to hug his mother in the London Stadium, told the crowd afterwards.
Shubenkov, who clocked 13.14, was the first Russian to win a medal in London while Hungary's Balazs Baji took a surprise bronze in 13.28.
World record holder Aries Merritt, of the US, who won the Olympic title in the same stadium five years ago, started strongly but faded into fifth place in 13.31 seconds.
It was a majestic triumph for McLeod, now the dominant force on the hurdles circuit, after a weekend of huge disappointment for his sprint-loving compatriots as they failed to get a 100m gold for the first time since 2005.
Kipyegon adds world title to Olympic 1,500m gold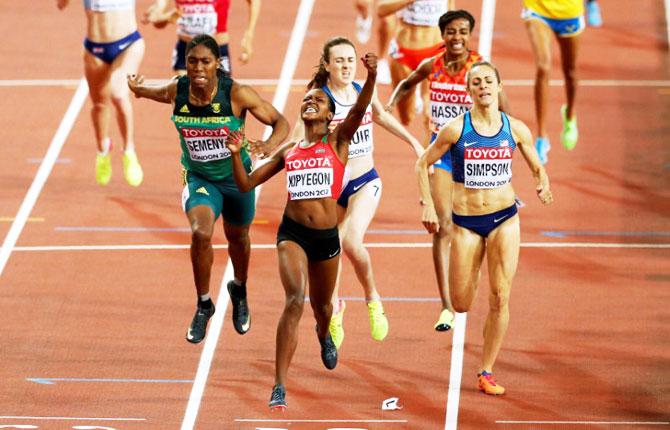 IMAGE: Kenya's Faith Chepngetich Kipyegon (centre) celebrates winning the Women's 1500 Metres final at the World Athletics Championships on Monday. Photograph: John Sibley/Reuters
Kenya's Faith Kipyegon added the world title to her Olympic gold when she won a superb women's 1,500 metres final in a white-hot London Stadium atmosphere on Monday, judging her charge to perfection and holding off the field.
Kipyegon, silver medallist two years ago, took up the running with 600 to go and was stride for stride with in-form Sifan Hassan until the Dutchwoman faded while the Kenyan stayed strong to cross the line in four minutes 2.59 seconds.
Jenny Simpson of the United States, the 30-year-old 2011 champion, also showed great track nous as she slipped up the inside and finished like a teenage sprinter to take second.
South Africa's 800 metres specialist Caster Semenya also powered through on the line to grab the bronze.
After a slow second lap, Kipyegon and Hassan, the fastest over the distance in the world this year, took it up with 600 to go as Muir and Simpson stayed in their wake in a thrilling last 300.
But it was the Kenyan who had the superior staying power as she drove through the line for a brilliant win to follow her 2016 triumph at the Olympics in Rio.
Hassan, who slipped to fifth, and then Muir, fourth, ran out of gas over the last few metres, allowing Simpson and Semenya, who has barely run a 1,500 in her career but has been unbeatable over two laps, to snatch the minor medals.
Rojas wins triple jump to claim Venezuela's first world title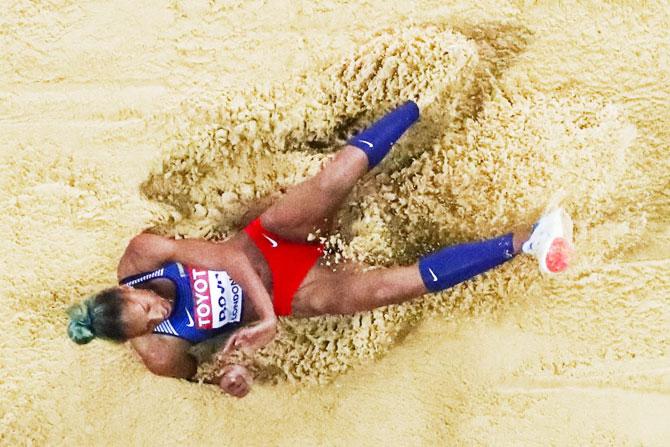 IMAGE: Yulimar Rojas of Venezuela competes in the women's triple jump final on Monday. Photograph: Fabrizio Bensch/Reuters
Yulimar Rojas claimed Venezuela's first-ever World Athletics Championships title when she won the women's triple jump by two centimetres from great rival Caterine Ibarguen in a see-saw battle on Monday.
The 21-year-old's win came one day after the South American country won their first medal of any colour when Robeilys Peinado took the bronze in the women's pole vault.
"What great pride to see the victory of our Yulimar Rojas, a glorious athlete of the golden generation," tweeted Venezuela President Nicolas Maduro, whose country is embroiled in an economic and constitutional crisis.
Colombian Ibarguen, who has dominated the event over the last few years and won gold in Rio de Janeiro last year ahead of Rojas, was denied a third successive world title.
Ibarguen was leading with 14.89 metres until the fifth round when Rojas produced a leap of 14.91, the fourth time the lead had changed hands.
Rojas, who is coached by retired Cuban long jump Olympic champion of 2000 Ivan Pedroso and trains in Spain, celebrated her win effusively, jumping up and down and flapping her arms before going off to hug members of her family.
"It was a really tough battle but I'm an athlete who never gives up," said Rojas. "This is a great victory for my country. I am sure they will be celebrating and having a party. Thanks for everything, to my friends, family, my coach and Venezuela."
Wlodarczyk hammers field to take third world title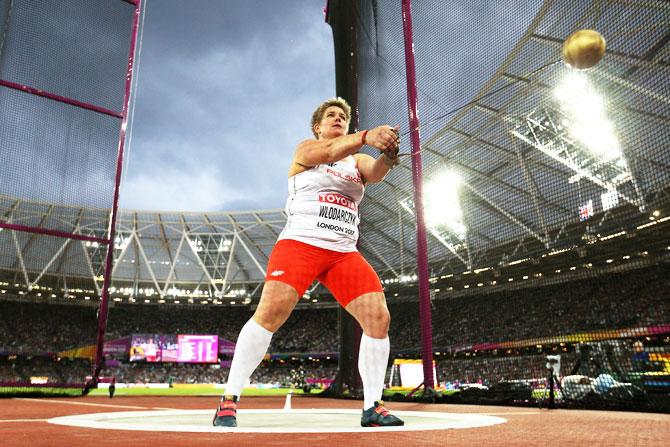 IMAGE: Anita Wlodarczyk of Poland competes in the Women's Hammer final. Photograph: Patrick Smith/Getty Images
Poland's Anita Wlodarczyk destroyed the opposition to win a third hammer throw world title despite suffering from a broken finger and cramps at the World Championships on Monday.
The 31-year-old had been the one to beat going into the competition. With two Olympic titles to her name, the world record holder has not been beaten since early 2014.
After a slow start, she took the lead on her fourth throw at the London Stadium, with a 77.39 metres effort, and wrapped up the gold with 77.90.
After the event Wlodarczyk revealed that she had broken her finger in training, proving her credentials even more as one of the greatest hammer competitors ever.
"This was not the performance I expected tonight but come on, I am the world champion and that is the most important thing now... I expected to throw 80 metres or even a world record attack. But now I am happy for gold," she said.
"There were a couple of serious technical problems in the final. First of all, I injured my finger during the first training session in London and it was quite painful.
"And I started to have cramps tonight. So it was not easy and I am very angry about myself."
The closest challenge to Wlodarczyk's crown was from China's Zheng Wang, who won her first world medal by throwing 75.98 to claim silver.