Petra Kvitova's hopes of defending her Wimbledon title were shot to pieces in a hail of Centre Court cannon fire from Serena Williams who ousted the defending champion 6-3, 7-5 in their quarter-final on Tuesday.
The quality of tennis on show could have graced the final as both players tore into each other with rasping serves and ferocious groundstrokes, but it was the greater power and fight of the four-times winner that won out.
"I had to step it up today because I was playing the defending champion," Williams said in a courtside interview.
"It was tough. But I had absolutely nothing to lose. It was really fun. I'm having the time of my life out here, and I'm enjoying every moment.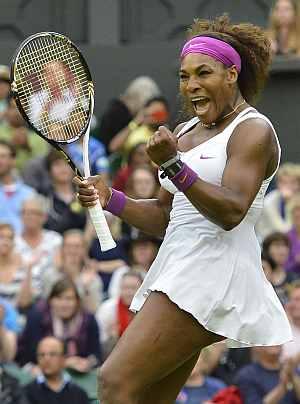 "It's exciting. Everyone thinks about lifting the trophy. It's something I've thought about, but my main goal is to keep progressing. If I want to win the title, I have to step it up. There are a lot of people vying for it. I'm happy just to be in the tournament."
Both players came on court with a look of cold-steel concentration etched into their faces and the tennis on show in the opening set was arguably the highest quality witnessed in the women's competition this year.
It had looked very even in the early games before Williams turned up the heat with a vicious display of power hitting that left Kvitova stammering for a response.
Any return that dropped midcourt was sent crashing past the Czech with fearsome regularity.
Williams broke in the sixth game of the first set when Kvitova sent a crosscourt forehand wide and then closed it out when the Czech sent a backhand return long.
The second set was more nip and tuck, with Kvitova hanging tough and even creating a set point in the 10th game.
After saving that, Williams showcased her fighter qualities, firing a vicious put-away straight at her opponent when she had the whole court to aim at.
She broke the very next game before serving her 13th ace to bring up match point and closed out with a service winner to set up a semi-final against either Belarus's Victoria Azarenka or Austria's Tamira Paszek.