Maria Sharapova's hopes of winning a second Wimbledon title were shattered on Monday as the world number one was comprehensively beaten 6-4, 6-3 by Germany's Sabine Lisicki in the fourth round.
The world number 15 had top seed Sharapova on the back foot early in the first set, forcing her into a string of uncharacteristic errors, and did not let up until she had gained revenge for her semi-final defeat by the Russian last year.
Lisicki, who had complained about her second-round opponent Bojana Jovanovski's grunting, was forced to endure Sharapova's loud wails, but kept her concentration to break the French Open champion decisively in the 10th game of the first set.
She broke again early in the second and closed it out, converting her third match point with an ace.
"It is just unbelievable for me, I'm just so happy," Lisicki said after falling to her knees with both fists clenched in celebration.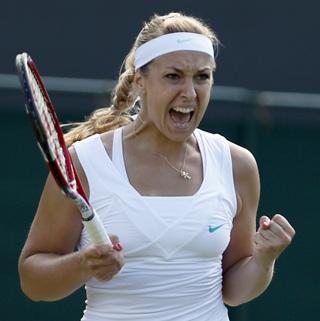 "I have lost my three previous meetings with her. I just went for my shots...
"I am a fighter too and I fight to last point. I'm getting better with each match."
The German will play either her compatriot Angelique Kerber or Belgian Kim Clijsters in the quarter-finals.
Meanwhile, defending champion Petra Kvitova came back from a set and a break down to beat Italian Francesca Schiavone 4-6, 7-5, 6-1 in aanother rain-disrupted fourth-round match.
Kvitova, the fourth seed, looked to be in trouble when former French Open champion Schiavone went a set and 2-1 up, taking advantage of a double fault to help her break the Czech.
Kvitova, however, broke straight back and went 6-5 up before light rain began falling on Court Three.
The match continued after a series of stops and starts and Schiavone was clearly unhappy at being told to resume play early in the third set, complaining to no avail that the grass was damp.
As the Italian continued to glower and mutter, Kvitova raced through two breaks of serve to wrap up the set in 39 minutes and will now face former champion Serena Williams.
Four-times champion Williams withstood a stiff test from 'golden-set' challenger Yaroslava Shvedova to reach the quarter-finals with a 6-1, 2-6, 7-5 win.
Kazakhstan's Shvedova, who became the first player to win a set at a Grand Slam without dropping a point in the previous round, troubled the American on a soggy day at the All England Club but did not have the firepower to cross the finishing line.
Williams, the sixth seed, completed the win in just under two hours with a blazing backhand that had Shvedova lunging in vain.