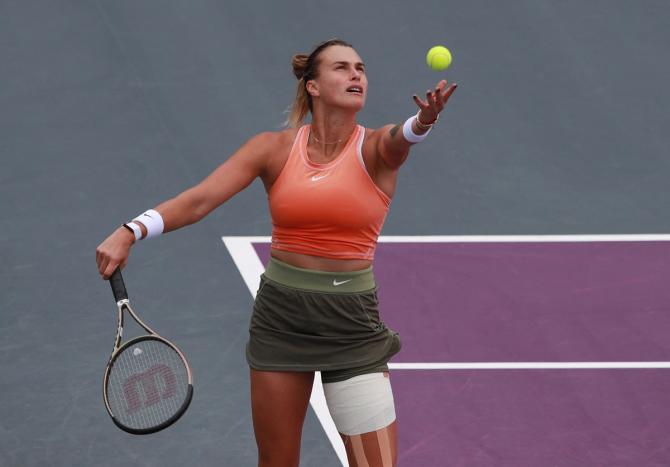 Wimbledon's decision to ban Belarusian players from last year's tournament "changed nothing", world number five Aryna Sabalenka said on Sunday as she hoped to return to the grasscourt Grand Slam in 2023 having missed its fans and atmosphere.
Wimbledon organisers banned players from Russia and Belarus last year due to Moscow's invasion of Ukraine. Belarus is a key staging area for the invasion, which Russia calls a "special military operation".
Players from the two countries were blocked from competing in British grasscourt events in the build-up to the major and Sabalenka -- who is playing in Adelaide this week before the Australian Open -- said politics and sport should not mix.
"This is really terrible because no one supports war - no one," the 24-year-old Belarusian told Melbourne's Age newspaper. "The problem is we have to speak loud about that... but why should we scream about that in every corner? It's not going to help at all."
"I'm just really disappointed sport is somehow in politics. We're just athletes playing their sport. That's it. We're not about politics. If all of us could do something, we would, but we have zero control."
"They banned us from Wimbledon and what did it change? Nothing - they're still doing this and this is the sad (part) of this situation."
Sabalenka said she was "super disappointed" with Wimbledon's decision and that she trained in Miami when the Grand Slam took place in June and July.
"I had a great time in Miami, but I really missed the people because the atmosphere at Wimbledon is super amazing. You can feel these people really love tennis there and I really miss them," Sabalenka said.
"I really hope I'll play there (in 2023), just because of the people, to feel this atmosphere. But if they're going to ban us again; I don't care about Wimbledon's decision. The only thing I'll miss is the people."