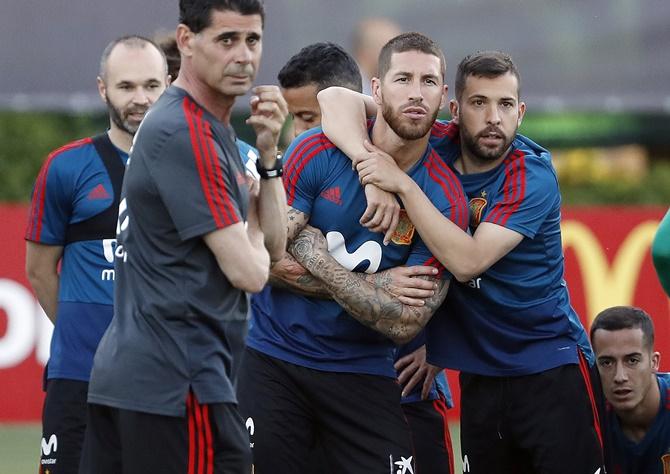 Spain's decision to sack coach Julen Lopetegui on the eve of the World Cup will have little impact on the quality of the 2010 world champions' game, Germany midfielder Toni Kroos said on Thursday.
Lopetegui was sensationally sacked on Wednesday, two days before Spain's opening Group B match against Portugal, after their soccer federation said he failed to inform them he had agreed to join Real Madrid after the tournament.
"Honestly I don't think it is a big drawback for Spain," 2014 World Cup winner Kroos, who will work under Lopetegui at Real Madrid, told reporters.
"I will meet him soon. Of course there are more ideal things than losing your coach two days before your World Cup start. But I think that it won't be too much of a drawback."
Real unexpectedly announced on Tuesday that Lopetegui, who only recently extended his contract with Spain and was unbeaten in his 20 games in charge, would be the Madrid club's coach next season.
He was replaced at the helm of the national team by former Real assistant coach Fernando Hierro.
"(Hierro) is a good guy and a good coach," said Kroos who worked with him at Real. "I think Spain's systems will work just as fine."
Spain turmoil won't affect them, says Portugal coach Santos
Spain's stunning managerial change on the eve of the World Cup will not affect their performance in their opening 'Iberian derby' match, Portugal's coach Fernando Santos said.
The Spaniards sensationally fired coach Julen Lopetegui on Wednesday and replaced him the same day with Fernando Hierro, the Spanish football association's sporting director.
As the Portuguese coach warmed up for Friday's match between the old rivals in Sochi, Santos had his own answer to the first big question of the World Cup: will the turmoil cause Spain to crumble or come together?
"It is Spain and Portugal," Santos said. "Spain has played like that for 10 years I don't think there are going to be any surprises. What is important is the team that plays, and the strategy and no more than that."
"Spain are fantastic opponents," he added. "They are highly qualified with a kind of game that has been consolidated over the years and (it) won't change that radically."
Santos knows Hierro but stopped short of wishing his friend all the best in their Group B opener.
"Tomorrow is the opening game for two great teams and two great sets of players," Santos told reporters at Sochi's Fisht Stadium. "I am not going to say good luck but I hope they have a great tournament."
"Spain believe they can win and we are also an opponent that think they can win the game."
Spain and Portugal have been drawn together in Group B along with Iran and Morocco.