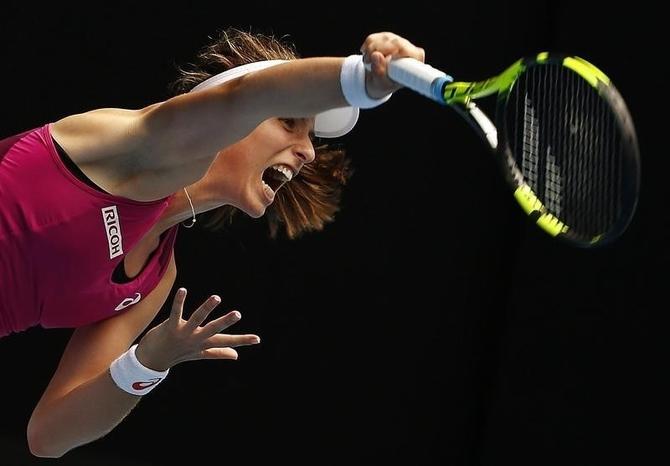 IMAGE: Britain's Johanna Konta serves during her quarter-final match against China's Zhang Shuai at the Australian Open. Photograph: Thomas Peter/Reuters
Johanna Konta overcame Chinese qualifier Zhang Shuai 6-4, 6-1 at the Australian Open on Wednesday to become the first British woman to reach the semi-finals of a grand slam in over 30 years.
The 24-year-old's remarkable run reminds of a trend of seeing unseeded players rising above expectations and reaching the last-four at the year's first Grand Slam.
Melbourne Park has seen many unheralded players punching above their weight. Rediff.com takes a look at a few such unseeded players who went the distance in the new millennium.
Jennifer Capriati in 2000: She had won a gold medal at the Barcelona Olympics in 1992 and reached the semi-finals of Wimbledon and US Open in the same year.
But it was nine years later, that the American actually realized her true potential.
Unseeded at the 2000 Australian Open, the American grabbed attention of tennis lovers by reaching the semi-final and followed it up with back-to-back titles (in 2001 & 2002) at Melbourne Park, getting the better of Martina Hingis in both the finals.
Wayne Ferreira in 2003: One of the greatest players to emerge from Africa, along with Amanda Coetzer, in the post-apartheid era, Wayne Ferreira never realised his immense potential.
In the early years of his career, the South-African had reached the semi-finals at Melbourne Park in 1992, before running into a stumbling block in former champion Stefan Edberg.
There wasn't much to write about as regards his performances in majors thereafter.
When everyone started to write him off, an unseeded Ferreira made the headlines by reaching the last four at 2003 Australian Open.
IMAGE: Two-time Grand Slam winner Marat Safin. Photograph: Getty Images
Marat Safin in 2004: Safin made a dream start to his ATP Tour by reaching World No.1 ranking within two years of making his professional debut in 1998, beating Pete Sampras to the US Open title en route.
However, a succession of injuries (and inconsistency) hindered his progress thereafter. Safin missed the majority of the season in 2003.
Unseeded in 2004 Australian Open, Safin, who had one of the most devastating backhands in the history of the game reached the final, only to come up short against Roger Federer.
The Russian went a step ahead a year later, winning the year's first Grand Slam on his third attempt, avenging his loss to Federer and beating home favorite Lleyton Hewitt en route.
Marcos Baghdatis in 2006: The literal translation of Paramytha, Baghdatis' hometown, is fairytale.
And a fairytale it was for the Cypriot at Melbourne Park in 2006.
Having entered the tournament as an unseeded player, Baghdatis produced an unexpected four-set (6–4, 1–6, 6–3, 6–4) victory over second-seed and world No. 3 Andy Roddick in the fourth round.
In the semi-finals, he came back from two sets down to defeat fourth seed David Nalbandian (3–6, 5–7, 6–3, 6–4, 6–4).
In the final, Baghdatis started strongly (being a set and a break up with a chance to double break), but eventually lost to Federer.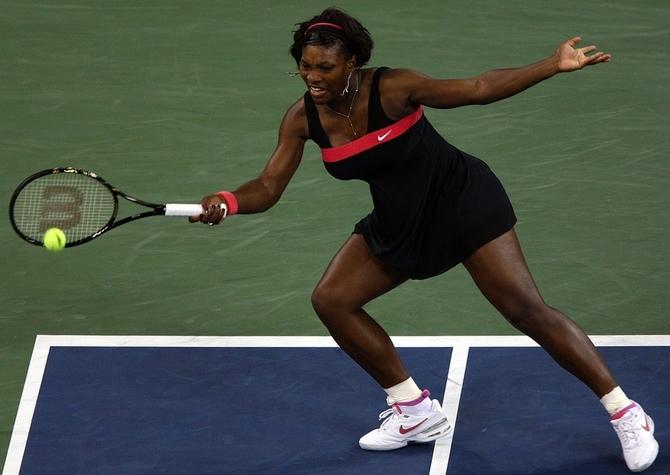 IMAGE: Serena Williams during the 2007 season. Photograph: Getty Images
Serena Williams in 2007: After taking a sabbatical for six months owing to depression, Serena returned to professional tennis ahead of the Australian Open. Considered 'overweight', the 81-st ranked American was not given any chance by experts.
Serena, however, defeated Maria Sharapova in the final to become the first player since Chris O'Neil (1978) to win the title whilst not being seeded.
For the record she has won six times at Melbourne Park, and few will bet against her adding a seventh this year.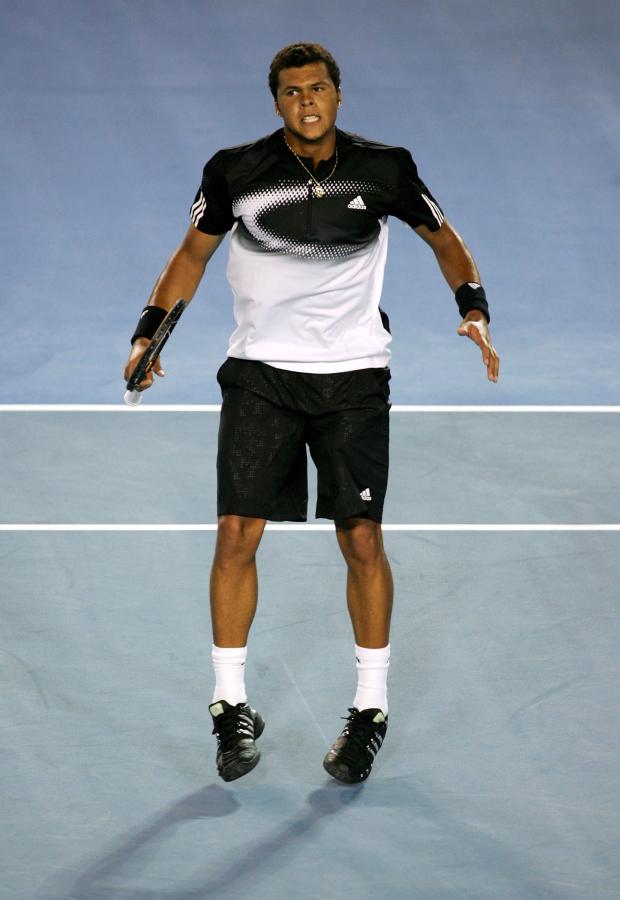 IMAGE: Jo-Wilfried Tsonga reacts after a point during his men's final match against Novak Djokovic at 2008 Australian Open. Photograph: James Knowler/Getty Images
Jo-Wilfried Tsonga 2008: Tsonga rose to fame by virtue of his performance in the 2008 edition.
Then, as an unseeded player, he reached the final, having defeated four seeded players along the way. This included a straight-sets win over the then world no. 2 Rafael Nadal in the semi-finals.
He came up short against Djokovic in the final, losing in four sets.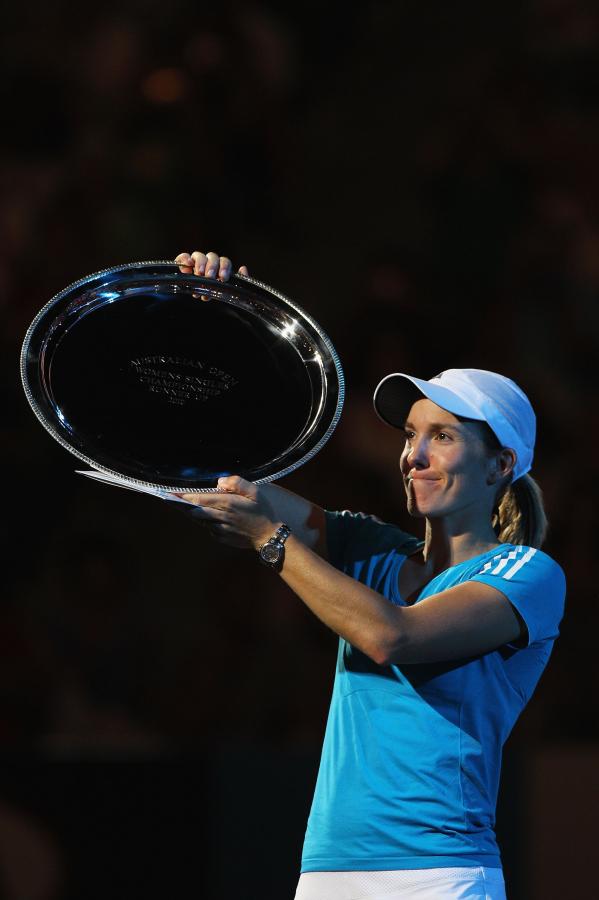 IMAGE: Justine Henin holds aloft her runners up trophy after losing her women's final match against Serena Williams at 2010 Australian Open. Photograph: Ryan Pierse/Getty Images
Justine Henin in 2010: About 16 months after she announced her international retirement (in 2008), Justine Henin returned to the site of one of the major triumphs.
Given a wildcard, she showed little signs of rust, defeating top players en route the final.
The decider went the distance, but the Belgian failed to get the better of Serena.
Zheng Jie 2010: The 2010 tournament, marking Henin's comeback, had her facing another unseeded player in the semi-final.
Zheng Jie, by virtue of her incredible run, had become the first Chinese to reach the semi-final. However, the Belgian proved a tough nut to crack.
Regardless of the loss, that semi-final remains Jie's biggest achievement in singles.
Madison Keys 2015: Prior to the 2015 season, Keys secured the services of compatriot and former world number one Lindsay Davenport as her coach.
And Davenport, herself a former champion at Melbourne Park, helped Keys reach her first major semi-final, defeating three seeded opponents - including Petra Kvitova and Venus Williams - along the way.
Keys came up short against the eventual champion Serena Williams. However, she had impressed enough by then for the world no.1 to quip, "It was an honor for me to play someone who will be No. 1 in the future."