'Vijender is a power puncher, he is a smart boxer as well.'
Lee Beard, Vijender Singh's trainer, highlights why the Indian boxer is the favourite for Saturday's double title clash.
Rediff.com's Harish Kotian listens in.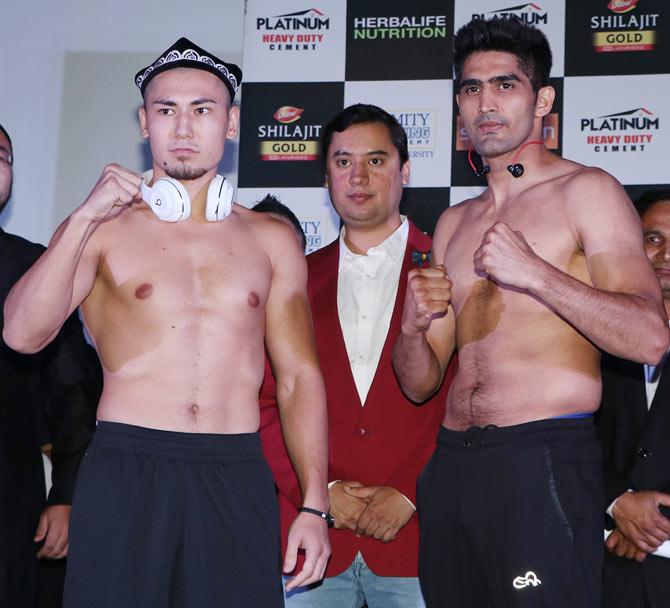 Mumbai is all set for a mega night of boxing on Saturday, August 5, as Vijender Singh, the poster boy of Indian boxing, takes on China's No 1 boxer Zulpikar Maimaitiali in a double title fight.
In the biggest fight of his pro boxing career, Vijender will put his WBO Asia Pacific Super Middleweight title on the line against WBO Oriental Super Middleweight champion Maimaitiali.
The two boxers came face to face in the weigh-off at the Dome at the National Sports Club of India's Sardar Vallabhbhai Patel Stadium in Worli, south Mumbai on Friday.
"The night is finally here and I am all ready to face my opponent tomorrow. It will be a great experience. I am very confident. I know I will be the King of Asia," Vijender declared after the weigh off.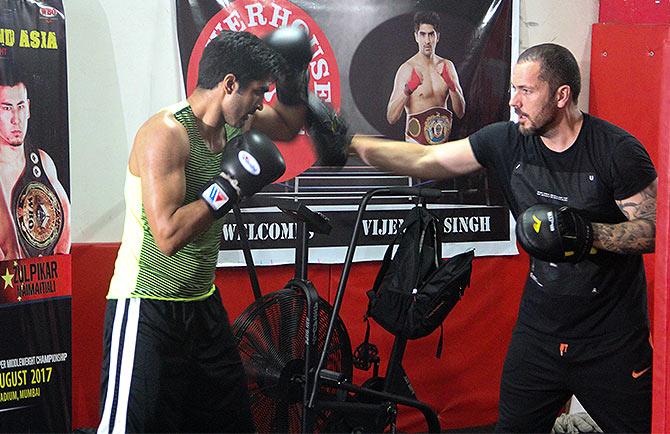 Zulpikar was not one to take a backseat. "I am ready to show Vijender what it is like to fight a tough guy like me. I am completely prepared to knock him out."
Vijender, who is yet to be beaten since turning pro two years ago, set his weight at 76 kilograms. Zulpikar weighed a tad lower at 75.9 kgs.
Lee Beard, Vijender's trainer, explained why the Indian was the favourite to win Saturday's bout.
"Vijender's age is perfect, he is an experienced Olympian. He knows when to take his time, when to pull the trigger and when to have breaks in fights. He knows the difference between a four round fight and a championship fight so he will have a better understanding than he had before the Kerry Hope fight," Beard said.
"You could see that he was able to control every round in that fight so he has got more experience from that," Beard added.
"He thrives under pressure. With experience he knows how to use it to his advantage. If he gets a foot-in in the fight in the early stages, it is over. As soon as Vijender figures out and you see the punches coming back on the opponent it is over."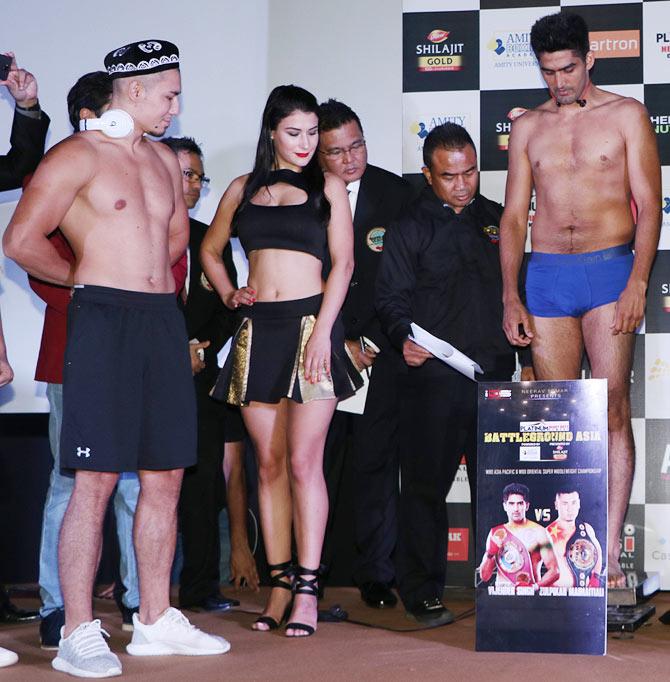 Beard revealed that he has trained Vijender to read an opponent's mind and make his moves accordingly.
"Vijender is a power puncher, there are no two ways about that. But he is a smart boxer as well. I teach him to be boxing smart, I tell him not to go for power or the knockout because he makes mistakes when he does that."
"He has done that many times in sparring and made mistakes. Once he finds his feet and his timing, when his conditioning is high and relaxed. he starts to use his boxing brain."
"You can't win an Olympic medal without that," Beard said.
Having seen and analysed Zulpikar's bouts, Beard said he has identified chinks in the Chinese boxer's armour which he believes Vijender will exploit during the title fight.
"What we have seen with Zulpikar is that he does a lot of things consistently, he throws a few combinations on a regular basis. In my opinion he has not got the same boxing skills as Vijender who has a much more rounded game."
"Zulpikar has the tendency to throw the same shots, same combinations and that's the thing we have been working on to be effective against in the fight. So that when those things come Vijender can be in the perfect position to counter those."
"Once you take those things away from him (Zulpikar) then it is going to be a one-sided fight," Beard predicted.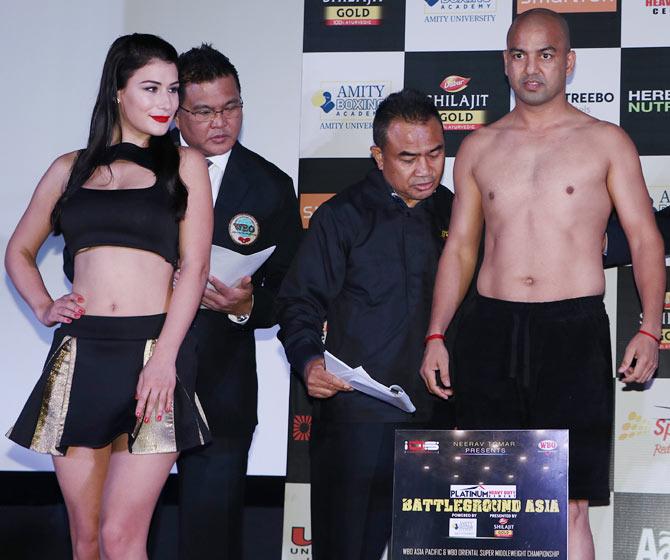 Beard has considerable experience of training top boxers. He has worked with Floyd Mayweather Sr and was an assistant trainer to former world champion Ricky Hatton.
"I don't believe he has faced anybody like Vijender in his career," Beard said about the Chinese boxer.
"Vijender has faced better opposition as a professional after a similar number of fights. I just feel Vijender's experience all round is going to be difference," he added.
"Zulpikar looks very hungry and determined, but he is going to make mistakes because of that and get beaten. He has never showed any gears in boxing, he fights at a similar pace."
"All of his fights I have watched and I have seen that he doesn't mix his pace. He is a strong fighter and he has got a few knockouts. He likes to come forward, he has got a decent right hook, he throws some nice punches, but there are a lot of things that I saw in his fights, the mistakes he makes which I know Vijender will capitalise on."
The 'Battleground Asia' fight night will also see the return of former Olympians 36-year-old Akhil Kumar and 29-year-old Jitender Kumar among other bouts.