'Boxing is a sport and sometimes one punch can make a difference.'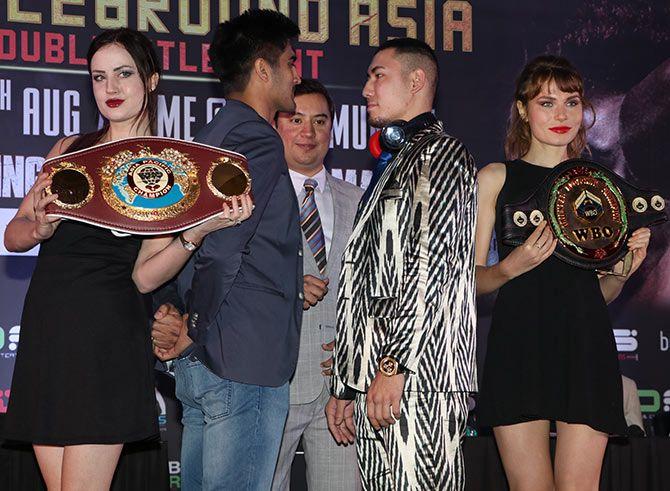 IMAGE: Vijender Singh with his Chinese opponent, Zulpikar Maimaitiali, at the announcement of the August 5, 2017 bout in Mumbai, June 27, 2017. Photograph: Hitesh Harisinghani/Rediff.com
He flirted with a career on the big screen when he made his acting debut in Fugly.
Fugly didn't work, but Vijender Singh is back in "the city of Bollywood", this time with his gloves.
The only Indian boxer to win an Olympic medal, Vijender will face the biggest fight of his fledgling pro career when he takes on China's Zulpikar Maimaitiali in a double title fight in Mumbai on August 5.
The 31 year old will put his WBO Asia Pacific Super Middleweight title on the line against the 22-year-old Chinese who is looking to defend his WBO Oriental Super Middleweight title and be crowned 'King of Asia'
Vijender hopes to continue his dream run in the pro circuit, having won his first eight fights, seven of which were won by knockout, since making his debut two years ago.
The Indian boxing sensation spoke to Rediff.com's Harish Kotian.
It's been six months since your last bout, against Francis Cheka.
It will be exciting to be back in the ring.
I was in training, so you don't feel it that much.
You are always motivated and preparing yourself for the next fight.
My bout was supposed to happen in April, but due to some problems it has been pushed to August.
My last fight was in December, in Delhi, and this time it will be Mumbai, the city of Bollywood.
I am very excited to be fighting here.
I will invite everyone from Bollywood, all my friends, all the actors, the superstars and give them a firsthand experience of boxing.
How would you evaluate your growth as a pro boxer?
I am confident.
I am working on my technique because every bout of pro boxing goes on for long, like around 10 rounds.
So we have to focus on technique and endurance.
Your trainer Lee Beard says you are capable of beating all the top boxers in the world in the super middleweight category, but you need to time your bouts well and not look to rush things.
How long will it be before we see you as the World champion in the super middleweight category?
It is certainly possible, it is all about confidence.
You don't need to rush and pick up injuries, because boxing is a physical sport.
In boxing, even one punch can knock you out, so you have to be careful.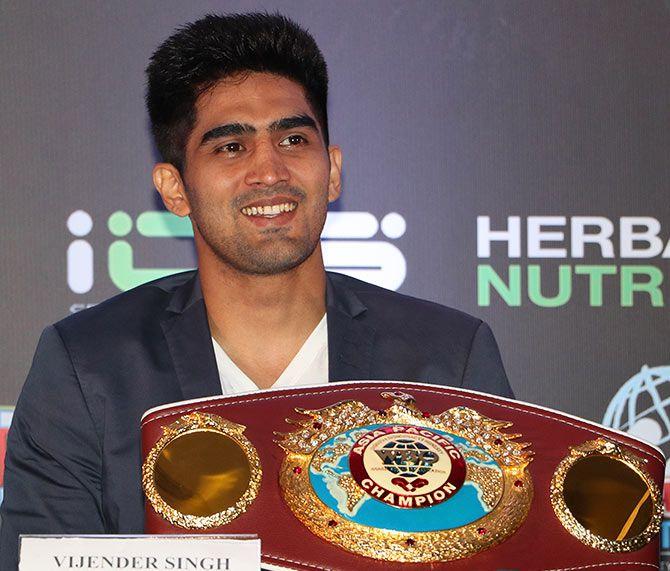 IMAGE: Vijender at the announcement of his upcoming bout in Mumbai. Photograph: Hitesh Harisinghani/Rediff.com
You had a tough opponent in Kerry Hope, a southpaw. Zulpikar is also a southpaw and someone whom you haven't seen.
Is it difficult fighting against these boxers?
Kerry Hope was a good fighter and I took a lot of experience from that fight.
He was a southpaw and was well prepared, but I still managed to beat him because 'Singh is King'.
Southpaw boxers are not difficult.
I would say it is different because you are not used to their style; we always fight in an orthodox style.
I am confident that I will beat this guy (Maimatiali) because my training is going on well and, as I said, I am feeling confident.
Maimatiali is just 22 and comes in with the experience of just eight bouts. Is that a big advantage for someone as experienced as you?
Yes, it is an advantage, psychologically for me.
But boxing is a sport and, as we discussed earlier, sometimes one punch can make a difference.
Sometimes it is not about confidence or anything, but the punch and the timing of the punch.
If you get the right punch, it takes just one second to down your opponent.
What will be your training schedule in Manchester leading up to the bout in Mumbai on August 5?
I will continue my training. In fact, after this event (the announcement) I will be flying to Manchester tomorrow (June 28) night and will start my training from Thursday.
I don't do anything else in Manchester, so all my focus is on training when I go there.
I will be in Mumbai a few days before the bout. Till then I will be working hard in the training sessions and being in the best possible shape for the fight.
Indian boxing is on a downhill slope in recent years. We fared poorly at the Rio Olympics.
What do you think is the way out of this situation?
Actually, I have no idea of what is going on in Indian boxing.
Nobody ever consulted me to ask what we need to do to improve Indian boxing or what steps need to be taken.
No one has approached me for my guidance and I am happy in my own zone.
If someone approaches, I am always ready to help for the sake of Indian boxing.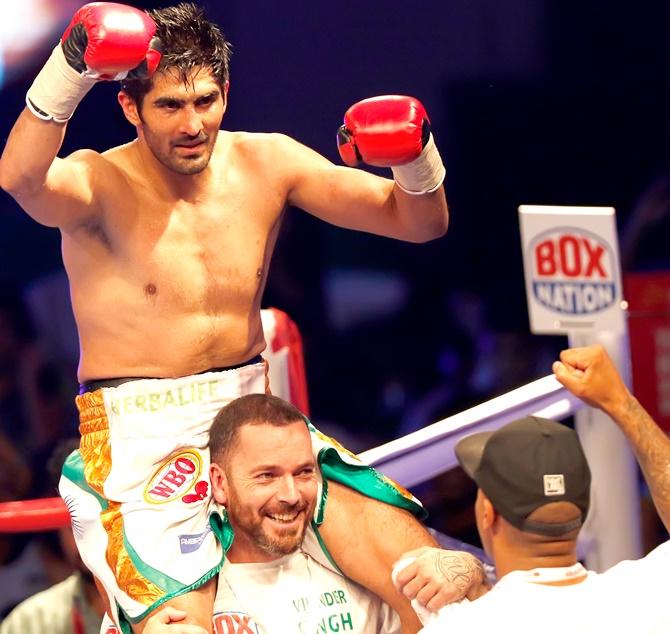 IMAGE: Vijender celebrates after beating Kerry Hope.
A lot of amateur boxers in India are taking the pro route. Is that a good thing?
I am very happy that the Indian boxers have another option to do well in their career.
I would say there is still a long way to go.
We want more youngsters to come forward and more sponsors to invest money, so we can also take care of the grassroot level.
I want pro boxing to spread across all the country, so more boxers can benefit and take their career forward in the sport.
You are the first and only Indian boxer to win an Olympic medal. Do you still harbour dreams of competing in an Olympic?
Last year, they announced only a month before the Olympics that pro boxers can take part, but nobody wanted to go because everybody knows that the amateur format is different from pro.
I wanted to compete at the Olympics, but we didn't have enough time to prepare for it.
But, in the future, if I get a chance, I will definitely try to take part in the Olympics.
If it happens, it will be my fourth Olympic Games.
I loved being part of the three Olympics Games I have been in so far.
The Olympic medal is still the biggest achievement of my career.
When people call me an Olympic champion, it feels just great.
If I win another Olympic medal, it will be awesome.
If there is a chance of making it to the Olympics, I will definitely give it my best shot.