A non-profit body in the US seeking to make Yoga postures as an Olympic sport, will hold a national Yoga championship in New York next week.
The USA Yoga 2012 New York Regional and National Yoga Asana Championship is expected to see participation of competitors from over 30 states who will be judged on the balance and perfection of their yoga poses.
- 'Indian cricket can benefit from Art of Living'
The New York regional competition will take place on March 2 while the national semi-finals will be held on March 3 followed by the national finals on March 4.
The winners of the championship will then participate in an international competition that will be held in Los Angeles in June.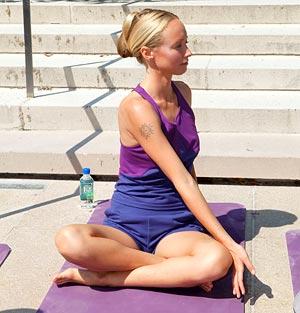 According to information on USA Yoga's website, the participants will be required to perform seven yoga postures in three minutes.
These postures include standing head to knee pose, standing bow pulling pose, bow pose, rabbit pose and stretching pose.
The judges will be looking for qualities like perfection of the posture, connection between mind and body, balance, roundness of the spine, stamina and flexibility of body parts.
USA Yoga has been founded by Rajashree Choudhury, wife of renowned yoga instructor Bikram Choudhury, who established the Bikram Yoga form of hot yoga that is conducted in a room heated to 104 degrees fahrenheit.
The organisation seeks to become the national governing body for the sport of yoga asanas and has applied to the United States Olympic Committee for such recognition.
USA Yoga's goal is to partner with similar organisations in other countries to form an international yoga federation and to qualify the yoga asana as an Olympic sport.