Infosys is close to signing an agreement with the state-run Maharashtra Airport Develop-ment Corporation (MADC) to set up an IT campus at an investment of Rs 460 crore (Rs 4.6 billion) at the Nagpur SEZ.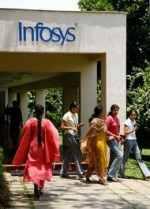 The proposed centre will be Infosys' third facility in Maharashtra after two campuses at Hinjewadi industrial estate near Pune. Infosys plans to complete the project in three phases and it would enjoy SEZ benefits.

"Infosys will set up an IT centre in three phases, which will employ 14,000 IT professionals. The proposed centre will come up on 140 acre of land. The land will be leased out to Infosys for Rs 1.50 crore (Rs 15 million) per hectare," said MADC vice-chairman and managing director UPS Madan. He said Infosys has agreed to start the centre in three years.

"We will be investing Rs 150 crore (Rs 1.5 billion) in the development of the first phase of this campus," said an Infosys official.

The memorandum of understanding (MoU) between Infosys and MADC for the campus in the Nagpur SEZ, which is also known as Multi-Modal International Cargo hub and airport or MIHAN, is expected to be signed on March 4
at Nagpur.
Issues relating to the lease conditions, use of floor space index (FSI) and commencement of the facility were resolved during a meeting between the state chief minister Prithviraj Chavan and Infosys chairman K V Kamath and MD and CEO Shibu Lal.
The chief minister's intervention was necessary as Infosys and MADC were unable to arrive at a consensus.
Land in SEZ is leased for 99 years, based on the logic that the government of the day when the lease term ends will take a call on extension. Infosys had made a pitch for a perpetual lease that effectively amounts to sale of land, say sources. Infosys also demanded discount in the land rates.
The Infosys decision comes at a time when Tata Consultancy Services announced plans to invest Rs 600 crore (Rs 6 billion) in the construction of the first phase of its software development campus in MIHAN at Nagpur SEZ.
The TCS campus would be located on 54 acres. Once the two phases are complete, the campus would employ 16,000 IT professionals.
With inputs from Shivani Shinde.