The Supreme Court order asking the government to implement the inter-linking of rivers project is expected to change the water situation. Former minister Suresh Prabhu, who headed the task force on this project during the NDA rule, explains the necessity of the project.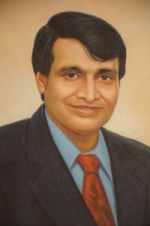 What are your views on the apex court's order?

I welcome the order. I am of the view that inter-linking of rivers is not a panacea to all issues faced by India but the ideas thrown up by the task force, chaired by me, in the report need to be pondered over seriously.

Water is something that cannot be created by man, it cannot be manufactured in any factory or cannot be imported on a scale like oil, which is meeting 80 per cent of our demand. Therefore, management of the available water resources within our sovereign geographical boundaries is necessary to cater to the requirement of the growing population and the changing life style.

It is now the job of the government in the office to implement the project.

Delays and political pressure have stopped the project from taking off. Your take?

I have been arguing time and again that politics should not be involved in crucial
issues, including water. I have been quite consistent on my stand. In fact, I strongly believe there is a need for a political consensus on such issues to address the national challenges.
Can you tell us how the task force led by you had gone into the issue?


I am happy that the Supreme Court had referred to the report submitted by the task force. The task force had submitted its report after conducting over 5,000 meetings with all stakeholders, sectors, IITs, IIMs, business and trade organisations, political parties, chief ministers, leaders of opposition and editors.
Several aspects of the inter-linking of rivers were discussed, including the good examples and bad examples at global level. Inter-basin water transfer projects are implemented quite effectively in north America, Australia, Africa. The experiences there can come quite handy while carrying out implementation in India.
The project cost was estimated at Rs 5.60 lakh crore at 2002 prices. The project aimed to deliver 173 billion cubic meters of water through a 12,500 km maze of canals to irrigate 34 million hectares and to supply drinking water to 101 districts and five metro cities.
The task force had gone into details of the challenges of water, energy, agriculture and also those pertaining to rehabilitation.