Ukraine's Kostyuk takes stand at sun-kissed French Open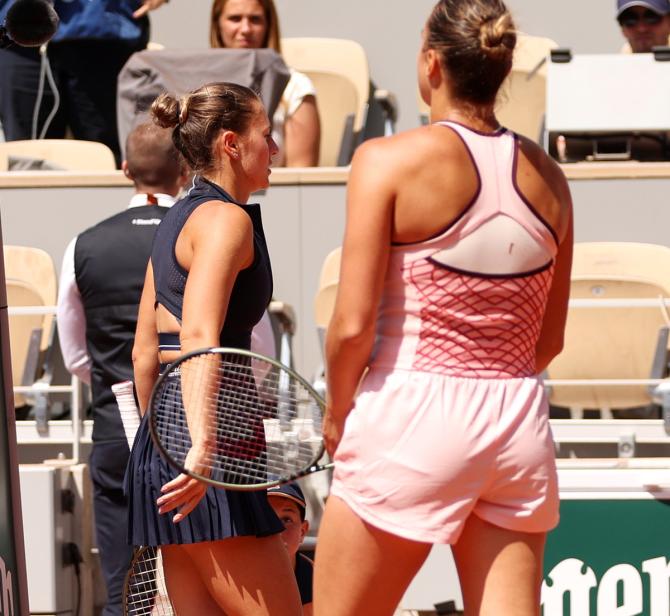 The fickle Paris crowd made themselves heard on day one of the French Open as they booed and jeered when Ukraine's Marta Kostyuk refused to shake hands after her first-round match against Aryna Sabalenka of Belarus on Sunday.
Kostyuk had warned she would not do so with Russian and Belarusian players due to Moscow's invasion of its neighbour and she kept her word on a sun-kissed court Philippe Chatrier after losing 6-3, 6-2 to world number two Sabalenka.
Earlier, spectators lined up in huge numbers under panama hats and umbrellas as the year's second Grand Slam tournament started in bright sunshine at Roland Garros.
After a record 50,000 people - compared to 29,000 last year - attended the qualifying event this week, Sabalenka and Kostyuk opened proceedings on centre court as the fashionably late fans queued to get their seats.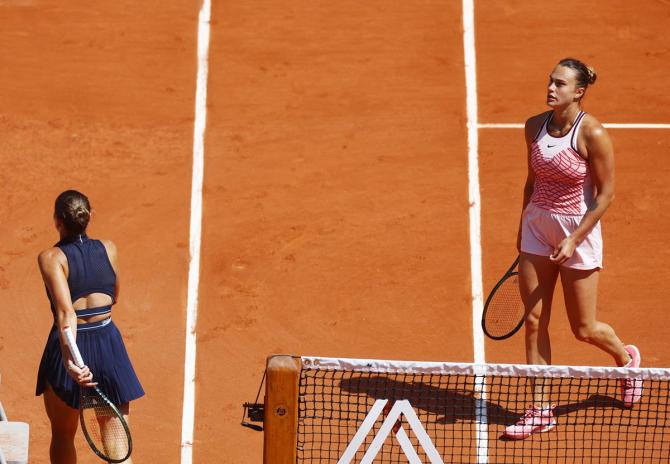 With temperatures at 22 degrees and expected to reach 26 in the afternoon, the water vending stands were busy.
In a men's tournament without 14-times winner and defending champion Rafael Nadal who is injured, 2021 runner-up Stefanos Tsitsipas will be the biggest name in action on Sunday.
"Of course, it's a big miss. My son really wanted to see Nadal but now we will be supporting (Carlos) Alcaraz," said Gerald Furst, who runs a tennis club in the south of France.
"I like (Novak) Djokovic as well, he's an amazing player. I believe it will be a semi-final between Alcaraz and Djokovic. We want to see this match."
Serbian Djokovic is bidding for his third French Open title.
"It's very bad for the tournament that Nadal is not there. We hope he'll be here next year. I'm happy a new guy will be the champion, but for me Nadal is the best on this surface," said Ragis Poiet.
"Djokovic will find it difficult if he plays Alcaraz but I think he will be able to win."
Kostyuk did not deserve jeers for refusing handshake, says Sabalenka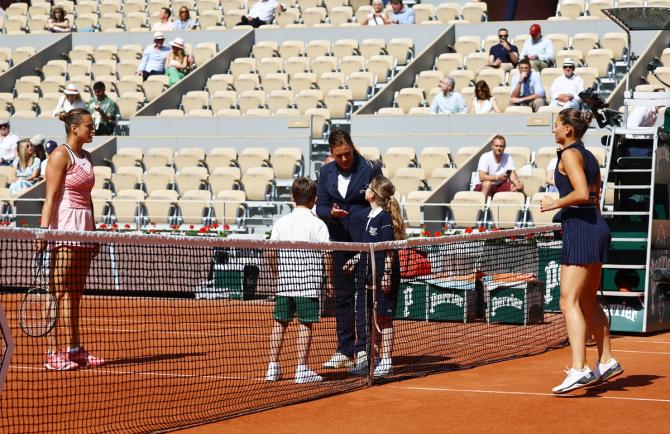 Aryna Sabalenka said she understood Marta Kostyuk's decision to skip customary post-match handshakes with Russian and Belarusian players following Moscow's invasion of her country Ukraine but the player did not deserve jeers from the French Open crowd.
Booing and jeering could be heard from the thin Court Philippe Chatrier crowd as Kostyuk left the venue.
Kostyuk has previously said she would not shake hands with tour rivals from Russia and Belarus - which is a staging ground for Moscow's "special military operation" - if she feels they have not done enough to speak out against the invasion.
"I understand why they're not shaking hands with us. I can imagine if they shake hands with us, what's going to happen to them from the Ukrainian side. I understand that this isn't personal. That's it," Sabalenka said.
"I think she didn't deserve to leave the court that way."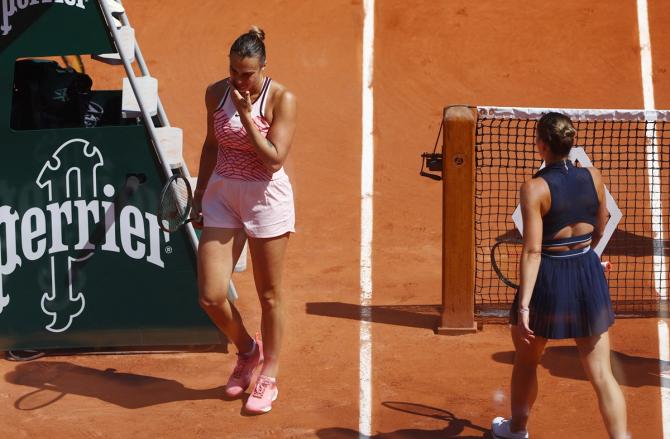 Sabalenka said she was initially confused by the crowd's reaction, which led to her sarcastically bowing to them. She later thanked them for their support.
"Yeah, I couldn't understand what's going on. Because we all know Ukrainian girls will not shake hands with us, so it's not a surprise for us, but probably the public today was surprised," Sabalenka said.
"They saw it as disrespect me as a player, so that's why there was booing her. At first I thought they were booing me. I was a little confused, and was, like 'OK, what should I do? I spoke to my team, make sure I understand it right."
"Then I understand what's going on and said thank you to the public. I felt sorry for what I did at first."
Sabalenka said Russian and Belarusian athletes did not support the war.
"How can we support the war? Nobody, normal people will never support it," Sabalenka added.
"Why do we have to go loud and say that? If it could affect anyhow the war, if it could like stop it, we would do it. But unfortunately, it's not in our hands."