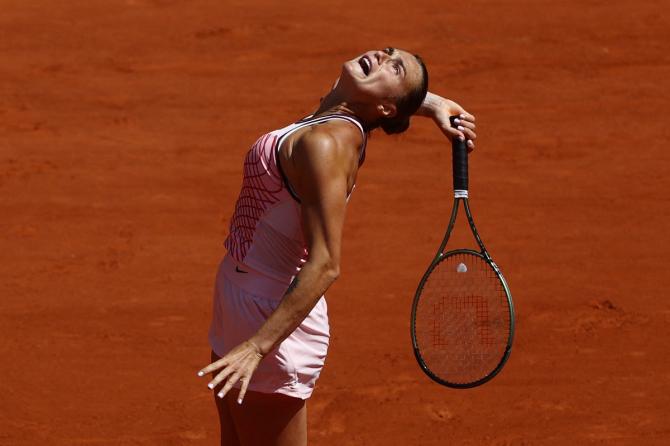 Aryna Sabalenka took her time to get going but powered into the second round of the French Open with a comprehensive 6-3, 6-2 win over Ukraine's Marta Kostyuk in a feisty clash to begin the year's second Grand Slam on Sunday.
Sabalenka appeared to be in a spot of bother on serve early on and fell behind 2-3, but the unseeded Kostyuk could not build on her advantage and the Australian Open champion struck back immediately with a powerful crosscourt volley on breakpoint.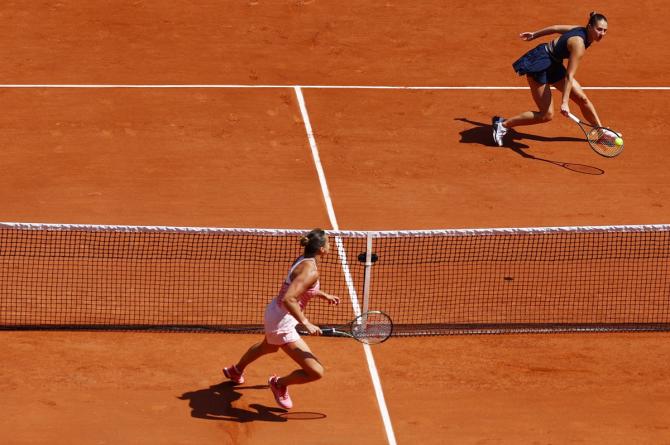 Second seed Sabalenka wrapped up the first set in style in front of a sparse Court Philippe Chatrier crowd before pouncing in the next with an early break and another to go up 4-1, as Kostyuk wilted under the Paris sun.
The Belarusian raised her level again late in the match to save two breakpoints and close out the victory in 71 minutes.
Tsitsipas made to sweat by Vesely in French Open first round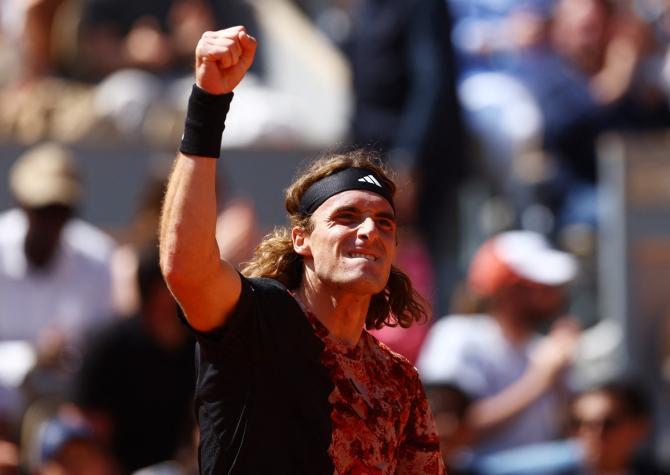 Fifth seed Stefanos Tsitsipas was made to work hard for more than three hours to book his spot in the French Open second round with a 7-5, 6-3, 4-6, 7-6(7) win over Czech Jiri Vesely.
The Greek, runner-up in Paris in 2021, did not expect the kind of resistance offered by a player ranked 445th in the world following a lengthy injury absence, and had to save four set points in the fourth to avoid a decider.
"I said to myself there's no chance this is going to a fifth set. That's what I told myself," Tsitsipas said. "Jiri was a difficult obstacle. He gave me a hard time and I am happy I overcame it in such a fashion.
"Today's win is a very important for me," said Tsitsipas, who has not enjoyed his best clay court season. "I felt at times I was not going to the ball, I was staying still. When I took charge that was the moment I made that switch and won the match."
Tsitsipas was broken in his second service game and found himself 5-3 down against Vesely, playing in his first tour-level tournament since last year's U.S. Open.
But he broke the 29-year-old twice in a row to clinch the next four games and close out the first set.
Tsitsipas had initially struggled with the tall left-hander's awkward spin but was now stretching his opponent with deep cross-court forehands, bagging the second set with another break.
The world number five, chasing his Grand Slam title, thought he had hit his stride, comfortably holding serve in the third but Vesely, who has played in only two Challengers since returning last month, doggedly refused to budge.
He snatched the third set on his first opportunity with frustrated Tsitsipas sinking an easy forehand into the net on set point before the pair traded early breaks in the fourth.
There were no signs of rustiness for Vesely and the Czech kept up the pressure to earn four set points in the tiebreak.
He could not convert them, however, allowing Tsitsipas to clinch victory on his first match point with another sizzling crosscourt forehand winner after three hours and 13 minutes.
Nadal-inspired Korda bags first win since January at Roland Garros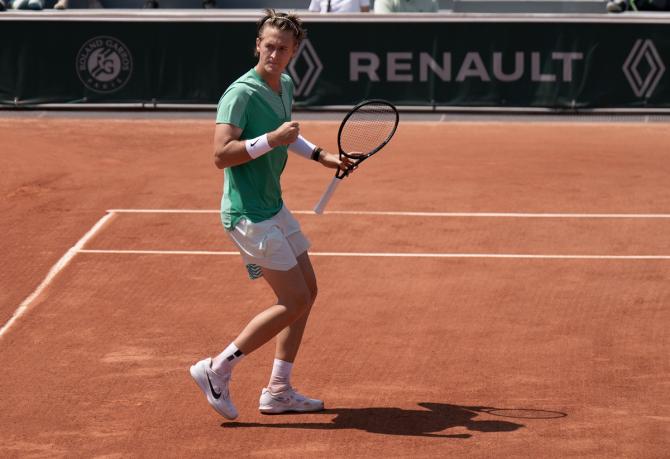 American Sebastian Korda claimed his first victory since January by battling past Mackenzie McDonald at the French Open and said he had spent the last few months learning to play again after a wrist issue wrecked his strong start to 2023.
Korda's hopes of emulating his father Petr's 1998 Australian Open triumph ended in pain and disappointment as he retired with a wrist problem in the Melbourne Park quarter-final.
The 22-year-old returned to action at the end of April but crashed to early defeats in Madrid and Rome.
"I'd say I went two-three months without touching a racket. I even still had a little bit of pain in Madrid and Rome was the first tournament where I had nothing, which was a really big positive for me," said Korda, who won 6-4, 7-5, 6-4 on Sunday.
"Now I have zero pain in my wrist. Just kind of learning how to play again a little bit."
Korda enjoyed a breakthrough year at Grand Slam level in 2020 by reaching the Roland Garros fourth round where he lost to eventual champion Rafael Nadal.
Nadal, 36, is not playing in Paris this year due to a hip problem but is no stranger to making comebacks on the tour after injury and Korda backed the 22-times Grand Slam champion to return stronger next year.
"Ever since I started watching tennis he was always the guy," Korda said.
"He didn't lose too many times. That's one of the most impressive things in tennis history, maybe sports history how many times he's won and how much he's dominated here."
"It definitely opens up the draw, that's for sure. But there are still so many unbelievable players. He's definitely missed, but next year he'll be back and back to his old ways."