Scandals over ceremony have deterred some, Tokyo 2020 head says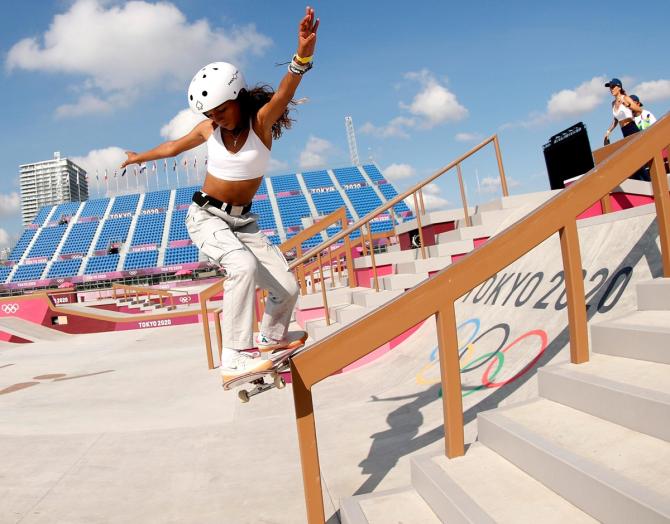 A series of recent scandals engulfing officials working on the opening ceremony of the Tokyo 2020 Games may have discouraged some people from watching the event, the president of Tokyo 2020 said on Wednesday.
Seiko Hashimoto also told reporters that she had no intention of resigning after the latest scandal, in which organisers fired the director of the ceremony after past comments about the Holocaust surfaced.
Canada, Australia with 10 percent of team at opening ceremony
Canada and Australia may be sending some of their biggest Olympics teams to the Tokyo Games but only a small fraction will attend Friday's opening ceremony, officials said on Thursday.
Around 30-40 athletes from the 370-strong team will be at the event in a largely empty Tokyo Olympic stadium, bar a few hundred officials, the Canadian Olympic Committee (COC) said.
"Athletes are only arriving in the village five days before they compete," the COC said in a news release. "This means that there are less athletes in the village and that most of them are on the verge of competing.
"The focus of Team Canada remains on safety, performance, and adhering to the letter and spirit of the Tokyo 2020 playbooks."
Basketball player Miranda Ayim and rugby sevens co-captain Nathan Hirayama will be the flag bearers for Canada's biggest Olympic team since the 1984 Los Angeles Summer Games.
The Rio de Janeiro Olympics had more than 12,000 athletes and team officials marching in the opening ceremony but with Tokyo's draconian COVID-19 measures it will be a far smaller number.
For Olympics-mad Australia, who have sent their biggest ever team to a Games held overseas, only some 50 athletes from their 470-plus delegation will march.
Team chief Ian Chesterman told athletes to still enjoy the moment despite a lack of spectators and the absence of the usual celebratory atmosphere in the stadium.
"My instruction to the team is to enjoy yourself. It has been a hell of a ride getting here," he told a news conference.
"Just enjoy the moment and soak it up. We are expecting around about 50 athletes to march and we are limited to six officials."
With COVID-19 restrictions having cut athletes' stay short in Tokyo -- they arrive shortly before their competition and leave soon after -- every team must accept a reduction of its team parade numbers.
For triple and long jump Olympic medallist Will Claye it means many fellow American athletes will miss out on a unique experience.
"Just (to) meet and take pictures with some of my idols in the sport," the 30-year-old told reporters, noting that in the past Olympics he enjoyed getting the opportunity to spend some time with idols like LeBron James and Kobe Bryant.
"I think those are the memories that last a lifetime."
Director fired over Holocaust comments on eve of opening ceremony
On the eve of the Tokyo Games, organisers fired the director of the opening ceremony over comments he made about the Holocaust, while media reported former Prime Minister Shinzo Abe, a memorable advocate for the Tokyo Games, would skip the showpiece event.
The news is the latest in a series of embarrassments for Tokyo organisers that have sparked outrage at home and abroad, and comes just days after a well known musician was forced to step down https://www.reuters.com/lifestyle/sports/tokyo-2020-organisers-want-composer-who-apologised-bullying-stay-2021-07-19 as composer for the ceremony after old reports of his bullying and abusive behaviour surfaced.
Abe, who famously dressed up as the titular plumber from video game Super Mario at the Rio Games to represent Japan, played an outsized role in attracting the Olympics to Tokyo.
In a speech in front a banquet room full of International Olympic Committee members in 2013 that the lingering nuclear disaster at Fukushima was "under control" and pitched his nation as a "passionate, proud, and a strong believer" in the Olympics.
At the time, Abe and his supporters hoped the Olympics would parallel the 1964 Tokyo Games heralding the nation's revival after decades of economic stagnation and also mark its recovery from a devastating nuclear and natural disaster in 2011.
Instead, the Games, delayed a year because of the global pandemic, has faced a series of setbacks, including the exit of Yoshiro Mori, the former head of the Tokyo 2020 organising committee, who resigned after making sexist remarks. That was soon followed by the resignation of Tokyo Olympics creative head Hiroshi Sasaki after he made derogatory comments about a popular Japanese female entertainer.
The Tokyo 2020 organising committee said Kentaro Kobayashi, who is listed as a show director for the Games' opening event, was fired after a joke he made about the Holocaust as part of his comedy act in 1998 resurfaced in domestic media.
The Simon Wiesenthal Center, an international Jewish human rights organisation, had earlier released a statement condemning Kobayashi's past behaviour.
"Any association of this person to the Tokyo Olympics would insult the memory of six million Jews and make a cruel mockery of the Paralympics," said Abraham Cooper, a rabbi and associate dean and global social action director of the centre.
The opening ceremony on Friday, which normally stands as a major showcase of the host nation, is set to be a subdued https://www.reuters.com/lifestyle/sports/tokyo-opening-ceremony-will-be-sobering-show-not-flashy-2021-07-21 affair, with Japanese media reporting that less than 950 people - including only around 15 global leaders - are set to attend.
First Lady Jill Biden is expected to land in Tokyo on Thursday afternoon for the Games' opening ceremony, raising expectations she might also use her attendance to discuss vaccines with Prime Minister Yoshihide Suga.
Biden has been travelling across the United States urging more people in the country to get inoculated.
Only a third of Japanese have had at least one dose of the vaccine, fuelling public concerns that the Olympics could become a super-spreader event. Already dozens of attendees have tested positive for COVID-19, forcing athlete withdrawals and teammates into isolation.
NHK said Abe decided against attending the ceremony after the Japanese government declared a state of emergency and virus restrictions over Tokyo, in an effort to minimise health risks among residents and visitors. Abe's office could not immediately be reached on Thursday, a public holiday in Japan.
COVID-19 infections have jumped in the capital and are projected to spike further, straining healthcare providers.
In a recent poll in the Asahi newspaper, 68% of respondents expressed doubt about the ability of Olympic organisers to control coronavirus infections, with 55% saying they opposed the Games going ahead.
Olympics competition has already begun, with the Japanese women's softball team getting the hosts off to a winning start on Wednesday, while the highly ranked U.S. women's soccer team were upset by Sweden.
The second day of softball began early Thursday under cloudy skies in Fukushima with the United States defeating Canada by a run to go 2-0 in the standings. Japan faces Mexico later.