We want Bharat Ratna for Major Dhyan Chand, he truly deserves it, says Dilip Tirkey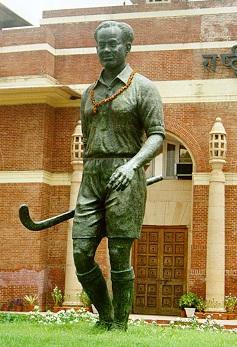 Former national hockey player and Member of Parliament Dilip Tirkey backed Prime Minister Narendra Modi's praise for Major Dhyan Chand, saying the hockey wizard, who passed away in 1979, should be conferred the Bharat Ratna, the country's highest civilian award.
"From last two-three years, there has been demand that Bharat Ratna should be given to Major Dhyan Chand.
All the legends of the sports fraternity and Olympians have been saying that Major Dhyan Chand should be given the country's highest award for civilians- Bharat Ratna. He truly deserves this," said Tirkey.
Former greats revived the longstanding demand of the Bharat Ratna to the late hockey legend, with some saying the 'wizard' should have been given the honour ahead of cricketing icon Sachin Tendulkar.
Former captains Ajit Pal Singh, Zafar Iqbal, Tirkey and Dhyan Chand's son Ashok Kumar gathered at Jantar Mantar with other former players in the hope that the government will fullfil their demand.
"We have all gathered here in the hope that Dada Dhyan Chand gets the honour which is long overdue. But we can only hope that he gets it. It is the political will that matters. The same was the case when Sachin Tendulkar was conferred the honour (in 2014). It makes no difference to his stature, whether Dada (Dhyan Chand) gets the award or not. But he should get it as he is most deserving for the recognition," Iqbal said.
Ajit Pal, who captained India to victory in the 1975 World Cup, said Dhyan Chand should have been the first sportsperson to get the honour.
On Tendulkar getting the recognition ahead of him, Ajit Pal added, "I don't want to compare any sportsperson with him. Dhyan Chand played when we were still under British rule. The rewards that you see nowadays for winning medals were not there at that time.
"It was an era where one played for the applause and not for monetary benefits because there were none. I hope he is not disrespected anymore and gets what is long overdue."
Prime Minister Modi in his 'Mann Ki Baat' address on Sunday paid tribute to Major Dhyan Chand, saying he was a live example of 'sportsman spirit and patriotism'.
"August 29 is legendary hockey player Major Dhyan Chand's birth anniversary which is celebrated as National Sports Day. I pay him tributes and want you all to remember his contribution," Modi said during his address in the 23rd edition of the programme.
"Major Dhyan Chad was a live example of true sportsman spirit and patriotism. He helped India in securing gold medals in hockey in three Olympic Games in 1928, 1932 and 1936. Great cricket player Don Bradman had said that Dhyan Chand scores goals like runs," he added.
Dhyan Chand won three Olympic gold medals in hockey - in 1928 (Amsterdam), 1932 (Los Angeles) and 1936 (Berlin). Dhyan Chand's name had earlier been suggested for the highest honour by the Sports Ministry three years ago.
Image: A statute of hockey wizard Dhyan Chand outside the National stadium in New Delhi.