'Sushil Kumar is definitely better. If Narsingh a can get bronze then Sushil can get gold medal to the country.'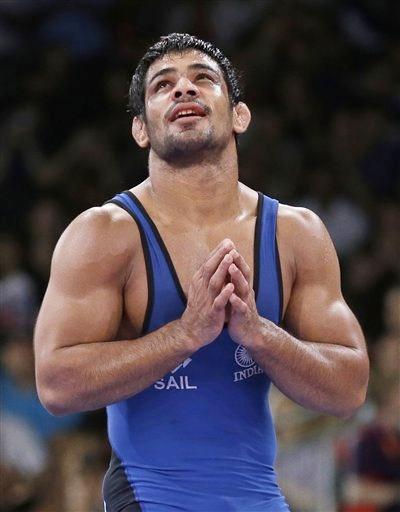 The Delhi high court issued notice to the Wrestling Federation of India and Sports Ministry on Tuesday, asking them to conduct selection trials in response to Sushil Kumar's plea over selection for the upcoming Rio Olympics.
The two-time Olympic medallist moved the Delhi high court on Tuesday seeking a trial with compatriot Narsingh Yadav to decide who will represent the country at the Olympics in the 74 kg men's wrestling category.
Yadav insists that going to the Brazilian capital is his right, since he secured the quota in the 74 kg category by winning a bronze medal at last year's World Championships, in Las Vegas, while Sushil Kumar, who won gold in the same category at the 2014 Commonwealth Games, wants a trial to be conducted to determine who should go.
WIF vice-president Raj Singh said the federation will take a call in this regard at a meeting on Wednesday.
"As far as Sushil's matter is concerned, it is altogether a different matter. The government should have conducted the trial. Now that the court has put the ball in our court, our federation will definitely take a call on the same.
"He (Yadav) has not been selected; he has come after qualification. Sushil was injured when the qualification was taking place otherwise the trial would have been done earlier. A decision in this regard will be taken in the meeting tomorrow and thereafter the court will decide," he said, adding whoever is the better of the two will be sent to Rio.
"We cannot say that. This will depend on the trial as to who is better. Sushil Kumar is definitely better. If Narsingh a can get bronze then Sushil can get gold medal to the country."
Sushil, who won a bronze medal at the 2008 Beijing Olympics and silver at the London Games four year later, was dropped from the WFI's Rio preparatory camp, which begins in Sonepat on Wednesday.
Last week, the WFI found itself in an unwanted territory after picking Narsingh over Sushil in the list of probables sent to the Indian Olympic Association.
So far seven grapplers have secured berths for the Rio Games, the most for India in the sport at any Olympics.
IMAGE: Indian wrestler Sushil Kumar
Photograph: Getty Images