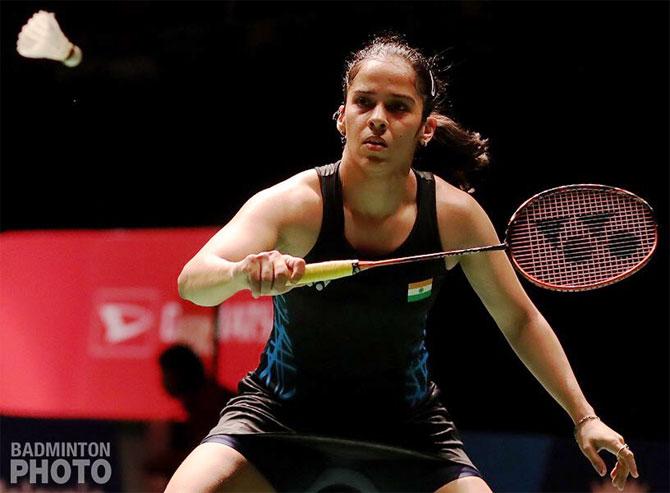 The Indian trio of P V Sindhu, Saina Nehwal and Kidambi Srikanth dished out superb performances on the opening day to advance to the second round of the of the $ 350,000 Indonesia Masters, in Jakarta on, Wednesday.
Olympic and World Championship silver medallist Sindhu opened the new season with a fighting 22-24, 21-8, 21-17 win over 2012 London Games champion Li Xuerui of China in a 54-minute women's singles match.
The second seeded Indian will now be pitted against Indonesia's Gregoria Mariska Tunjung.
Eighth seeded Saina, who had reached the semifinals at the Malaysia Masters last week, recovered from a first-game loss to secure a 7-21, 21-16, 21-11 win over local hope Dinar Dyah Ayustine, ranked 50th, in another women's singles match. It was Saina's third win over Ayustine.
The 28-year-old from Hyderabad will next face another Indonesian Fitriani Fitriani, against whom she has a 4-0 head-to-head record.
In men's singles, eighth seed Srikanth eased past Malaysia's Chong Wei Feng 21-12, 21-8 to set up a showdown with Japan's Asian Games bronze medallist Kenta Nishimoto.
But compatriots B Sai Praneeth and Subhankar Dey failed to cross the opening hurdle at the tournament.
2017 Singapore Open champion Praneeth was sent packing 12-21, 16-21 by Olympic champion Chen Long of China in 40 minutes, while Subhankar, who had won his maiden title at SaarLorLux Open in Germany last year, fought hard before going down 14-21, 21-19, 15-21 against former World champion Viktor Axelsen of Denmark.
Local hope Anthony Sinisuka Ginting, seeded seventh, proved a difficult customer for Parupalli Kashyap once again as he claimed a 21-12, 21-16 win over the former Commonwealth Games champion.
In men's doubles, national champions Manu Attri and B Sumeeth Reddy dished out a fighting game to notch up a 14-21, 21-19, 21-15 win over Denmark's Mads Pieler Kolding and Niclas Nohr.
Commonwealth Games bronze medallist pair of Ashwini Ponnappa and N Sikki Reddy also bowed out of the competition, losing 14-21, 14-21 to Thailand's Jongkolphan Kititharakul and Rawinda Prajongjai in the women's doubles opener.
Paddler Ghosh gets bail, eyes Commonwealth C'ships return
Embroiled in a case of domestic violence, former national champion Soumyajit Ghosh said he is eyeing a competitive return with the Commonwealth Table Tennis Championships in June, after being granted an unconditional bail by Barasat Courts.
"All the allegations against me are false and myself and my family have got bail," Ghosh, who had become the youngster national champion back in 2013, told reporters.
"I will try to make a comeback in the Commonwealth Championships. I will try my best. But at the same time I'll have to appear in courts whenever they summon."
"With the bail, I can concentrate on playing again. It's a very difficult battle and I consider myself lucky that my family and well-wishers stand beside me."
Ghosh and five of his family members and relatives were charged with IPC sections 498A (physical and mental torture), 406 (criminal breach of trust), 195A (threatening to give false evidence) and 34 (common intention) at the Barasat Courts on January 16.
"We all made an effort to reunite but I'm clueless why all these allegations were made against us. I was really shocked to see the complaint. I'm innocent and waiting for the verdict."
After getting a notice, they appeared at the Barasat Courts and after the hearing, the chief judicial magistrate granted bail without imposing any condition, his lawyer Sibashish Pattanayak Dey said.
Ghosh married the same girl who had accused him of rape and after the case was dismissed, the same girl filed fresh charges against the Olympian.
Anand draws with Rapport to stay in joint lead
Viswanathan Anand played out an easy draw as black with Richard Rapport of Hungary to stay in joint lead on six points after the end of the ninth round of Tata Steel Masters chess tournament, in Wijk Aan Zee, The Netherlands.
Tackling his first of the two back-to-back black games in a row with ease, Anand had a level position on board for the major part and is now in a three-way tie with four rounds still remaining in the first super tournament of the year.
Ian Nepomniachtchi of Russia joined Anand and world champion Magnus Carlsen of Norway in the lead following a fine victory over Indian Grandmaster Vidit Gujrathi.
Ding Liren of China played out a draw with tailender Vladimir Kramnik to be joint fourth along side Dutchman Anish Giri who was held to a draw by compatriot Jorden Van Foreest.
In the other decisive game of the day, Teimour Radjabov slipped against fellow Russian Vladimir Fedoseev and both are now at a fifty percent score with Duda Jan Krzysztof of Poland.
For Anand, the Queen's gambit declined has been working well for a long time and the ninth round was no different. Rapport tried his hands at a variation that leads to early endgame and the queens got traded as early as on eighth move.
The trading of queens led to a miniscule advantage for Rapport and that's what it remained when the game ended.
The Hungarian is known for his uncompromising approach but the aura of Anand baffles even the greatest of swindlers in the chequered squares. In the end, a draw was agreed when the players reached a rook and opposite coloured bishops endgame.
Anand's big test comes as early as in next round when he takes on Carlsen who will have white pieces. The chances of Anand winning will rise hugely if he can hold Carlsen as he will have two white games to bank on in the next three rounds.
Carlsen was up against recently crowned Americanchampion Samuel Shankland and for once he also did not get any complications running. Shankland remained slightly better for most of the game while the Norwegian was solid and the draw was a just result in the end.
In the challengers section, Grandmaster R Praggnanandhaa suffered a defeat at the hands of Russian-turned-Canadian Evgeny Bareev. The French defense by Bareev led to a pawn plus heavy piece endgame where the young Indian could not hold his position.
Pairings Masters round 9: Richard Rapport (Hun, 3.5) drew with V Anand (Ind, 6); Shakhriyar Mamedyarov (Aze, 3.5) drew with Duda Jan Krzysztof (Pol, 4.5); Samuel Shankland (Usa, 4) drew with Magnus Carlsen (Nor, 6); Ian Nepomniachtchi (Rus, 6) beat Vidit Gujrathi (Ind, 4); Anish Giri (Ned, 5.5) drew with Jorden Van Foreest (Ned, 4); Vladimir Kramnik (Rus, 2.5) drew with Ding Liren (Chn, 5.5); Teimour Radjabov (Aze, 4.5) lost to Vladimir Fedoseev (Rus, 4.5). PTI Corr PDS PDS
None better than Harendra as India coach: Sandeep Singh
Former captain Sandeep Singh on Wednesday slammed the frequent change of coaches in Indian hockey, asserting that there was none better for the job than the recently-removed Harendra Singh.
Harendra was sacked as India coach earlier this month following a disappointing 2018 and offered another stint with the junior squad. He became the sixth coach to be sacked in as many years.
"You can't be changing coaches this frequently. The crucial Olympic qualifier (FIH Series Finals in June) is ahead of us and we should not be experimenting too much. I don't think I have worked with a better coach than Harendra sir," Sandeep said at the launch of Flickers Brothers hockey academy, his joint venture with brother Bikramjeet.
"There are a few coaches (in India) who can coach at the highest level and Harendra paaji is one of them. He should have been given more time.
"Any new coach takes about six months to adjust to the system and players also need time to understand his methods. The team doesn't have that kind of time (ahead Olympic qualifiers)," he said.
India have had a variety of foreign coaches and Harendra helming the national team was a rarity in recent times. But he could not even last 12 months after taking charge, following the team's medal-less showing at the Commonwealth Games in April.
Hockey India has invited fresh applications for the post and Sandeep, who was best known for his ferocious drag-flicks, feels an Indian coach will be most beneficial for the team.
"There is no language barrier and more importantly, you don't hesitate while interacting with an Indian coach. Indian coaches are strict on the field but off the field they take very good care of you," he explained.
The phenomenon of dropping players without giving them ample opportunities is another aspect that bogs down Indian coaches, said Sandeep.
"In 2007-08, India and Belgium played a series in Chennai and we beat them easily though I was not a part of that team. Ifyou look at the Belgium side, which won the World Cup last month, it had most of the players that played against India 10 years ago, while India had only one or two.
"So continuity is important. Rupinder Pal Singh should have played the World Cup and Sardar Singh should have been allowed to retire post the World Cup," said the 32-year-old.
The biggest worry for the national team, according to Sandeep, is lack of world-class goalkeepers.
"My biggest worry is when P R Sreejesh retires, who will be replace him? I don't see anyone matching up to his standards. We have to prepare goalkeepers. Strikers and drag-flickers keep coming but not goalkeepers. I hope he plays for another five to seven years."
He concluded by saying that the head coach should be involved in selection matters as is the case with top foreign teams like the Netherlands and Germany.
CWG gold medallist weightlifter Sanjita's provisional suspension revoked
The International Weightlifting Federation has revoked the provisional suspension on weightlifter K Sanjita Chanu for a failed dope test, a major reprieve for the two-time Commonwealth Games gold-medallist who has claimed innocence.
In a case that has dragged on for almost a year and has been marred by an "administrative" goof-up in Sanjita's sample number, the IWF informed that a final decision on the matter is expected in the coming days.
"On the basis of the information at its disposal, the IWF has decided that the provisional suspension of the athlete (Khumukcham Sanjita) shall be lifted as of today (22 January 2019)," IWF's legal counsel Eva Nyirfa said in an e-mail sent to the national federation and Sanjita.
"The IWF Hearing Panel will render its decision on the athlete's case in due course," it added.
The 25-year-old Sanjita, who had won a gold in the women's 53kg category at the 2018 Commonwealth Games in Gold Coast, had tested positive for anabolic steroid testosterone. Her urine sample was taken prior to the World Championships in United States in November 2017, and she was put under provisional suspension from May 15 last year.
A final decision of the IWF panel is yet to come but Sanjita said her assertion of innocence has been vindicated.
"I have got a mail from the international federation and our national federation has also called me up this morning informing about the lifting of the (provisional) suspension. I am relieved and happy. I am innocent and I have never taken any banned substance in my career. I am vindicated now," she said from her native place in Manipur.
"At the same time, I experienced mental trauma during these past 8-9 months (since May 15 last year) due to the mistake of the international federation. I hope nothing like this happen to any athlete in future. An athlete's reputation is very precious," she added.
Sanjita said the Indian Weightlifting Federation had asked her to join the national camp immediately if she wants.
"The federation official told me today to write if I want to join national camp. I am doing that. I missed the Asian Games and World Championships in 2018. I want to compete in the World Championships this year and qualify for 2020 Olympics. For any athlete, Olympics is the ultimate," she said.
The international body informed about her doping offence only in May last year. That meant the Manipuri weightlifter participated in the Gold Coast CWG, where she finished top of the podium. She had also won gold in the 48kg in the 2014 Commonwealth Games in Glasgow.
The IWF had, in July last year, admitted to committing a mistake in giving the exact sample number of Sanjita in its report. The world body had mentioned two different urine sample numbers in its communication of her dope flunk.
The urine sample of Sanjita was taken out-of-competition on November 17, 2017 and the laboratory results of the tests conducted in the United States was handed to the international body on December 20.The communication of her failed dope test was given to Sanjita only on May 15 last year and her 'B' sample returned positive on September 11.
Her representatives then appeared before a IWF hearing panel on October 19 in Budapest, Hungary. She presented her submissions on October 19 itself and on November 1.
In a communication to Sanjita -- a rare instance while a doping procedure is ongoing -- the IWF hearing panel had said that "the case appears to be complicated".
Sanjita's doping issue even reached the Prime Minister's Office which directed the Sports Ministry to look into the matter.