A summary of sports events and sports persons, who made news on Friday
Mallya 'optimistic' after arrest, says Perez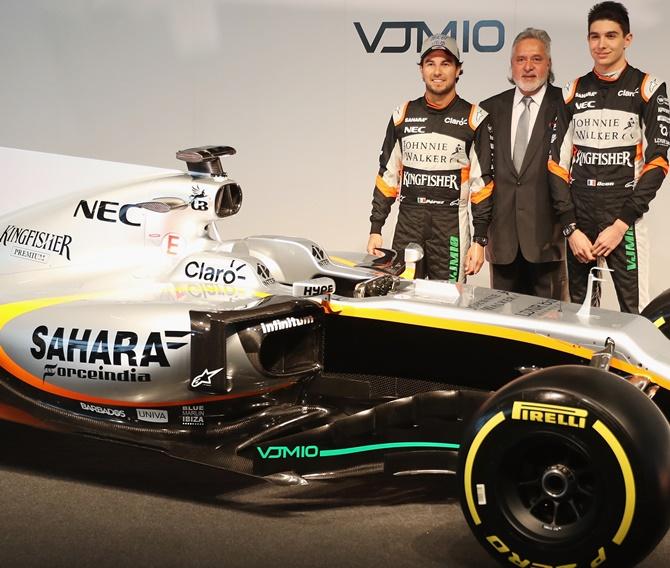 IMAGE: Sergio Perez, left, of Mexico and Sahara Force India, Vijay Mallya, centre, Team Principal and Managing Director and Esteban Ocon of France pose with the VJM10 car during the Sahara Force India Formula One team launch. Photograph: Mark Thompson/Getty Images.
Force India co-owner Vijay Mallya is upbeat about the future despite facing potential extradition from Britain to India after his arrest last week, the Formula One team's Mexican driver Sergio Perez said on Thursday.
"I think Vijay himself is happy that finally action has been taken because then the decision will be quite soon and he is very optimistic that he will be OK," Perez told Reuters at the Russian Grand Prix.
"So we look forward to having him back at the track," he added.
Perez keeps in close contact with Mallya, who attended only the British Grand Prix at Silverstone last year after his Indian diplomatic passport was revoked with a judge in Mumbai issuing a non-bailable warrant for his arrest.
Pursued by Indian authorities over unpaid loans tied to his defunct Kingfisher Airlines, Mallya was arrested in London last week and appeared at Westminster Magistrates Court for an extradition hearing before being granted bail.
A source close to Mallya told Reuters at the time that the 61-year-old had attended a police station voluntarily in an arranged visit and the arrest was a technical procedure.
India has asked Britain to extradite Mallya to face trial after the liquor and aviation tycoon fled there in March last year.
Banks are seeking to recover about $1.4 billion that the Indian authorities say Kingfisher owes. Mallya has repeatedly dismissed the charges against him and defended himself in messages on Twitter and rare interviews.
Mallya has a base in London and a lavish country home bought from Anthony Hamilton, the father of triple Formula One world champion Lewis Hamilton.
The Indian has installed a control centre in the country house, allowing him to keep in close touch with the Silverstone-based team in real time during races and have access to data feeds.
Deputy principal Bob Fernley and chief operating office Otmar Szafnauer run the team, which finished a best-ever fourth overall last year, day-to-day at the circuit in Mallya's absence.
"I think the team is in a good position," said Perez. "Nothing changes."
Barcelona to report Malaga president's offensive tweet
Spanish giants Barcelona will report Malaga president Abdullah Al-Thani to the nation's football governing body and La Liga authorities over comments he made about the club on social media, the league leaders have said.
Al-Thani reportedly made offensive remarks about Barcelona on Twitter after a fan asked about Malaga's upcoming game against title contenders Real Madrid.
Barcelona expressed its "rejection and indignation" of the tweet which, the club said, "infringes upon the principles of fair play, and the ethical and legal precepts that must govern sporting competition."
"The Club, therefore, will report this case to the National Sports Council's Anti-Violence Committee, and will bring the matter before the Royal Spanish Football Federation's Competition Committee, as well as the Department of Integrity of La Liga."
Barcelona are top of the league table, level on points with rivals Real Madrid, having played one game more.
Rooney hopeful of future despite poor season
Manchester United captain Wayne Rooney is confident he can play on at the highest level for another two to three years despite spending a significant part of the current campaign either on the bench or out injured.
Rooney has made 31 appearances for United this season, most of which as a substitute, with manager Jose Mourinho relying more on top goalscorer Zlatan Ibrahimovic before a knee injury ended the 35-year-old's season.
Rooney, who played his fourth match in three months in United's 2-0 win over Burnley on Sunday, has also suffered recurring injuries throughout the season.
Asked if he could continue playing for another two to three years, Rooney told SkySports, "Yes. Even longer I think. Everyone mentions that age, I'm 31, not an old person. Of course, I've played a lot of game."
"Who knows, not playing so many games this season might benefit me."
Rooney said his experience could help United end the season strongly as they target a Europa League triumph and a top four finish in the league.
"I feel I can contribute quality, composure, experience, and know-how, how to get over the line, whether it's to win the league or finish top four or get to the final. That's a lot of experience I can contribute to the team," he said.
"Of course it's good to be back. I want to be back playing, and hopefully between now and the end of the season and leave a mark on the games I play."
Rooney said he was concentrating on performing to his best until the end of the season amid media reports linking him to a move away from Old Trafford.
"My focus at the minute is helping us reach the Europa League final, and to win it, and help us get to the top four. That's my focus at the minute," Rooney added.
"I think I've got a lot to offer, and as I keep saying, I'm looking forward to these next few games, get a few under my belt, and get to where I want to be at the end of the season and see what happens there."
Fifth-placed United host relegation-threatened Swansea on Sunday.