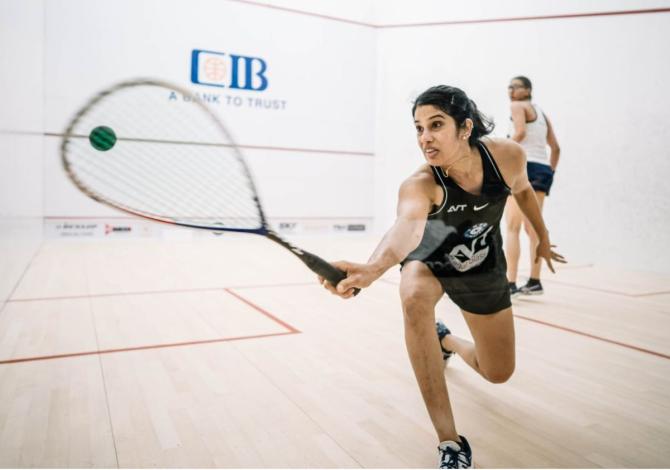 India's leading squash player Joshna Chinappa, playing her first tournament in six months, reached the quarter-finals of the CIB Egyptian Open in Cairo.
The World No 11 was pushed to the limit by 38th ranked Farida Mohamed who staged a valiant comeback after losing the first two games to level the match.
In the decider, the Indian managed to see off the Egyptian for a 11-7, 11-6, 7-11, 10-12, 11-9 win in the third round.
Joshna will face World No 2 Nour El Sherbini in the quarter-finals.
"She takes a little time to warm up, but once she gets going, it's hard to stop and contain her. She played some great winners, maybe there were a few rallies that weren't that nice to look at, I don't know, I got knocked out a few times," Joshna was quoted as saying in the tournament website.
"I'm relieved to be through, it could have been either of us. But in the fifth, I tried to keep it simple, she was in full confidence having come back from 2/0 down, I didn't want to open it too much for her, and I think that I was just a bit more consistent at the end of that game."
India's highest-ranked male player, Saurav Ghosal, lost his third-round match against Egypt's Mezan Hashem 8-11, 9-11, 8-11.
It was the first event too for Ghosal since March when the COVID-19 outbreak led to a nationwide lockdown.
Para-archer Ankit hospitalised after testing positive for COVID: SAI
Para-archer Ankit was on Wednesday hospitalised after testing positive for COVID-19 during a national camp at the Sports Authority of India's Northern Regional Centre in Sonepat.
The national camp for the para-archers began with eight athletes on October 5.
"To ensure proper treatment and close monitoring of his vitals, he was shifted to the Bhagwan Dass Hospital in Sonepat on Wednesday," SAI said in a statement.
All campers had reported to the after centre submitting negative COVID-19 RT-PCR test reports.
"As per the Standard Operating Procedure set up for the camp, samples of all campers were taken on October 12th for re-testing where Ankit's report was found to be positive," SAI said.
"He was immediately shifted to the isolation ward created above the medical centre at the SAI NRC Sonepat, before being moved to the hospital."
As part of the 'Khelo India Phir Se' initiative, SAI resumed sporting activities of Tokyo Olympics bound para-athletes and athletes in its National Centre of Excellence (NCOEs) across the country, in a phased manner from October 5.
Poker for charity starts with the Virtual Poker League 2020
India's top 30 poker players have come together to play for a cause with the Virtual Poker League 2020 (VPL). The league aims to bring a change by uniting the finest poker players of the country to play for a cause and use their skills to go #ALLINFORCHARITY.
Amit Burman, Promoter - Poker Sports League said, "I am thrilled to announce VPL on behalf of the entire team of Poker Sports League. Setting a benchmark in today's tech-savvy world, VPL is the first-ever poker event (post-COVID) which replicates the live poker experience. Our entire operations are conducted in a virtual format through the Virtual Poker League."
With a prize pool of INR 10 Lakh, the sum will be distributed in the ratio of 5:3:2 to charities of the winners' choice. United Way Chennai, Super School India and ASSCOD (The Association for Sustainable Community Development) are the official charity partners. He further added, "#ALLINFORCHARITY tournament will witness some of the finest poker players in the country play for a cause that is beyond winnings of any tournament played for personal benefit."
The tournament will take place in three stages: - Stage One: 5 matches with 6 players each on Oct 14th and 15th, Stage Two: All 30 players will play a multi-table tournament and play down to the winner on Oct 16th, Stage Three: Finale on Oct 17th.