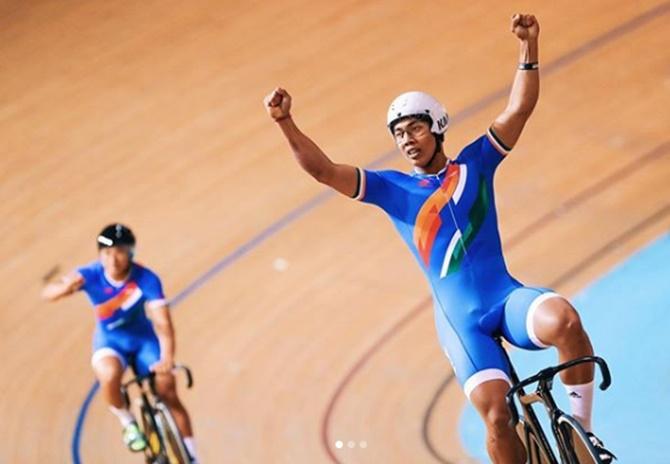 Ronaldo Laitonjam won his fourth gold of the meet as India picked up three medals on the concluding day to emerge overall champions in the Track Asia Cup cycling competition, in New Delhi, on Wednesday.
India topped the medal tally with 10 gold, 8 silver and 7 bronze medals as the tournament came to an end at the IGI Sports Complex. The home team clinched 2 gold and 1 bronze on final day on Wednesday.
Uzbekistan finished overall second with 4 gold and 3 silver while Malaysia secured third place with 4 gold and 1 silver.
Ronaldo once again hogged the limelight by winning a gold in junior men's Keirin event, his fourth of the meet. The junior world champion team member Ronaldo had earlier collected a gold each in sprint, 1km time trial and team sprint junior events.
In keirin, out of five rounds, cyclists have to win through their speed in the last 2.5 rounds and Ronaldo finished ahead of Kazakhstan riders Arlanbek and Alexandr Safarov who won silver and bronze respectively.
"This is the best ever performance of my career and in every event I improved my timing, this is most important and with the blessings of my family, I achieved it," Ronaldo said after winning his fourth gold.
Esow Alben, current world number 1, also won a gold in men' elite keirin event and collected crucial points required to qualify for the 2020 Olympics. Thailand rider Worayut Kapunya won the silver while Amarjeet Singh added a bronze to India' tally.
Deborah Harold and Mayuri Lute of India had a disappointing outing in women's elite keirin as they were not able to enter the top six. Top three places went to Fatehah of Malaysia, Crismontia of Indonesia and Cho Yiu of Hongkong respectively.
Cycling Federation of India Chairman Onkar Singh said, "Our junior cyclists produced stellar performances throughout Track Asia Cup to show their skills and tactics. Elite cyclists collected crucial points during competition to earn an opportunity to qualify for Olympics. I am satisfied with the performances of Indian cyclists."
Mehuli Ghosh dominates, wins national shooting trials
Mehuli Ghosh continued her impressive run as she won both the senior and junior women's 10m air rifle title for the second day in a row at the National Shooting Trials (T7).
Mehuli had won the same two events at the Dr Karni Singh Shooting Range on Tuesday in the sixth trial as well.
The diminutive teenager, who has seven international medals to her name over the last two years, clinched the title in a quality field comprising the world's top three shooters to win the senior final with a score of 251.9.
She then went on to win the junior final with a score of 252.7, just 0.2 off teammate and world number one Apurvi Chandela's finals world record score of 252.9.
Madhya Pradesh's Shreya Agrawal lost her second final in two days to Mehuli, finishing behind her in the T6 seniors yesterday and then again the T7 juniors on Wednesday, where she finished with a score of 252.
Rio World Cup gold medallist Elavenil Valarivan came in second in the senior finals, shooting a score of 251.0. She had earlier topped the qualification round with a sublime 631.1.
Apurvi and world number two Anjum Moudgil finished sixth and fourth in the senior finals respectively.
Zeena Khitta of Himachal Pradesh won the youth women's 10m air rifle trial, beating Atmika Gupta of Rajasthan 251.1 to 248.8. She had also won the T6 trial in the same category on Tuesday.
Khushi Saini of Punjab was the other standout performer in the event, making it to all three finals.
Akhil Sheoran of the Railways, an ISSF World Cup gold medal winner last year, won the men's 50m rifle 3 positions (3P) trials with a final round score of 455.5. MP's Aishwary Pratap Singh Tomar came second with 455.0 while Army's Satyendra Singh was third with 443.5.
Aishwary, however, won the junior men's trial in the same event.
The highest qualification score in the men's 3P throughout the day was registered by the Indian Air Force's Deepak Kumar who topped the senior qualifications with a score of 1165.
Delhi's Arpit Goel won the men's 25m rapid fire pistol trials with a final score of 30. He overcame Maharashtra's Harshwardhan Yadav, who shot 28.
Udhayveer Sidhu of Chandigarh came third but managed to win the junior trial with a score of 32. He overwhelmed Haryana's Anish Bhanwala who shot 29 to come second, while Adarsh Singh shot 23 to finish third.
Mary Kom, Sai Praneeth, Yashaswini Deswal added to TOPS
The celebrated M C Mary Kom, young shooter Yashaswini Singh Deswal and shuttler Sai Praneeth were among 12 top sportspersons who were included in the Target Olympic Podium Scheme (TOPS) of the government.
The six-time world champion and Olympic bronze medallist Mary Kom was among 10 boxers who were brought into the TOPS scheme for 2020 Olympics by the Sports Authority of India's Mission Olympic Cell which met in New Delhi.
Amit Panghal (men's 52 kg), Sonia Chahal (women's 57 kg), Neeraj (women's 57 kg), Nikhat Zareen (women's 51 kg), Kavinder Singh Bisht (men's 57 kg), Lovlina Borgohain (women's 69 kg), Vikas Krishan (men's 75 kg), Shiva Thapa (men's 63 kg) and Manish Kaushik (men's 63 kg) were the other nine boxers added to the TOPS list.
The committee also included 22-year-old shooter Deswal who won a gold medal in the women's 10m air pistol event in the ISSF World Cup in Rio De Janeiro earlier this month. Her gold earned India an Olympic quota in this event. She had also won a silver in the mixed team event.
Badminton star Sai Praneeth had won a bronze in the World Championships last month to become the first Indian men's singles player in 36 years to win a medal. Praneeth has risen to world number 15 and is currently India's number two player. A country is eligible to send two shuttlers per singles event in the Olympics.
The athletes were chosen on the basis of these parameters: global performance trends from most recent Olympic Games, World Championships, Asian Games and Asian Championships, performance of competing international counterparts in the last three years, high performance age of a typical Olympic medallist specific to each event, performance of Indian athletes in 2016, 2017 and 2018 and their progression chart, feedback from NSF, high performance managers, project officers and coaches.
Besides the selection of athletes, financial proposals worth Rs 1.4 crore were also cleared in 11 sporting disciplines -- weightlifting, wrestling, shooting, archery, table tennis, athletics, badminton, tennis, para-badminton, para-archery and para-shooting, a release from the SAI said.
The MOC also decided on the salient features of the long-term developmental plan for the 2024 and 2028 Olympics.
"Scientific testing for 21 athletes selected under the developmental group is going to take place in two batches on 15th September and 30th September. Discussions were held about the high-level committee for the Tokyo Olympics that is already in place and is headed by Union Minister of Youth and Sports, Kiren Rijiju," the SAI release said.
"The committee will look into arrangements for the Olympics, addressing issues such as facilities for support staff, creation of India House, pre-games training venues and other logistical arrangements."