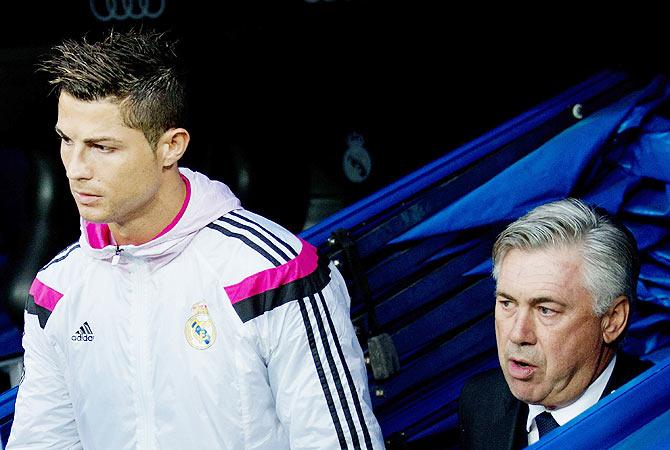 Cristiano Ronaldo (left) of Real Madrid with head coach Carlo Ancelotti. Photograph: Gonzalo Arroyo Moreno/Getty Images
Portugal's football team captain Cristiano Ronaldo's agent has revealed that the forward would play out the rest of his career at Real Madrid, shunning reports of a return to Manchester United.
Ronaldo has been linked with a sensational return to United in the past few weeks after reportedly growing frustrated at the Bernabeu. However, his agent Jorge Mendes said insists that his client is happy in Real and aims to stay until his playing days are over.
Mendes said that Ronaldo would retire at Real when he turns 40, adding that he is very happy at the Spanish club. He said that it is impossible to lure the striker away from Real as he breaks all the records and is regarded as the best athlete ever, The Mirror reported.
Mendes said that Ronaldo is happy at Real and has always been happy there.
Ronaldo had previously indicated he would love to end his career at Old Trafford, where he enjoyed great success between 2003 and 2009. But Mendes believes that the striker's status as the world's greatest player means a deal could never be struck.
Mendes added that United would always have a place in Ronaldo's heart, because he spent six years there. But he also said that the Portuguese international is only thinking about Real now and will always stay there.
Simon ends Lopez's run in Shanghai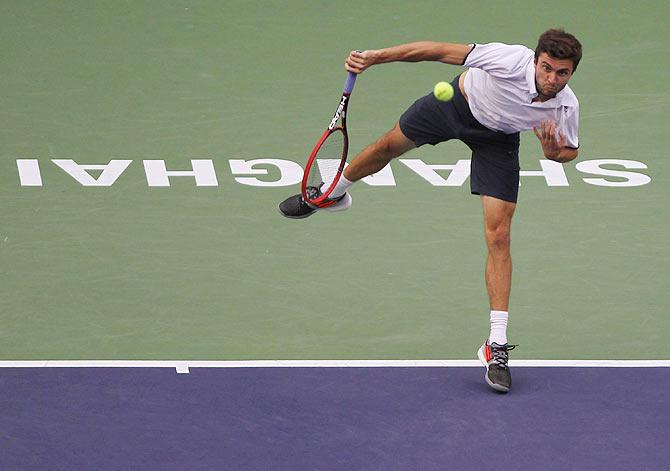 Gilles Simon of France serves during his semi-final match against Feliciano Lopez of Spain during the Shanghai Masters at the Qi Zhong Tennis Center on Saturday. Photograph: Zhong Zhi/Getty Images
Unseeded Frenchman Gilles Simon moved into his first Masters Series final in six years after outclassing big-serving Spaniard Feliciano Lopez in Shanghai on Saturday.
The World No 29 faced little pressure on his serve and dominated the match from the baseline with some sumptuous ground strokes as he blasted away the 33-year-old Lopez 6-2, 7-6(1) on stadium court.
Simon, whose only previous Masters Series final appearance came in 2008 in Madrid, will face the winner of Saturday's second semi-final between world number one Novak Djokovic and 17 times grand slam singles champion Roger Federer.
The Frenchman knocked out Australian Open winner Stanislas Wawrinka and sixth seed Tomas Berdych en route to the last four in Shanghai and once again took down a more fancied opponent by moving him around the hardcourt with strong groundstrokes.
Lopez, who knocked out Rafael Nadal in the second round, netted a backhand volley to hand Simon the first break of the match in the third game and the tall Spaniard only had himself to blame as a double fault gifted a second break and made it 4-1.
The frazzled World No 21, under pressure from the class of Simon's winners, did finally hold to make it 5-2 but the Frenchman wrapped up the set in 25 minutes with an ace up the middle that swerved teasingly away from the left hander.
The Spaniard mixed up his tactics in the second set, opting to attack the net more to hustle his opponent with some success.
Lopez came through seven deuces in the third game to avoid another break as the pair both held serve with mixed success -- the Spaniard fending off break points, while Simon only dropped four points on his serve in the set.
The pressure finally told on the 33-year-old Lopez, bidding to reach his first Masters series final, in the tiebreak as he crumbled under a mix of double faults, netted returns and wild smashes to lose it 7-1.
Jeev makes cut, Kapur misses out in Portugal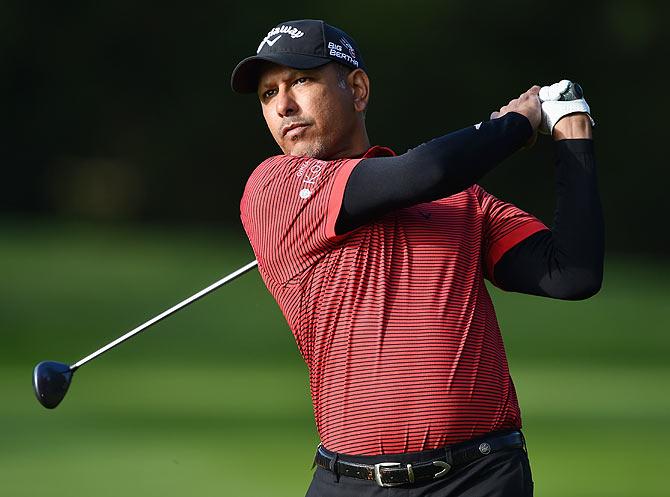 Jeev Milkha Singh of India. Photograph: Stuart Franklin/Getty Images
Indian golfer Jeev Milkha Singh came back strongly in the last four holes to make the cut in the weather-hit Portugal Masters in Vilamoura.
Jeev, who shot one-over 72, carded four-under 67 to get to three-under 139 and make the weekend rounds. His round included an eagle and a birdie in the last four holes.
Meanwhile, Shiv Kapur missed the cut as he carded a 76 and 70 in his two rounds.
At the top, Alexander Levy stormed into the lead on day two with a stunning 10-under 61, but the Frenchman was one of only two groups to complete the second round after thunderstorms and heavy rain severely disrupted play, forcing the tournament to be reduced to 54 holes.
The Frenchman's sublime haul of 10 birdies to follow his first-round 63 left him three shots clear of Nicolas Colsaerts, who was four-under through 16 holes and 15-under in total after coming close to carding the first 59 in European Tour history on day one.
The majority of players will now have to complete and, for half the field, start their second rounds this morning, and Levy faces a strange situation where he will now not play until the third and final round on Sunday.
Villa scores 15 minutes into Melbourne City debut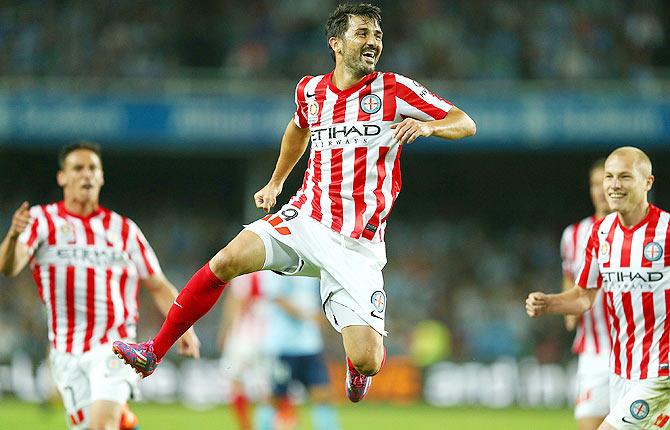 David Villa of Melbourne City celebrates a goal during the round one A-League match against Sydney FC at Allianz Stadium on Saturday. Photograph: Renee McKay/Getty Images
Spanish World Cup-winning striker David Villa needed only 15 minutes to register a classy first goal for Melbourne City as the rebranded side opened their A-League season with a 1-1 draw at Sydney FC.
Villa, on a 10-game loan spell from New York City, came off the bench in the 48th minute and pulled Melbourne level after collecting the ball and firing a low shot from the edge of the area past Sydney goalkeeper Vedran Janjetovic.
It was Villa's first match since scoring for Spain in a 3-0 rout of Australia as both sides exited the World Cup at the group stage in June.
Former Barcelona and Valencia forward Villa, Spain's all time leading scorer, received warm applause upon his arrival from the 25,000 fans but was quiet after his neat goal.
City, formerly Melbourne Heart but rebranded after their purchase by English champions Manchester City, had the best of the game but Mate Dugandzic was particularly wasteful.
The Melbourne club gave a debut to former Ireland international Damien Duff but were without their other marquee signing, Slovenian midfielder Robert Koren, because of a calf injury.
Sydney, who took the lead in the 55th minute after a curling effort from Corey Gameiro, almost won the game but Terry Antonis's stunning 30 metre strike in the dying minutes rattled the crossbar and substitute Max Burgess wasted the rebound.
On Friday, AFC Champions League finalists Western Sydney Wanderers were brought crashing back to earth after their continental success when they opened with a 4-1 thrashing at Melbourne Victory.
Defending champions Brisbane Roar open their campaign on Sunday at home to Adelaide United.
American Biles wins World gymnastics title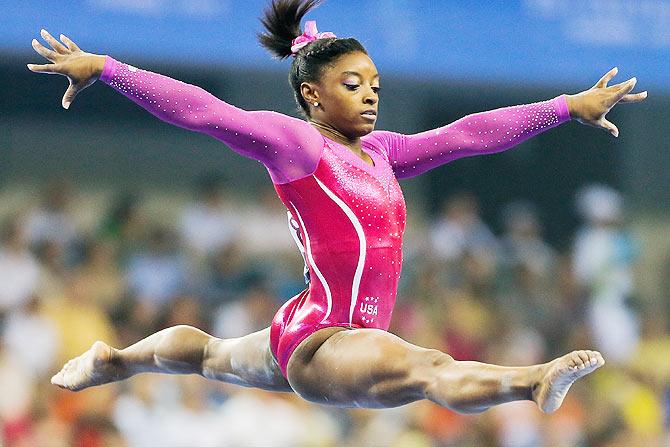 Simone Biles of United States performs on the Balance Beam during the Women's All-Around Final in day four of the 45th Artistic Gymnastics World Championships at Guangxi Sports Center Stadium in Nanning, China, on Friday. Photograph: Lintao Zhang/Getty Images
American Simone Biles led from start to finish to retain the women's all-around title at the Gymnastics World Championships in Nanning, southern China on Friday.
Biles, a member of the US outfit that won the team title earlier this week, became the first female since Russian Svetlana Khorkina in 2003 to capture a second consecutive all-around crown.
The 17-year-old's celebrations were interrupted when the gold medal was placed around her neck and she spotted a bee in the bouquet of flowers she had been handed.
The teenager, smiling broadly, jumped on and off the podium to try to avoid the insect before getting back on to pose for the waiting cameramen alongside second-placed Romanian Larisa Lordache (59.765 points) and American Kyla Ross who was third on 58.232.
Biles had taken the lead in the event by topping the vault routine and finished with a flourish in the floor exercise to win the four-apparatus final with 60.231 points.
She struggled on the balance beam in Wednesday's team final and made an uncharacteristic mistake on the uneven bars during qualification but there were no nerves when it mattered on Friday.
"I was really struggling on the bars competition-wise, not in the gym," she told reporters. "I just had to go out there and do what I did in training."
Japan's Kohei Uchimura claimed a record-extending fifth consecutive men's all-around title on Thursday and Biles said it would be tough to match his feat.
"He's crazy ... but I don't think I can because he's a legend," the American added.
Dovizioso gives Ducati rare pole in Japan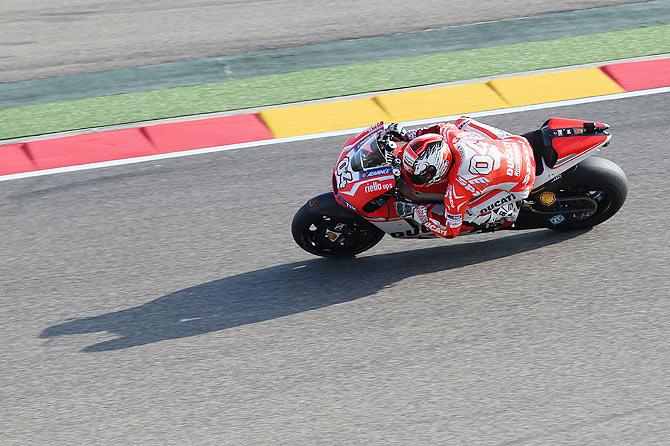 Andrea Dovizioso of Italy and Ducati Team rounds the bend during the MotoGP of Spain. Photograph: Mirco Lazzari/Getty Images
Italian Andrea Dovizioso claimed Ducati's first MotoGP pole position in four years at the Japan Grand Prix on Saturday, while world champion Marc Marquez will start from fourth in a race that could see him retain the title.
Valentino Rossi qualified second for Yamaha, just 0.055 seconds behind his countryman, with Honda's Dani Pedrosa completing the front row of the grid, 0.253 behind Dovizioso.
Spaniard Marquez was just 0.020 second slower than team mate Pedrosa, as he edged out former two-time world champion Jorge Lorenzo on his Yamaha.
The 21-year-old champion has 292 points to Pedrosa's 217, with Rossi on 214, and will retain the title should he maintain the 75-point gap at the head of the standings with three races remaining after this one.
Dovizioso's pole record timing at the Motegi circuit of one minute 44.502 seconds earned his team a first pole position since Casey Stoner at Valencia four years ago.
No Brazil club featured in FIFA 15 game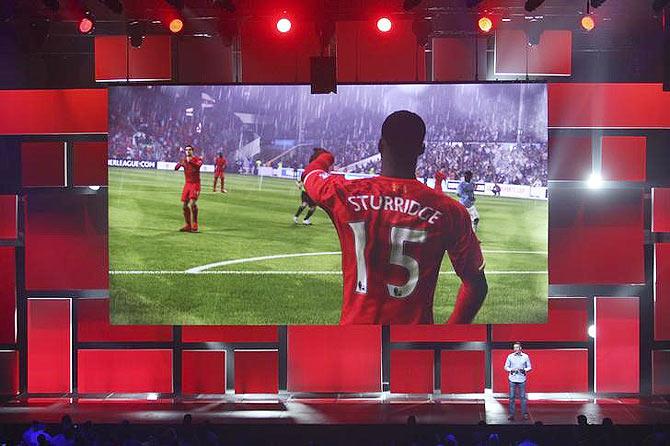 People watch a demonstration of "FIFA 15" at the Electronic Arts (EA) World Premiere: E3 2014 Preview press conference at the Shrine Auditorium in Los Angeles, California. Photograph: David McNew/Reuters
Best-selling video football game "FIFA 15" was released in Brazil this week but a lack of organisation by players means that for the first time since the 1990s there are no Brazilian clubs featured.
The popular game is the market leader in soccer-mad Brazil, but makers EA Sports could not reach a deal with Brazilian players over their image rights, or even work out who to negotiate with.
Although EA officials in California and Sao Paulo would not comment on the affair, their distributor in Brazil said the lack of a local presence was a blow.
"It's terrible," Daniel Landi said in an interview with sports newspaper Lance!
"The obstacle is that the contracts of athletes from around the world are covered by an entity called FIFPro. But this year the Brazilians are no longer represented by this association.
"The big problem is there is no one legal entity that represents Brazilian players and so the way round that would be to negotiate with each one and there are more than 600 players," he added.
"We want to negotiate a collective contract but we don't know how yet, if it is with the clubs or the agents."
FIFPro, the Amsterdam-based players' group that negotiates a collective bargaining agreement with games' manufacturers, said the Brazilian union had not provided them with the proper guarantees and that they were working to get Brazil back into the game.
"We understand the situation in Brazil and it is extremely unfortunate that we are unable to provide the collective image rights for that particular market," FIFPro's communications director Andrew Orsatti told Reuters.
"Clearly, this is of immense disappointment for those who want to see Brazil represented on these platforms and we hope all parties concerned can find a solution to this issue going forward."
If Brazilian players eventually opt in, the game can be updated but for now everyone loses, said Orsatti.
"From FIFPro's perspective, we believe that for the players, clubs and the Brazilian market in general, they would benefit greatly by being able to promote themselves via the computer entertainment industry to a much wider global audience," he added.
Brazil produces some of the world's best players and is the only country to win the World Cup five times. Almost every major European club has a Brazilian in their ranks and those players -- such as Neymar, David Luiz and Oscar -- are included in "FIFA 15".
But Brazil's domestic game is notoriously badly run. Most of the clubs are in debt and even some of the top teams in the country cannot afford to pay their players on time.
The absence of teams like Corinthians, Flamengo and Santos is also infuriating to local gamers.
"It was quite a blow, they really lost a lot by not having Brazilian teams," said Fernando Souza Filho, editor of industry site EGW/Gameworld, and an avid gamer.
"The die-hard fans that buy it every year prefer to play with European sides and in European leagues. But the occasional players, they want to play with Brazilian teams and players."