In June 2003, Ketan Bhobe won three gold medals in badminton for India at the Special Olympic Games in Dublin, Ireland.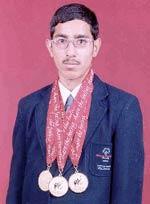 Ketan, who is mentally challenged since birth, was only 17 years old when he achieved the feat. He was born in Goa on April 16, 1986, to loving and caring Daya and a chartered accountant Rajendra Bhobe. Both Rajendra and Daya are my first cousins from different sides of my family. So I take pride in saying, I am twice as jubilant as I would be otherwise on Ketan's achievements.
While Ketan's twin sibling Kedar had a normal, natural birth, Ketan suffered from 'lack of oxygen' during his. He spent the first 10 to 15 days of his life under intensive care. However, the severe brain damages that occur due such mishaps are usually irrecoverable. Ketan spent most of his early life visiting different doctors in Goa and also other parts of the country. Following doctors' advice he was earlier admitted to a normal school along with Kedar. Due to incompetence, Ketan had to drop out from the school at a very early age. Kedar continued his normal schooling, and is now in 12th grade, learning Commerce.
As the kids grew up, the differences between them became evident to them. While Ketan wanted to do everything like his brother, Kedar expressed his desire to live a carefree life. Parents and grand parents had a tough time handling the situation, but they did well - eventually. As Ketan grew old enough, he realized that his mental disabilities are due to problems during the time of his birth. He vowed to take revenge against the doctors responsible for his fate. Quite rightly so, if such an event had occurred in any of the western countries the doctors would have paid a heavy price for such mistakes. Our law and several other factors allowed them to get away with this. His parents did good job of pacyfing him, and at the same time brought up the kids of same age, but different mindsets and capabilities.
While Ketan was only 12, a close family friend referred to a school in Pune. Ketan along with his mother moved to Pune as he joined the Phoenix School for mentally challenged, while his brother and father continued their lives in Goa. This family separation eventually paid off. Ketan learnt general sciences and basic math which otherwise had been his major weakness. He also learnt a bit about our country's history. Most importantly, there was a tremendous improvement in his speech and interpersonal relationship and communication.
When I joined a job in Pune, I moved into their apartment. This is when I learnt most about him. His actions and speech remind me of Tom Hanks from 'Forrest Gump', or the local version of Hrithik from 'Koi Mil Gaya'. He has also accompanied me to Basketball courts and soccer fields where I played with my colleagues. While we played, he enjoyed watching us play. Like every other normal kid he has shown a liking towards sports. He watches (on television) and keeps track of all the cricket matches India plays. He likes Sachin Tendulkar, and knows every other player in the team.
After three fruitful years of stay in Pune, Ketan and his mother moved back to Goa, joining the rest of the family. Here he joined Disha Charitable Trust, a school for special children. At school he played badminton along with children of his kind. With hard work and every day practice he qualified for the National event at Chandigarh. He won medals there and was qualified to represent India at the Special Olympics 2003, held at Dublin, Ireland.
At Dublin, Ketan maintained a 100 per cent record in all three events he participated in - singles, doubles and mixed doubles, which earned him three gold medals. Even today he remembers all his opponents and the final match scores. Among all the matches, he rates his singles match against an opponent from Pakistan as the best - the match that fetched him his first gold.
"I beat Pakistan," were his words heard on national television when news reporters and cameramen interviewed him at Mumbai airport (during transit), on his way back home in Goa.
I assume, his thrill and his words mainly come from the tensions and expectaions developed during India - Pak cricket matches, which he watches with his friends and family, and has no idea about the inter-country boder issues.
Such news is usually lost and forgotten soon or goes unnoticed in this country where the entire nation is crazy about a single game - cricket. However, Ketan along with other medal winners bagged handsome rewards from the central government and also their respective state goverments. It is good to know that such events are well funded and encouraged by the government. It's upto the rest of us to devote time and money towards such activities.
External link: Ketan Bhobe