News of all that's transpired on and off the football field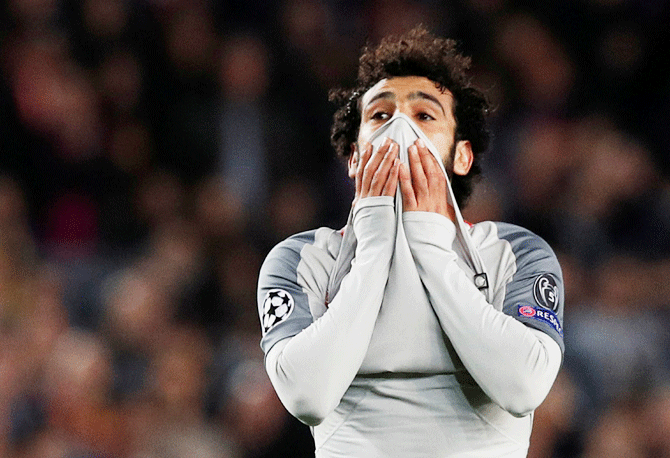 Liverpool manager Juergen Klopp believes his team can put their 3-0 Champions League defeat to Barcelona out of mind and focus on winning Saturday's crucial Premier League trip to Newcastle.
Liverpool trail leaders Manchester City by a point heading into the final two games of the Premier League season and the German said there was no need for him to boost his players' morale after the loss in Spain, in the semi-final, first leg.
"We didn't need to pick players up in Barcelona and give them a hug. It's in us. If you want to win in football you have to accept that you can lose. I had more positive thoughts about the game than negative because of what we did on the pitch," said Klopp, who is also not worried
"The boys are completely on fire. When you're in the race, you don't get tired. We are ambitious like hell. All we can do is beat Newcastle and that's unbelievably difficult, what other teams do on Monday night isn't our problem," he said, referring to ManchesterCity's home game with LeicesterCity.
"The performances in recent weeks have been brilliant. Now we need to carry on like this," he added.
Klopp will be without midfielder Naby Keita who has been ruled out for two months after suffering an adductor injury at the Nou Camp.
Midfielder Alex Oxlade-Chamberlain is back in full training after returning from a year-long injury absence, as a substitute in the 5-0 win over Huddersfield last week.
Klopp, however, refused to be drawn on whether Oxlade-Chamberlain would start at St James' Park.
"We will see. For sure he will be in the squad and we will decide who starts." he said.
The German was asked about the possibility of a title playoff game, which would only occur if the Liverpool and ManchesterCity ended the season level on points, goal difference and goals scored.
"Wow, I didn't think about that to be honest. It would be cool but I don't think it's too likely," he said.
"When would it be? Between the last game and FA Cup or after that? It would fit with the season, a big showdown at high noon somewhere," he said.
Liverpool's second leg with Barca is at Anfield on Tuesday and they complete their domestic campaign at home to Wolverhampton Wanderers on May 12.
Liverpool's Keita set to miss African Cup of Nations
Liverpool midfielder Naby Keita has been ruled out for two months with an abductor injury, meaning he will likely miss the African Cup of Nations in June.
Guinea international Keita picked up the injury in Liverpool's 3-0 loss at Barcelona on Wednesday.
"It was really unlucky. Bad news. High grade abductor injury. The tendon is ruptured," said Liverpool manager Juergen Klopp.
"It will keep him out for at least two months. Bad news for us and for Guinea with the Africa Cup of Nations coming up. Not nice," he said.
Liverpool travel to Newcastle United on Saturday as they trail Premier League leaders ManchesterCity by a point with two games remaining.
Manchester Utd to stick with De Gea as Romero suffers knee injury
Manchester United goalkeeper David de Gea will keep his place in the team for Sunday's Premier League game at HuddersfieldTown despite a series of errors in recent weeks, manager Ole Gunnar Solskjaer said on Friday.
De Gea has made a slew of recent errors, including one that allowed Chelsea to equalise in last Sunday's 1-1 Premier League draw that dented sixth-placed United's chances of a top-four finish.
Solskjaer has not expressed any doubts about his first-choice goalkeeper, but an injury to De Gea's back-up Sergio Romero has made the decision to keep him in the team easier.
"Sergio was injured yesterday so he didn't train. He tweaked his knee. David's been training well this week and will play," Solskjaer told a news conference.
"He's has been fantastic this season. Towards the end he's been in headlines for the wrong reasons but he has to deal with that. The goalkeeping department has experienced better times than just now but David is ready for Sunday."
Solskjaer shifted the focus to the other end of the pitch where United have struggled to find the net in recent games.
"We haven't scored enough, but that happens. When I came in we were very efficient and David was unbelievable at the other end," the Norwegian added.
"Now that fortune has changed a little bit and the margins have gone against us. As a striker and goalkeeper you're always facing little margins and we've been working on creating chances and scoring."
United have already begun planning for next season and Solskjaer said the club had to be prepared to face the prospect of not qualifying for the Champions League.
"In long-term planning we have to think about being in the Champions League next year and the fact we might not be," Solskjaer added.
"You would be surprised how many players' agents have been telling us their players would love to be a part of United in the future.
"That is the lure and the potential and size of the club and we will get back to the good days."
Bolton's Championship game against Brentford called off - EFL
Bolton Wanderers' home Championship game against Brentford will now not take place and the visitors will be awarded three points on the basis of a 1-0 victory, the English Football League (EFL) said on Friday.
The fixture was initially scheduled for last Saturday but was called off when Bolton players said they would boycott their remaining games in the second-tier league over unpaid wages.
The EFL had rearranged the fixture for next Tuesday but Bolton were unable to confirm that adequate safety personnel will be in place at the University of Bolton Stadium.
"Following the decision taken by Bolton Wanderers' Safety Advisory Group (SAG) to issue a Prohibition Notice preventing Tuesday's rearranged Championship fixture with Brentford from taking place, the EFL will not be asking that the game is played at a future date," the EFL said in a statement.
"There is no provision under EFL regulations to direct clubs to play at a later date than four days past the conclusion of the season and, as a result, it has been determined that Brentford will be awarded the three points on the basis of a 1-0 victory."
The EFL added that Bolton are now deemed "guilty of misconduct" which will result in disciplinary proceedings against the club.
Bolton, who have already been relegated to League One, will play their final match of the season at NottinghamForest on Sunday after the club confirmed their first team players would be available.
Earlier on Friday, Bolton said they have ended discussions with British businessman Laurence Bassini over a proposed takeover after the former Watford owner failed to present a funding package to the EFL despite a deadline extension.
Kane invites dancing Spurs fan to be mascot in season finale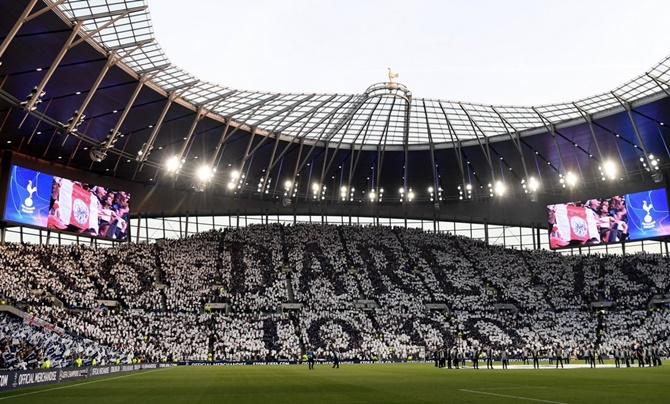 A Tottenham Hotspur supporter who was abused online for dancing in their new stadium after last Saturday's Premier League defeat has been invited by skipper Harry Kane to be a mascot in their final match of the season.
Neil Markham posted a video of his 16-year-old daughter Ella, who has Down's Syndrome, dancing inside the stadium after the 1-0 defeat by West Ham United.
However, he was then subjected to a flood of online abuse from upset supporters with some of them mocking her condition.
"Ella was being called all sorts of names, (people were) laughing at her in terms of the way she was dancing and the way she looked," Markham told the BBC.
"I was getting abuse in terms of having a child with Down's Syndrome."
The video caught the attention of striker Kane who told Ella to "keep dancing" and invited her to be a mascot in their home clash against Everton on May 12.
"I want to thank you for your amazing support. Your family are proud of you as well," Kane said in a video message to Ella that has emerged online.
"We know you're a big fan and we'd love for you to come down and be a mascot for the last game of the season. Keep dancing and keep doing what you're doing, lots of love."
US banking on experience in women's World Cup defence
The United States will be counting on experience as they look to defend their women's World Cup crown in France with coach Jill Ellis announcing a squad on Thursday that features 12 members from the team that lifted the title in 2015.
Leading the squad is veteran forward Carli Lloyd who was named to her fourth World Cup while defenders Becky Sauerbrunn, Kelley O'Hara and Ali Krieger, and forwards Tobin Heath, Megan Rapinoe and Alex Morgan will be making their third consecutive appearance in the global showcase tournament.
The roster averages 80 international caps per player.
"Selecting a World Cup team is a long process, and I want to thank the players - the ones that made the final team and the ones that didn't - for all of their hard work over the past two and a half years," Ellis said in a statement.
"They all pushed each other in every training session and every game and challenged the coaches to make some tough decisions.
"These 23 players have been through adversity and success, and it's a group that has the talent, confidence, experience and desire to help us win the World Cup."
The Americans will be bidding to win the World Cup for a fourth time.
The U.S. and Japan have clashed in the last two World Cup finals, the Americans winning it in 2015 and Japan taking home the trophy in 2011.
With their opening match just 40 days away, the US squad will report to training camp in Northern California and play three friendlies before heading to Europe.
The US take on South Africa in Santa Clara, California on May 12, face New Zealand on May 16 in St. Louis and Mexico on May 26 in Harrison, New Jersey.
The World Cup will run from June 7 to July 7 with the final to be played at the Stade de Lyon in the south of France.
The top-ranked US will open Group F play against Thailand on June 11 in Reims.
The US also play Chile on June 16 in Paris and Sweden on June 20 in Le Havre.
Hosts France drop PSG's Katoto from women's World Cup squad
Women's World Cup hosts France left out Paris St Germain striker and league top scorer Marie-Antoinette Katoto from a 23-strong squad announced by coach Corinne Diacre on Thursday.
Diacre, who named her players live on the main TF1 television channel, said it had been a difficult but considered decision not to include the 20-year-old, who has scored 22 league goals.
"Marie-Antoinette has enormous potential. She's young now and she's still got her life ahead of her," said Diacre, who has been critical of Katoto's international performances.
"The French team is going to have amazing experiences in the years to come. In my opinion, she was lacking something, and others showed a little bit more (potential). And so I made a hard choice, I know."
Guingamp striker Emelyne Laurent got the nod instead for the June 7-July 7 tournament.
France play the opening game of the nine-city tournament against South Korea at PSG's home Parc des Princes stadium.
French champions Lyon, who face Barcelona in the women's Champions League final on May 18, provided the most players with seven of the 23.
Two foreign-based players also feature, with Arsenal goalkeeper Pauline Peyraid-Magnin and Atletico Madrid defender Aissatou Tounkara.
Current captain and midfielder Amandine Henry returns along with fellow midfielder Gaetane Thiney, the second-highest French goalscorer in the 2015 World Cup held in Canada.
Eight other players are also returning from the previous World Cup, including attackers Eugenie Le Sommer and Kaddiatou Diani, defenders Wendie Renard and Amel Majri, and goalkeeper Sarah Bouhaddi.
The national men's team won the World Cup for the second time in Russia last year. The women are fourth in the FIFA rankings, behind champions the United States, Germany and England.
"We've still got a month of preparation before kick-off, but very honestly, the girls I've picked tonight really deserve to be there," Diacre said.
Goalkeepers: Sarah Bouhaddi (Lyon), Solene Durand (Guingamp), Pauline Peyraud-Magnin (Arsenal).
Defenders: Julie Debever (Guingamp), Sakina Karchaoui (Montpellier), Amel Majri (Lyon), Gridge Mbock Bathy Nka (Lyon), Eve Perisset (Paris St Germain), Wendie Renard (Lyon), Marion Torrent (Montpellier), Aissatou Tounkara (Atletico Madrid).
Midfielders: Charlotte Bilbault (Paris FC), Elise Bussaglia (Dijon), Maeva Clemaron (Fluery), Onema Grace Geyoro (Paris St germain), Amandine Henry (Lyon), Gaetane Thiney (Paris FC).
Forwards: Viviane Asseyi (Bordeaux), Delphine Cascarino (Lyon), Kadidiatou Diani (Paris St Germain), Valerie Gauvin (Montpellier), Emelyne Laurent (Guingamp), Eugenie Le Sommer (Lyon).