News of all that's transpired on and off the football field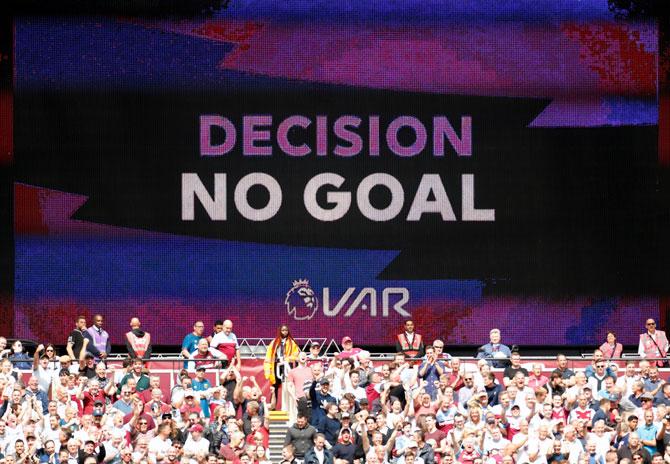 The use of the Video Assisted Referee (VAR) in the Premier League has been vindicated despite several controversial decisions and criticism from fans and pundits, the system's chief Neil Swarbrick said on Monday.
Speaking to the media after the latest round of matches in which Sheffield United had a goal disallowed for offside against Tottenham Hotspur and Manchester City were denied a penalty for handball against Liverpool, Swarbrick defended the technology.
"We are in the infancy with VAR, 12 match weeks into the Premier League season, and you need to give us time to operate and utilise it," he told Sky Sports.
"It is working as we wanted. It's taken quite a few years for other competitions or sports - the likes of cricket and rugby union -- to get to where they are today regarding technology. It doesn't happen overnight."
VAR was introduced in the Premier League this season after trials in the League Cup and FA Cup.
Asked by the BBC how he would rate the use of VAR on a scale of one to 10, Swarbrick said: "I'd give us around about seven-ish. We have more decisions correct with VAR than without it.
"If the mark now is seven -- early days -- in two years' time I'm hoping for maybe an eight and a half or nine.
"We are open to evolving with this -- it's not a case of we're not budging. We will listen to feedback and where we can improve things, we will do."
Some pundits were less enthralled with the system which has also infuriated fans around the world, mostly for decision-making delays which take up to several minutes.
Former Chelsea striker Chris Sutton was one of the system's harshest critics.
"Seven out of 10? Did he really say that with a straight face? Come on, are you serious?" Sutton told the BBC.
"There have been so many high-profile, horrific mistakes. They've got too much wrong. I wanted VAR to work, I backed VAR, but they are making such a mess of it."
Former England goalkeeper Paul Robinson also pulled no punches in criticising VAR.
"It's been a bit of a disaster," he said.
It's still a matter of opinion because it doesn't clear up a clear and obvious error, It's just someone else's opinion.
"It's been a complete mess from day one and it's caused more problems than it's worth."
Mancini says won't call up Balotelli just to make a statement
Italy coach Roberto Mancini has said he will only call up Mario Balotelli if he deserves it for football reasons, not to make a statement against racism.
Balotelli, who has not played for Italy since September 2018, kicked the ball towards opposition fans and threatened to walk off the pitch after being subjected to racist insults from the crowd during Brescia's Serie A match against Hellas Verona earlier this month.
"When I call Mario Balotelli it will be because he deserves it, not because of the colour of his skin," Mancini told a news conference.
"I know Mario and I love him. Remember, I got Mario to play when he was a boy, so I know him really well."
Italian soccer federation president Gabriele Gravina said last week that naming Balotelli in the squad would send a strong message against racism, but Mancini said the player had not done enough on the pitch to deserve a recall.
"You can think like the president said, but you need to understand that if Balotelli gets another chance, it will be because he deserves it from a technical point of view," Mancini added.
Racism has been a problem in Serie A in recent months.
Inter Milan striker Romelu Lukaku was abused by Cagliari fans in September and a game was briefly suspended when Fiorentina defender Dalbert said he had been racially abused by Atalanta supporters.
Italy have already qualified for next year's European Championship but victory Bosnia and Herzegovina on Friday would give them a 10th consecutive win.
Coach Neville committed to England women role despite recent slump
England women's boss Phil Neville has taken full responsibility of the team's disappointing run of results but said he would be "ashamed of himself" if he quit the job during a difficult transition period.
The Lionesses' 2-1 loss to Germany at Wembley last weekend in front of 77,768 supporters - the highest-ever attendance for a women's match in the country - was their fifth in their last seven matches.
"I've not performed as a manager, the players haven't performed as players and we take full responsibility for that and ultimately the buck stops with me," Neville told Sky Sports ahead of England's friendly against the Czech Republic on Tuesday.
"I need to be better as a manager to get more out of these players."
Neville, who took over the England job in Jan. 2018, said he retains the backing of the Football Association after guiding the team to the World Cup semi-finals in France earlier this year.
"The support I've had from day one has been unwavering," he said. "We've hit some players really hard over the last 18 months about the improvement that's needed, about the level of performance that's been demanded, and then the manager waves his white flag at the first sign of adversity?
"I think I'd be ashamed of myself, I think my family would be ashamed of me, and I love this job and this set of players."
US forward Pulisic out of Nations League games with hip injury
Forward Christian Pulisic has been ruled out of the United States' upcoming CONCACAF Nations League matches against Canada and Cuba due to a hip injury, US coach Gregg Berhalter has said.
The 21-year-old, who is a key creative player for his country, sustained the injury playing for Chelsea in their 2-0 Premier League victory over Crystal Palace on Saturday.
"Christian is officially at this stage ruled out," Berhalter told reporters. "This was a collaborative decision with the club looking after the best interest of the player.
"These decisions are always difficult because this group and the coaching staff want nothing more than to have Christian here, but it was a risk we weren't willing to take at this time."
Pulisic moved to Chelsea from Germany's Borussia Dortmund in the close season and took time to settle in England, failing to score in his first nine appearances for the London club in all competitions.
He has rediscovered his touch in recent weeks, however, scoring five goals in his last three Premier League appearances, including one against Palace on Saturday.
The United States are second in their Nations League group, six points behind leaders Canada, who they play on Friday. Berhalter's team take on Cuba, who occupy the third and final place in the group, four days later.
Spanish Super Cup to be held in Saudi Arabia, says federation
The Spanish Super Cup tournament will be played in Saudi Arabia in January 2020, the national soccer association (RFEF) said on Monday, confirming long-mooted plans that have already attracted widespread criticism in and outside Spain.
"The Spanish Super Cup will be held in Saudi Arabia over the next three years and will be held in winter with the objective of easing fixture congestion, as players and clubs have been calling for," RFEF said in a statement.
"Thanks to this transformation, clubs will be able to better plan their pre-seasons.
"The internationalisation of the competition will increase its value and at the same time contribute to raising our visibility and improving our image ahead of our bid to host the 2030 World Cup."
The federation declined to say how much the deal was worth but said all income earned from the revamped tournament would be reinvested in amateur football and women's football, aside from money granted to the four competing clubs.
Spanish newspaper ABC said the federation would earn between 35-40 million euros ($39-$44 million) per year from the deal.
Barcelona were drawn to face Atletico Madrid and Valencia will take on Real Madrid in the revamped tournament between Jan. 8-12. Those games as well as the final featuring the winner of the two matches will take place at the 62,000-capacity King Abdullah Sports City stadium in Jeddah.
When reports of the move broke in September, former Spain women's international Veronica Boquete heavily criticised the decision, saying it represented "the victory of money and business above sport, above everything else".
Spain's acting junior minister for sport, Maria Jose Rienda, said the government would not support holding the competition "in countries where women's rights are not respected".
A ban on women attending soccer matches in the deeply conservative Muslim kingdom was lifted in 2017 as part of a wider easing of social restrictions championed by Crown Prince Mohammad bin Salman.
Under his rule, the kingdom has lifted a ban on women driving, eased rules on gender segregation and women's dress code, and chipped away at a guardianship system that gives male relatives control over key decisions in women's lives.
However, some barriers remain and several women activists have been put on trial.
Federation president Luis Rubiales said he could guarantee no restrictions would be placed on women attending the Spanish Super Cup.
Saudi Arabia continues to face Western criticism over its human rights record, especially since the October 2018 killing of Saudi journalist Jamal Khashoggi inside the kingdom's Istanbul consulate.
La Liga's president Javier Tebas opposes the RFEF's choice of host, saying channel beoutQ carried pirated broadcasts in Saudi Arabia of global sports events, including Spanish soccer, to which Qatar-based broadcaster beIN Sports held the rights.
BeoutQ emerged in 2017 after Saudi Arabia and its Gulf allies imposed an economic and diplomatic boycott on Qatar. The embargo was imposed over allegations that Qatar supports terrorism and is aligning itself with regional foe Iran. Qatar denies the allegations.
The channel is widely available in Saudi Arabia but Riyadh said it is not based there, and that Saudi authorities are committed to fighting piracy.