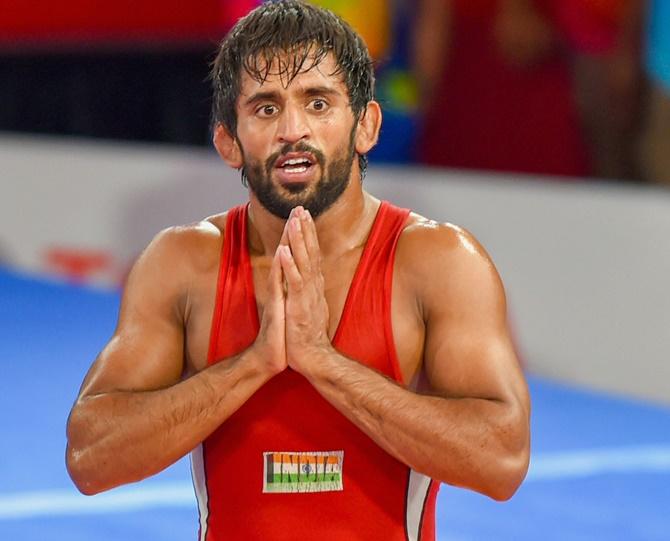 Wrestler Bajrang Punia clinched India's first gold medal in the 18th Asian Games after defeating Takatani Daichi of Japan in the men's 65 kg freestyle title bout, in Jakarta, on Sunday.
An in-form Bajrang won his maiden Asian Games gold in the 65kg category but a 'rusty' Sushil lost his last chance to add an Asiad gold to his collection of medals after losing his qualification bout 3-5 to Bahrain's Adam Batirov in the 74kg category.
Bajrang came into the Games after winning three tournaments -- Commonwealth Games, Tbilisi Grand Prix and Yasar Dogu International -- and carried on with his superlative show.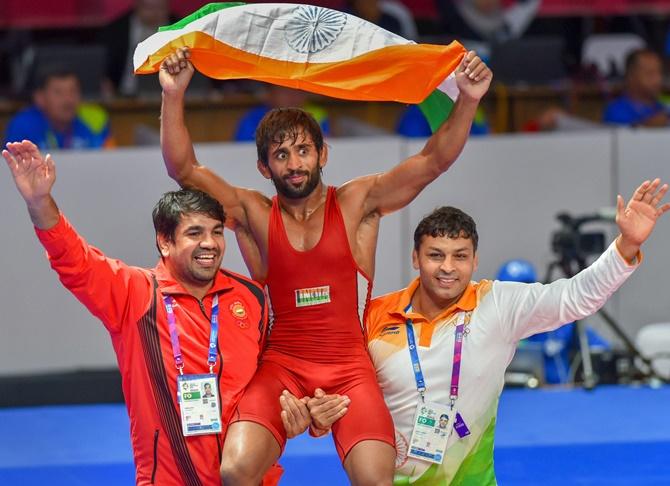 Such was his domination that the 24-year-old from Haryana won all his bouts, till the final, by technical superiority.
He outclassed Uzbekistan's Sirojiddin Khasanov (13-3), Tajikistan's Fayziev Abdulqosim (12-2) and Mongolia's N Batmagnai Batchuluu (10-0) to storm into the gold medal bout.
In the final, he was tested by Japan's Takatani Daichi but Bajrang held his nerves to prevail 11-8 in an exciting battle. He raced to a 6-0 lead but the Japanese kept at it and put Bajrang under immense pressure.
"I dedicate this gold medal to former Prime Minister Atal Bihari Vajpayee, who passed away recently," Bajrang said after the final bout.
"Yogi bhai (Olympic medallist Yogeshwar Dutt) told me 'I did it in 2014, you have to do it in 2018'. When he (Yogeshwar) won, it was huge gap in his and the previous Asiad medal. I wanted to continue with medal," he added.
Bajrang emulated his mentor Yogeshwar Dutt, who won gold in the last edition, and is now one of the few Asiad gold medal winners in wrestling.
Kartar Singh (1978, 1986), Satpal Singh (1982), Rajinder Singh (1978), Changdi Ram (1970) and Maruti Mane (1962) are among Asiad gold winners from India.
Sushil Kumar (74kg) and Sandeep Tomar (57kg) though crashed out even as Mausam Khatri (97kg) and Pawan Kumar's (86kg) fate was still hanging in balance in their respective categories as they wait if they get repechage rounds.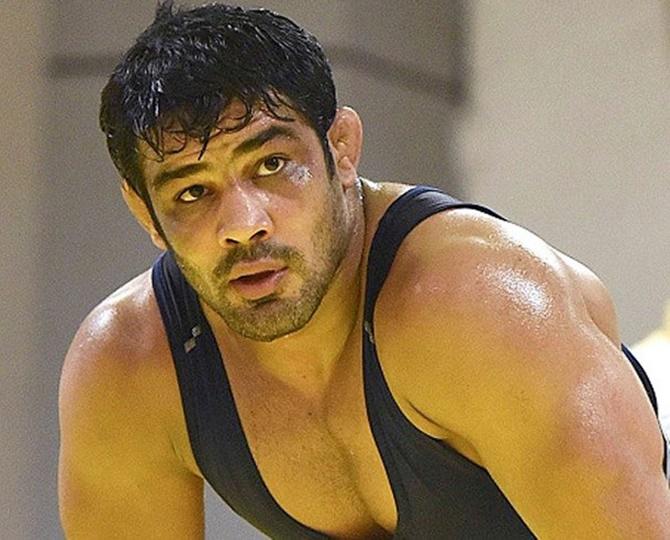 Two-time Olympic medallist Sushil, who was exempted from the Asiad trials, lost 3-5 to Bahrain's Adam Batirov in the 74 kg category. He had come into the Games after losing his first bout in four years.
The Indian led 2-1 after the first period with a take down but the Bahraini made a strong comeback to silence the Indian fans.
His defeat came as a shock for the Indian camp. Sushil himself was also surprised wit his defeat.
"I did not expect this. I did not have any big competition under my belt and that was the main reason for my defeat. But it's part of sport. I will train harder and come back," said Sushil.
"I was not passive. I tried," he added.
The London Olympics silver medallist created two opportunities to score in the second period but could not convert them while Batirov did not miss his chances. He led 3-2 with a take down and then pushed the Indian out for a win.
For Sushil to remain in medal contention, Batirov needed to make the final but the Bahraini lost his quarterfinal bout 2-8 to Japan's Yuhi Fujinami, resulting to the ouster of the Indian.
In the 57kg freestyle category, Sandeep Tomar, who was the last wrestler to book a berth for the Games through trials, showed immense promise before crashing out in the quarterfinals.
He won his second round bout 12-8 against Turkmenistan's Rustem Nazarov but was outwitted 9-15 by Iran's Reza Atrinagharchi. The Iranian lost his semifinal and this led to Tomar crashing out of the competitions.
Tomar put up a brave fight and was locked 6-6 with his tactically superior Iranian rival. In the second, though, Reza just ran away with the bout with his big-scoring moves.
Mausam Khatri was outplayed 0-8 in the 97 kg by Uzbekistan's Magomed Ibragimo. Khatri remained passive throughout the bout and never made any attacking move.
In the 86kg, Pawan Kumar made a rousing start by blanking Heng Vuthy of Cambodia 8-0 but later lost to reigning world champion Hassan Yazdani Charati of Iran by Technical Superiority.
Yazdabi is the winner of gold medal at Rio Olympics, apart from three World Cup gold medals.