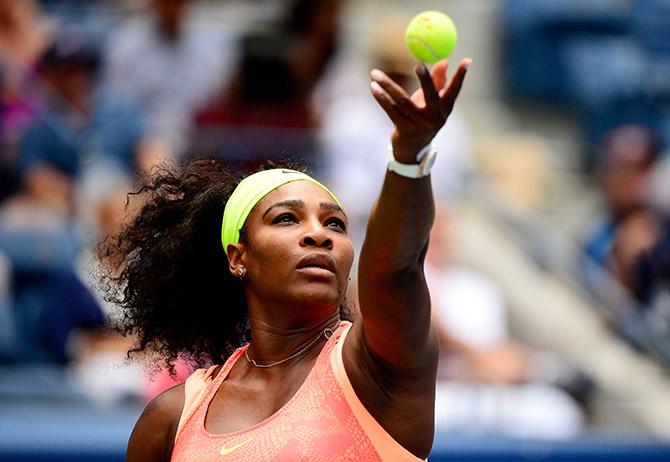 IMAGE: Serena Williams of the United States serves. Photograph: Alex Goodlett/Getty Images
Tennis legend Chris Evert believes an inability to dominate on serve is preventing the current crop of female players from usurping Serena Williams at the top of the rankings with the American world number one using her main weapon to great effect.
When Williams opted to skip this week's WTA Finals in Singapore, citing fatigue after a season that saw the 34-year-old increase her grand slam tally to 21, the event not only lost its most dominant player but also its finest server.
Talking to the media in an ambassadorial role for the elite eight-woman event on Thursday, fellow American Evert, herself an 18-times major winner, said the stability at the top of the ATP rankings was due to the leading men's ability to hold serve.
'Women can be broken at any minute and their serve isn't as dominant'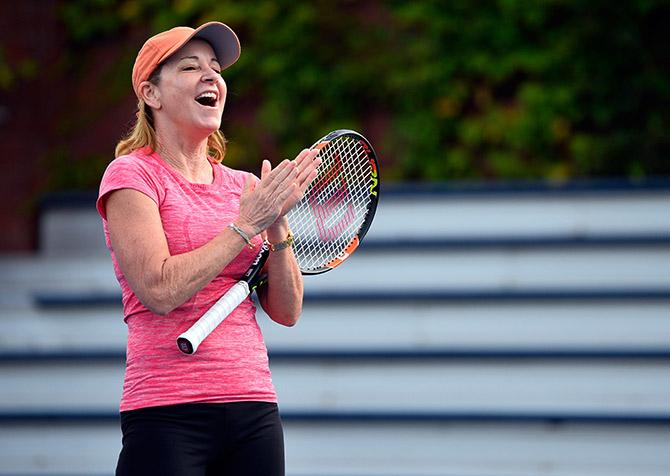 IMAGE: Former professional tennis player Chris Evert hosts a private tennis clinic for Starwood Preferred Guest during the 2015 US Open in New York. Photograph: Alex Goodlett/Getty Images for SPG
"To me, a lot of that fluctuation in the women's rankings has to do with the serve. There is a lot more predictability that men will hold their serve and matches will go to plan," the 60-year-old told reporters.
"Women can be broken at any minute and their serve isn't as dominant. It evens the playing field a little bit. There is that fluctuation in the women's game right now and I think it's all about the serve.
"You're always going to have it. You're always going to have that fluctuation... but not with Serena because she has the ability to hold serve."
As if to prove Evert's point, world number two Simona Halep became the first woman to crash out of the WTA Finals a few hours later when the Romanian dropped her serve four times in a straight sets defeat to Agnieszka Radwanska.
'Muguruza has tremendous the ability and personality as well'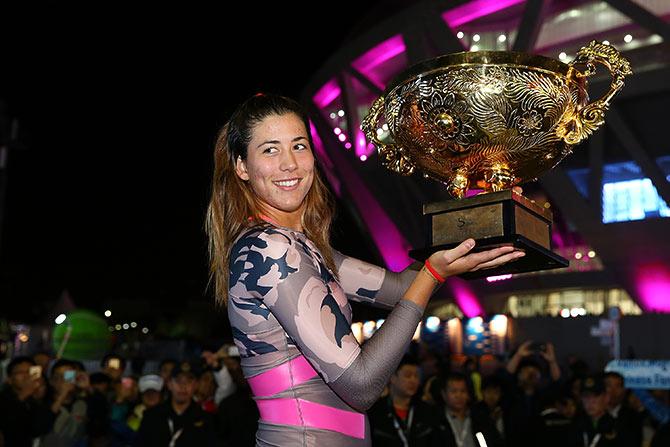 IMAGE: Garbine Muguruza of Spain holds the winners trophy after winning the China Open in Beijing. Photograph: Chris Hyde/Getty Images
Pinpointing Spanish world number three Garbine Muguruza as "the real deal" in terms of the next player most likely to threaten Williams' reign at the top, Evert was also quick to highlight that a balance was necessary to maintain consistency.
"I don't want to say potential because she's there, arrived already, looking more and more like somebody who has tremendous ability to not only play great tennis, but to have that personality and that leadership that we need," Evert said of the 22-year-old who has won both her matches so far in Singapore.
"But, you know, it's interesting, kind of a double?edged sword, because you get these players that all of sudden have a great uprise, and then you want to introduce them to the world.
"You want them to transcend the sport and get on covers of magazines but at the same time, it's great for the sport to get their names out there and their personalities out there, but it seems to hurt them.
'I think Simona's game can develop'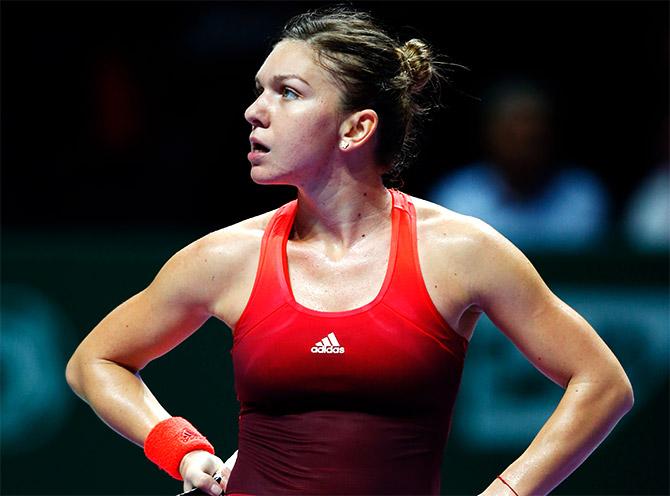 IMAGE: Simona Halep of Romania reacts in her round robin match against Agnieszka Radwanska of Poland during the WTA Finals in Singapore. Photograph: Julian Finney/Getty Images
"It can maybe kind of dilute the hunger a little bit in the process. So you have to find that right balance of getting that player's name out there but not letting it affect their tennis also."
Halep is another player Evert expects to maintain a spot near the top of the rankings for some years to come, a position that would be enhanced with a maiden grand slam triumph.
"I think Simona can develop something there. I think her game can develop. She's got a cute little personality, very positive and friendly. She's going to be one of the more consistent players in the future," Evert said.