Khumukcham Sanjita Chanu gave India its second gold medal at the Commonwealth Games, winning the women's 53 kg weightlifting event, at Gold Coast, on Friday morning.
The 24-year-old from Manipur bettered the existing Games record, lifting 84 kg in snatch and following it up with 108 kg in clean and jerk. She finished with a combined effort of 192 kg.
Defending champion Loa Dika Toua of Papua New Guinea won silver, with a total lift of 182 kg (80 in snatch and 102 in clean and jerk), while the bronze went to Canada's Rachel Leblanc-Bazinet, who had a combined effort of 181 kg (81 in snatch and 100 in clean & jerk).
"It was easier in Glasgow," Khumukcham said after the competition.
"It was tougher this time. Still I was able to do it, so I'm really happy," she added.
This is Sanjita's second consecutive Commonwealth Games gold medal, having also won the 48 kg category at the Glasgow Games in 2014. Mirabai Chanu had to settle for silver in the category then.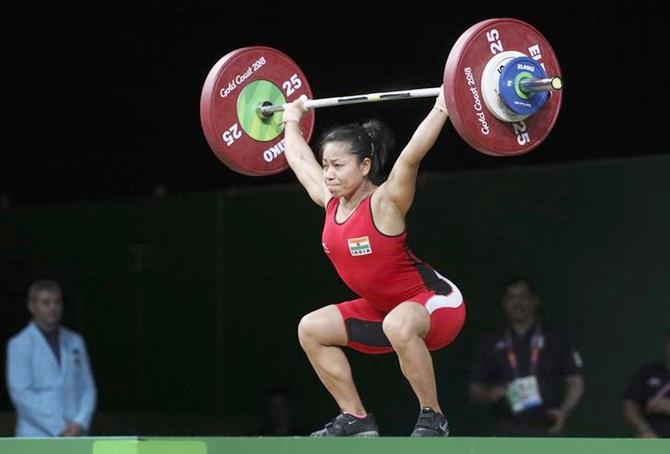 Sanjita also won the gold medal at the Commonwealth Weightlifting Championships, with a total lift of 195 kg (85 kg+110kg) in 2017.
On Thursday, Mirabai Chanu earned India its first gold, bettering Commonwealth Games records in the 48kg category snatch, clean and jerk and overall. She lifted 196kg (86kg+110kg) in a remarkable effort.
P Gururajahad earlier finished second in the men's 56 kg category after equaling his personal best of 249kg (111kg+138kg).