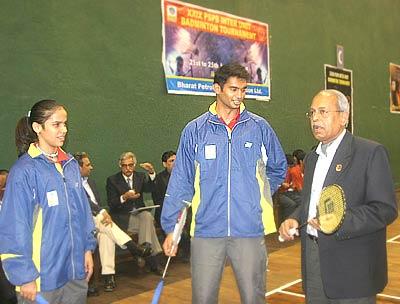 Indian badminton ace Saina Nehwal has set sights on attaining the world No 5 ranking by the end of the year, and "if all goes well, top the ranking by the year 2010".
The world No 10, who is in Pune to participate in the 29th PSPB Inter-Unit Badminton Tournament, organized by Bharat Petroleum, said she "always dreamt of becoming world No 1".
"I have been working very hard and feel I can fulfill my dream. Currently I have been working quite hard to improve my on my weak points and the forthcoming All England Championships in March 2009 and the Swiss Open to follow thereafter should help me gain in confidence," added the 18-year-old, who became the first Indian to reach the quarter-finals in Olympics badminton in August but missed out on a semi-final berth when she blew an 11-5 lead in the decider and went down to eventual bronze medallist Maria Kristin Yulianti of Indonesia.
Refuting charges that she is being 'over-exposed', Saina insisted, "On the contrary these foreign exposures have helped me gain in confidence; I have started to feel a near-perfect player."
She it helped her study the top five players' strong and weak points and how to counter them.
"Mentally, I have now become quite strong, and started playing an attacking game, concentrating on improvement in drop shots and rallies."
Saina said quite a lot of juniors, like Sikki Reddy, Aditya Prakash and Sai Guru Dutt, have started doing well at the international level and "all they need is more foreign exposure to gain in confidence".
She said suddenly a lot of players from India are in the top 100 in the world and there is sense of pride and acceptability at the international level and with organizers.
Expressing happiness with the facilities being provided, she said it is because of the coaching of former Indian badminton aces like Prakash Padukone, Pulella Gopichnad and Vimal Kumar that results are showing.
"More and more people are now following the game and many youngsters are taking to badminton, which spells good news for the country. It is not a fluke but players are coming out of a well-oiled mechanism."
Earlier S Mohan, Director (HR), BPCL inaugurated the tournament at the PYC Hindu Gymkhana Hall.
The tournament has attracted nine member organizations -- ONGC, OIL, IOC, RIL, HPCL, BRPL, and MRPL.