The Kochi team for the Indian Super League (ISL) football tournament, co-owned by cricket legend Sachin Tendulkar, has been named 'Kerala Blasters'.

The name was announced by Kerala chief minister Oommen Chandy after his brief meeting with the batting icon in Thiruvananthapuram, on Tuesday.

Tendulkar also accepted Chandy's request to be the 'Goodwill Ambassador' of the National Games, to be held in Kerala in January-February 2015.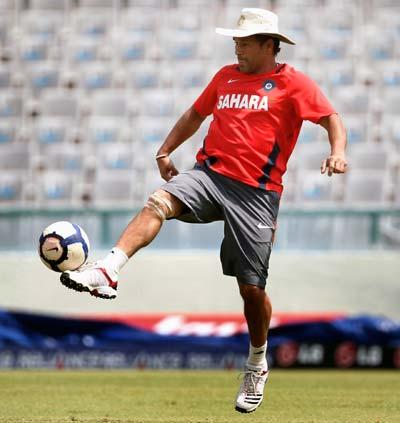 The India batting great, who was given a rousing reception at the airport and government secretariat, also called on Opposition Leader V S Achuthanandan, seeking support in his efforts to promote football.

After meeting Chandy in his chamber, a beaming Tendulkar said he was "overwhelmed and speechless" at the love and affection showered on him by Keralites.

On the team's name, he said: "People call me Master Blaster... One can say there is possibly an association," he said.

Tendulkar said though he grew up playing cricket, not many know that he enjoys other sports as well.

"I grew up playing cricket...
Very few people knew that I enjoy other sports like hockey, football and badminton."
He said the Indian Super League would prove to be a big a boost for Indian football.
Tendulkar said that as a Rajya Sabha member, he had submitted to the Human Resources Development Ministry his "vision" on promotion of sports and he would continue to pursue it.
"With collective and positive efforts we are sure the results will be good."
Chandy said the team owners have offered to impart training in football to 1.25 lakh students in the state.
Meanwhile, Tendulkar, who flew to Kochi, also visited the home ground of the team at Jawahar Lal Nehru stadium, where a huge crowd of admirers had gathered to greet the cricket icon.
He visited the 'Sachin Pavillion' at the stadium, which houses rare memorablia of the master blaster, including an autographed white jersey and an autographed bat of Mumbai Indians. The pavilion was inaugurated in November last year by Indian captain Mahendra Singh Dhoni.
Image:
Sachin Tendulkar during an Indian team's training session in 2011.
Photograph: Daniel Berehulak/Getty Images