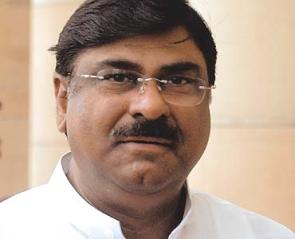 In a setback to the Bharatiya Janata Party days ahead of the April 10 elections in Gautam Budh Nagar, former Union minister and senior leader Ashok Pradhan on Tuesday joined the Samajwadi Party, claiming that there was "trade" of Lok Sabha tickets in the saffron party.
"In BJP there is "Kharid-farokth" (trade) of Lok Sabha tickets. Senior leaders LK Advani, Jaswant Singh and others are ignored and there is resentment in the party, where a number of groups have been formed. They (the BJP) do not care for national issues now, but their (BJP leaders) only contention is to grab the power," Pradhan said while joining the SP in presence of party supremo Mulayam Singh Yadav.
Pradhan, who had served as former national general secretary of the BJP, has been given the same post in the SP. Pradhan was four-times member of Parliament from Khurja and had been Union minister of state holding food and distribution ministry, labour and welfare ministry and the human resources development ministry. He held telecommunication and IT ministry as Union state minister in former Prime Minister Atal Bihari Vaypayee cabinet.
On BJP leader Amit Shah's recent statement, Pradhan said the statement showed his mentality and the "autocracy" they are trying to bring if voted to power. "How can you talk of dismissing the government elected by the people. This shows his mentality, the autocracy that they are trying to bring if voted to power," Pradhan, who was denied the BJP ticket, said.
"This is not only my pain. Other leaders in the BJP are also pained due to the current state of affairs in the party," he said, adding that he did not join the SP fr the Lok Sabha ticket.
Pradhan also attacked BJP leader Kalyan Singh. In apparent reference to him, he said the person who used to openly make statements against the BJP and with whom even leaders like Atal Bihari Vajpayee were unhappy, has been taken back in the party's fold.
"It's unfortunate that such a leader is back in the BJP. The party will now be finished," he said. On the occasion, three times BJP MLA from Dumariyaganj Prem Prakash Tiwari alias Jippy Tiwari also joined the party. Tiwari, who was claimant of a BJP ticket, said that he would now support SP cadidate Mata Prasad Pandey from Dumariyaganj seat, where the BJP has fielded Congress turncoat Jagdamibika Pal.