The growing interest in alternative sports is encouraging Ronnie Screwvala to extend the U Mumba brand from kabaddi to football and volleyball.
Urvi Malvania reports.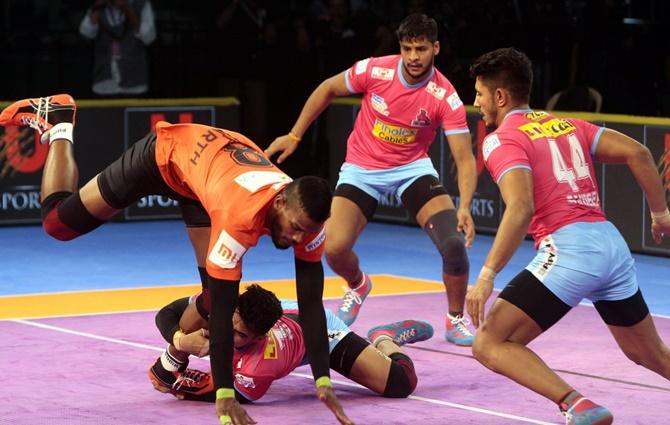 In a country that has always prayed at the altar of cricket, advertisers have rarely looked at any other sport whenever they have sought an audience with consumers.
However, the emergence of and growing interest (albeit miniscule when compared to cricket) among brands in alternative sports is encouraging Ronnie Screwvala and his team at U Sports to extend the U Mumba brand from kabaddi to football and volleyball and eventually to all non-cricket sports.
The expectation: Brands targeting the Mumbai-born or resident young millennial demographic will come on board.
But sports management consultants and brand experts point out, there is many a slip between plan and practice.
The former UTV Software and Disney India head opened his innings in sports with the U Mumba franchise for kabaddi from Mumbai in the Pro Kabaddi 2014 league.
The brand has now been extended to two more sports -- football and volleyball.
The idea, explains Supratik Sen, co-founder and CEO, U Sports, is to leverage the existing brand, and extend into different sports.
Over the past four years, the company has seen its kabaddi franchise grow.
In 2018 the league spent Rs 3.95 crore (Rs 39.5 million) on player acquisition (the total purse was Rs 4 crore/Rs 40 million, more than double the amount they started with) and the estimated franchisee fee for U Mumba is around Rs 3 crore/Rs 30 million.
The engagement with the league has grown and the sport has offered up a new group of consumers say some of the brands.
"Brand awareness, engagement and acquisition has increased for the Syska personal care products thanks to the conversations driven due to the team," Amit Sethiya, chief marketing officer, Syska Group.
Hemant Jalan, managing director, Indigo Paints says that visibility and recall have definitely increased for his brand.
Now U Mumba is expecting to push through a similar engagement for brands for football and volleyball through the U Mumba FC (I-League) and U Mumba Volley (Pro Volleyball League).
While the franchisee fees and investment in players for football is still uncertain, in 2019 for volleyball, player fee was capped at Rs 75 lakh (Rs 7.5 million) for the team and the estimated franchise fees was Rs 3 crore.
"With kabaddi, it was a reasonable experiment," Sen says, "While we knew that the sport had presence on ground, it had not had any exposure or acceptance on television until then. Volleyball has had some exposure on the small screen and it has been well received by viewers in India if you see the numbers for the Olympics and Asian Games."
Volleyball is also a fairly flexible sport when it comes to infrastructure.
Unlike cricket or football, it does not need a very specific ground or stadium.
Most indoor stadia can be retro-fitted as match venues, which makes investing in the sport simpler, he adds.
For kabaddi, U Mumba had 11 sponsors in the last season (2018).
The brands associated with the team were Indigo Paints, Syska LED, Aisen, Wintogino, Xiaomi, Radio City, Gold's Gym, PVR Cinema's, HAS Juices, Priority Bags, and NSCI Dome (Venue).
"In the first season, we had taken the decision to carry only our in house charity, Swades. In the second season, we had 10 sponsors and partners. We feel that in the coming seasons the number will go up to 15 and more," Sen says.
Brand experts are wary however, refusing to comment on the future of such leagues as potential brand magnets.
One said that associating with such sports seems attractive since the entry barrier for cricket is very high and the space is cluttered.
But these sports are still new and viewers are still experimenting when it comes to following these teams.
"Like Brazil, India is a single sport nation right now, and so the bulk of the attention will lie with cricket," says Indranil Das Blah, co-CEO at KWAN, a sports marketing agency.
"So while what they (U Sports) are trying to do makes sense on paper, there are some challenges. For one, the sports that they are currently in don't have lengthy seasons. Volleyball is two weeks, kabaddi three months, and football, five at most," Das Blah adds.
The target audience for these sports is pretty varied, he says, and hence the same advertiser may not want to advertise on all the sports.
"Kabaddi has mass reach," says Das Blah. "Volleyball is yet to establish its core audience while football is a fairly urban phenomena. So brands may not want to advertise on all three sports, since the target audience could be serviced by one, and only one."