Real Kashmir FC proudly represents a region whose scars are getting a chance to be healed by the beautiful game.
Dhruv Munjal reports.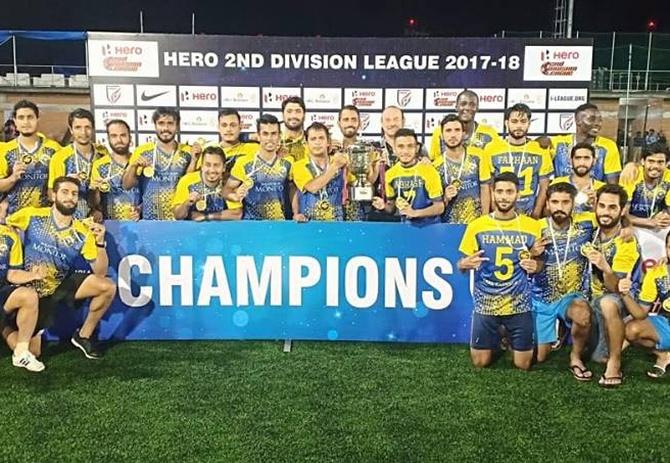 Even after all these years, David Robertson shudders at the thought of Sir Alex Ferguson walking through the doors of the Aberdeen dressing room. "He'd really come for you. He'd slap you on the head, spit at you... he was scary," says Robertson.
The proverbial "hairdryer treatment" became a Ferguson patent during his days as manager of Manchester United, but its earliest manifestations date to the early 1980s.
"Once, we were 3-0 down against Celtic in a youth game. Then Ferguson walked in at half time, raging and all red in the face. It was mayhem, everybody got shouted at," recalls Robertson, who was given his first-team debut for Aberdeen by Ferguson three years later. "But it worked. We won 5-3."
Thirty-five years and much has changed. Robertson is no longer tutored by one of the game's greats. After spending his playing days at Aberdeen, Rangers and Leeds United, Robertson is now a tutor himself, plying his trade in a part of the world known less for its football than for its snow-capped peaks and breathtaking landscapes.
Srinagar and Aberdeen are worlds apart. Ravaged by strife and militancy, football in Kashmir isn't merely a sport -- it's an escape from the uncertainty of everyday life, a rare opportunity to make proud a region whose identity in recent times has been confined to guns, stones and seemingly unresolvable conflict.
Amid a climate of such unrest, Robertson's men have scripted quite the feel-good story.
In only two years, Real Kashmir have gone from the fringes of Indian football to mounting a serious challenge for the I-League.
Robertson concedes that it has been an incredible rise to fame for his team. "Everybody was expecting us to be fighting for survival. But we've surprised a lot of people. We've been the most consistent team in the league so far."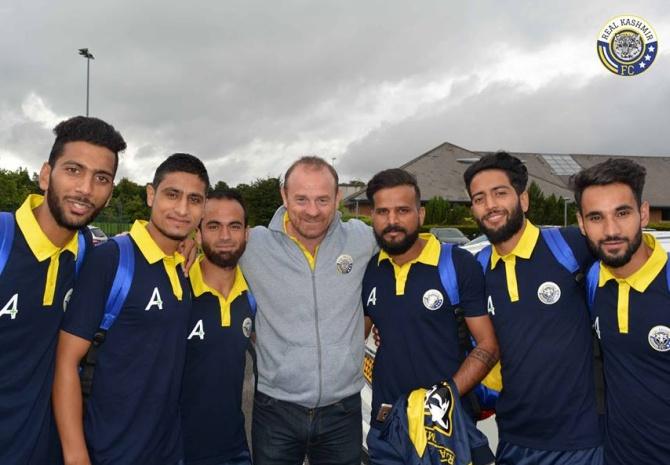 Far from the relentless competitiveness of the I-League, football for the players of Real Kashmir was once just a hobby. Two friends, businessman Sandeep Chattoo and newspaper editor Shamim Meraj, saw football as a means to help the state recover from the devastating floods of 2014.
The game soon spread among youngsters, and Chattoo and Meraj, quite unbelievably, found themselves owning a football club.
"When you have the kind of feeling the players have for this club, anything is possible. Still, being in the top three in such a short time is a dream come true," says Chattoo.
He can't help but emphasise Robertson's importance in Real Kashmir's rapid ascent. Interestingly, Robertson says that an agent offered him three jobs two years ago. The destinations were all unusual: China, Uganda and India.
The 50 year old chose India, without knowing anything about Indian football and convinced that all parts of the country were going to be sweltering hot. "I arrived here in January and it started snowing two days later. Clearly, I was wrong about the weather," he laughs.
But what tipped the scales in favour of India and Real Kashmir was the attraction of a challenge, an adventure too inviting to pass up.
Far from the relentless competitiveness of the I-League, football for the players of Real Kashmir was once just a hobby. Two friends, businessman Sandeep Chattoo and newspaper editor Shamim Meraj, saw football as a means to help the state recover from the devastating floods of 2014.
"Obviously, people thought it was mad coming here. But with most clubs, you go up and then you come down. This was like a clean slate, a chance to do something really great," explains Robertson, who earlier worked in the US for 10 years.
From training indoors at someone's house to braving curfews to sharing one pitch with 12 other teams, Robertson's initiation into the club was expectedly rough.
In Srinagar, where Internet outages are routine, he often went days without communicating with his family. But he stuck on, improvising and innovating to win promotion to the I-League in his first season itself. That, on the back of an unbeaten campaign in a league where the margins are so slim that even one defeat can be calamitous.
"Robertson makes all the difference. When he's convinced, everybody's convinced. When he's motivated, everybody's motivated. It's that simple," says Chattoo.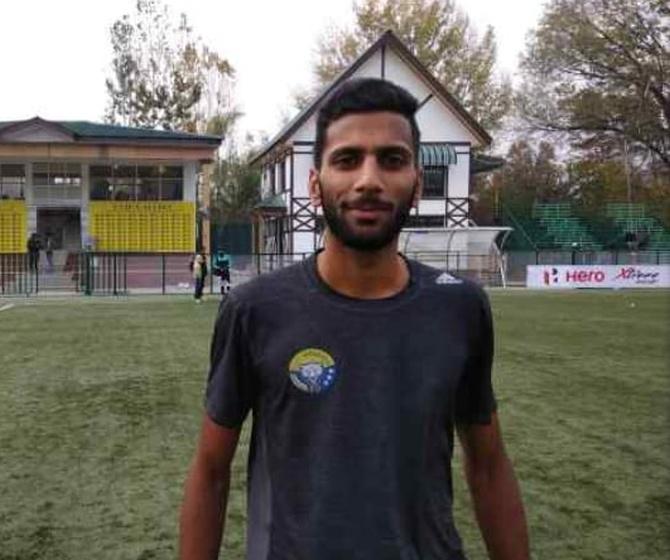 Muhammad Hammad remembers wading through knee-high floodwaters on that fateful morning. For Hammad, a promising cricketer, the trials had gone well and he was hopeful of making the state under-19 team. Only, he didn't.
"I went to check my name. Not only had I not been included, but they informed me that the team had already left."
That snub assured Hammad that his metier was not cricket, but football.
"Cricket se toh nafrat ho gayi uske baad (I started hating cricket). My friends used to play football every Sunday, but I used to skip it for cricket. Now, I started playing with them," says Hammad.
Hammad is one of the main reasons why Real Kashmir have conceded the fewest goals -- an amazing seven in 13 games -- in the I-League this season, a sign that the team has adapted quickly to the rigours of top-flight football.
This remarkable discipline has helped Real Kashmir maintain a healthy gap over traditional powerhouses East Bengal and Mohun Bagan, as well as defending champions Minerva Punjab.
"A lot of people watch YouTube and think that all teams must play like Barcelona or Manchester City. That's just not possible. We do keep the ball on the ground, but we also like to get it up as early as we can," says Robertson, emphasising the need to play to your strengths.
Their biggest strength, however, has not been their defence, but the people of Kashmir, who have whole-heartedly embraced the players -- both local and foreign -- and fanatically egged them on.
On match days at Srinagar's TRC Turf Ground, where games are often played in freezing temperatures, Kashmiris pack the stadium in the thousands.
The ground can hold only 15,000, but attendances normally exceed 20,000. "You have about 5,000 waiting outside the stadium as well. The support is unreal," says Hammad.
Robertson, whose silver Hublot Big Bang watch is every bit as sparkling as his team's football, recalls how fans invaded the pitch when they scored against Bengaluru F C in a pre-season friendly. "Thank god we didn't score more."
And while security is tight and crowds are thoroughly frisked, fans still manage to smuggle in flares and set them off in celebration. "There is a cricket stadium adjacent to the ground. People who are unable to make it inside toss in the fireworks for the others," reveals Robertson.
Given the swelling support, Bakshi Stadium, a new 45,000-seater venue in Srinagar, is in the works. Set to be completed in six months, the stadium will be Real Kashmir's new home next season.
Things may be looking up now, but there was a time when financial hardships seemed impossible to overcome. Hamstrung by a lack of infrastructure, Chattoo converted his own hotel into the club's headquarters.
Moreover, with the TRC Ground being home to so many teams, training timings varied dramatically, often leaving players with little time to recuperate.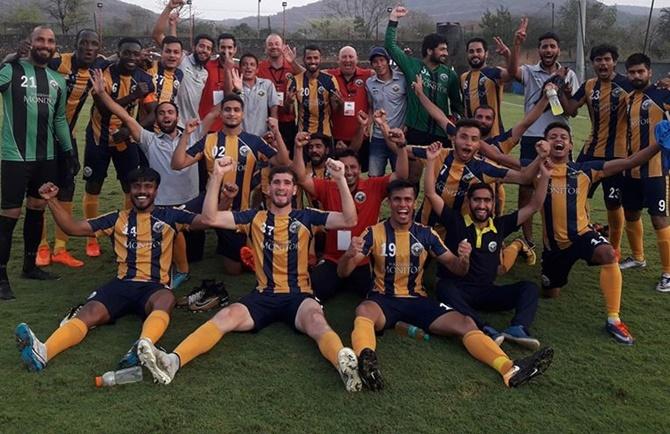 A boost arrived in the form of Adidas, which agreed to sponsor the team's kit. "Adidas was a turning point. When we saw they were ready to believe in us, we realised we were doing the right thing," says Chattoo.
Help also arrived from the Jammu & Kashmir governor, who allocated Rs 2 crore to the club for three years.
Bolstered by greater financial stability, the team also known as the Snow Leopards has signed a string of new players, which includes Robertson's son, Mason, from Scottish side Peterhead.
"This is such an experience. The atmosphere around the team is just brilliant. I don't want to go home," says the 24-year-old midfielder.
Dharmaraj Ravanan, 30, an Indian football veteran of sorts who has played at clubs such as Dempo, Mohun Bagan, Mahindra United and Churchill Brothers, puts the team's success down to a rare unity.
"The bonding is just different here. The will to fight for your team-mates, for the fans, is unlike anything I've experienced before."
In fact, all the players talk of sticking together, and whenever the question of completing the fairytale by winning the league is raised, all unfailingly respond with "we like to take it one game at a time".
In an age where professional athletes gain access to too much too quickly, Robertson must be congratulated for underscoring the significance of hard work, collective responsibility and humility early on -- foundational principles that can go a long way in determining Real Kashmir's place in the history of Indian football.
And while Robertson's hairdryer is not quite as searing as Ferguson's, he does like to lay into his players every once in a while. But he knows when to hold back, another of those managerial traits that his former boss mastered over the years.
"He always used to tell me that this is the same group of players that has to play for you next week. So be careful."
Played for him they have, but more importantly, they've proudly represented a region whose scars are getting a chance to be healed by the beautiful game.