'At a time when sports leagues are often smothered by the allure of spurious glamour, it is easy to forget what makes them so exciting in the first place: The sport itself.'
'At its core, the PKL has a fast-paced, engaging sport working for it.'
'Simply put, kabaddi, with its end-to-end action and oscillating fortunes, is almost never dull to watch,' says Dhruv Munjal.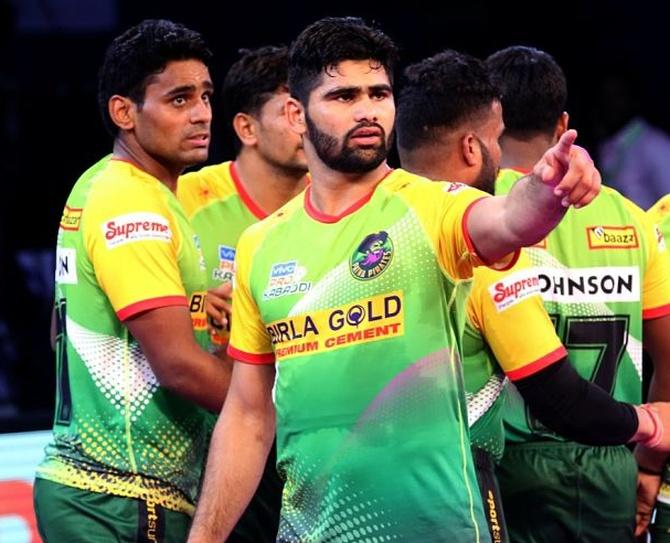 "Score?"
"25-13."
"Kya ghatiya score hai (what a pathetic scoreline)."
The lopsided nature of the match is purely down to Pardeep Narwal.
The Patna Pirates captain is on fire. In his last two raids, he has taken out four defenders, all with that famed now-you-see-me-now-you-don't agility that makes him such a terror in opposition territory.
And this isn't even the real thing.
This is a practice game Pardeep is playing with his teammates in the unlikeliest of settings, on an artificial mat installed inside a dazzlingly lit five-star hotel ballroom.
The heat of the contest is offset by the chilly environs -- the players want the air-conditioning turned down, even with all the sweat dripping down their brows.
After checking with the scorekeeper, coach Ram Mehar Singh, dressed in his blue India tracksuit (he also coached the national team at the Asian Games), admonishes defender Ravinder Kumar for going too hard on Pardeep.
"Point jaane de. Uska paer mat tod diyo (Let the point go. Just don't break his ankle)." Singh understands only too well the importance of his star raider to the Patna Pirates, and perhaps to the Pro Kabaddi League itself, the sixth season of which began on October 7.
Last season, Pardeep topped the league's scoring charts with 369 points. The second-best raider on the list finished a staggering 150 points behind.
Star India, the tournament's official broadcaster, has Pardeep at the heart of a new promotional video where he is seen sprinting furiously, almost like a gymnast preparing to perform a vault.
It is a refreshingly modern and uplifting take on an ancient sport; the visuals make for spine-tingling viewing.
At 20, the bearded Pardeep is Indian kabaddi's undisputed superstar.
Although filled with potential, both he and the sport he embodies were largely unknown till a few years ago. Today, both are household names with a massive following.
Pardeep Narwal is PKL's undisputed superstar, having finished as the top raider in 2017.
The only thing that perhaps managed to eclipse Pardeep's raiding statistics in 2017 was the number of people who tuned in to watch him play.
Pardeep's 19-point masterclass in the final against the Gujarat Fortune Giants clocked 26.2 million in average impressions -- a number that was only surpassed by the Indian Premier League final, at 39.4 million.
P V Sindhu's Olympic final in 2016, arguably a once-in-a-generation occasion, had that number pegged at only 15.2 million.
According to Star India, the PKL drew 313 million viewers with a watch time of 100 billion minutes in 2017.
Five seasons down, with the novelty aspect having almost worn off, PKL's numbers and popularity make for compelling inspection.
When compared with other non-cricket leagues, most of which dazzle initially but struggle to sustain the same fanatical interest in subsequent seasons, PKL is quite an aberration.
The average viewership for the league stage last year was 14 per cent higher than the previous season -- considerable proof of its ability to not only stay afloat, but to also keep growing.
At a time when sports leagues are often smothered by the allure of spurious glamour, it is easy to forget what makes them so exciting in the first place: The sport itself.
At its core, the PKL has a fast-paced, engaging sport working for it.
Simply put, kabaddi, with its end-to-end action and oscillating fortunes, is almost never dull to watch.
"Even if you don't know all the rules, if you watch it for five minutes, you know what it's about," says Mustafa Ghouse, CEO of the JSW Group-owned Haryana Steelers. "That will always work in its favour."
Kabaddi's popularity also owes to the perception that it is a very Indian sport.
"Perhaps we don't realise it, but we have a natural, deep-rooted affinity for it. It's a DNA thing. It was essential to showcase this properly," says Charu Sharma, who, along with industrialist Anand Mahindra, founded Mashal Sports, the league's organising company, in 1994.
As its co-founder, Sharma has seen the PKL transition from pretty much a sponsorless entity in season one to the juggernaut it is today.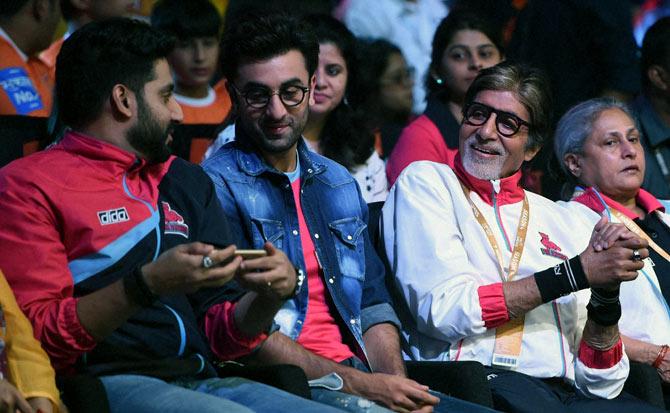 None of this would have been possible without dynamic presentation.
In 2015, following the first season, Star India picked up a 74 per cent stake in Mashal Sports, a game-changing move that has seen the former invest heavily in the league since.
"The word 'packaging' is used a lot in the context of the PKL. It is key to understand that this in no way denigrates the sport. We just tried to make it more visually appealing, and tweaked a few rules to allow the game to flow for live television," says Sharma.
Four years on, it would be no stretch to say that Star India has done remarkably well.
PKL's production quality continues to be top-notch, made possible by modern indoor stadiums, mat-surface courts, on-court microphones, peppy music, flashing lights and, of course, delirious fans.
It is also one of those rare sports on Indian television that offers quality Hindi broadcasting that goes beyond incessant blabbering and the use of ludicrous maxims.
Delhi-based lawyer Vishal Punia, for instance, enjoys the PKL only with Hindi commentary. "How can a rustic sport like kabaddi be watched in English?" he wonders. The eloquent Sunil Taneja, always brimming with insights, never disappoints him.
Perhaps the PKL's underlying achievement has been its ability to ensure clean governance. The past few years in Indian sport have been notorious for dubious financial dealings and issues related to conflict of interest.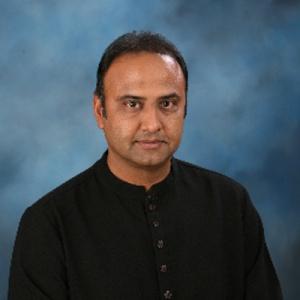 At PKL, however, kabaddi has remained the sole focus.
The PKL's success has started to show elsewhere as well. For a product now used to posting stellar numbers, it's not just about figures anymore.
It is also about taking the ultimate leap: Using kabaddi's mass appeal to turn it into a truly aspirational sport.
Stories like Monu Goyat's obviously help. On May 30 this year, the Pirates man woke up hoping to do reasonably well in the PKL auction scheduled for later that day.
By the time evening came around, the 25-year-old raider from Hansi in Haryana was richer by Rs 15.1 million -- the highest price ever fetched by an Indian athlete outside the IPL. Haryana Steelers had made the purchase.
With lives, pro-kabaddi has changed personalities too.
The diffident Pardeep, who was once a journalist's nightmare with his one-line responses, now speaks with candour and confidence. Fame hasn't so much changed him as it has improved him.
"I can't practise in Patna because there are people clicking pictures the moment I step out. It is crazy," he says after training.
Whenever he does step out, he likes to do so only in footwear by Under Armour -- with success, he no longer minds enjoying a bit of the high life.
And neither does Rishank Devadiga of the UP Yoddhas, who has walked the ramp at fashion shows since becoming a primetime sensation.
A kabaddi player as showstopper? Who would have thought?
Pardeep's teammate, the stern-looking Deepak Narwal who often breaks into a laugh when you least expect it, adds that the league has turned the sport into a serious career option.
"In my village (Haryana's Kathura), we played for fun. For us, a career existed only in politics or the police. Now, there are around 15 players in the PKL from my village itself. How things change," he says.
Deepak, 25, is a new acquisition for the Pirates; the raider cost them a hefty Rs 5.7 million.
"The biggest change is in the schools. Urban kids who had never seen the sport are now playing it. That is the real impact of the PKL," coach Singh tells me later.
We witnessed what Singh is saying in the summer of last year. At a park in South Delhi, where a bunch of us play football over the weekend, some schoolkids scuffed a part of the ground, uprooting all the greenery, to make a kabaddi court. The barren patch did not help our football, but we didn't mind much.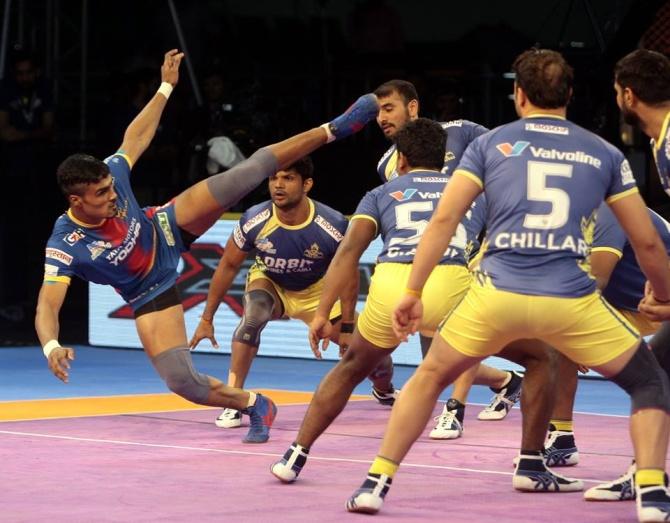 Star India has seen its aggressive marketing push and smart packaging deliver results. While accurate data is not available, some reports suggest the league enjoyed a 320 per cent rise in sponsorship revenue in 2017 as compared to the previous season.
And, there was a three-fold increase in the number of advertisers.
Last season also saw four new teams being introduced (taking the total to 12) and Vivo coming on board as title sponsor with a five-year deal worth Rs 3 billion.
For 2018, Star India has managed to attract the likes of Thums Up, a conscious attempt at connecting with a younger audience, Honda and Tata Motors.
"Since Star is also the league's major shareholder, sponsors are offered enviable opportunities to intertwine in-venue and in-broadcast spots," feels Joseph Eapen, senior vice-president, SMG Insight, a research consultancy specialising in the business of sports.
Can the PKL get even stronger?
"Our studies have shown that the best thing about kabaddi, unlike football, for instance, is that there is something always happening (on the court). So people are bound to watch it," adds Eapen.
However, for it to soar even higher, things at the franchise level must improve. Even as the league is going strong, most franchises are yet to break even.
"Brands have now started considering kabaddi to engage with their target audience, but breaking even will take a couple of seasons," says Kailash Kandpal, CEO, Puneri Paltan.
Principal sponsors, according to industry experts, paid PKL franchises only Rs 10 million to Rs 40 million last season. That is inferior to the minimum figure of Rs 50 million that Indian Super League teams generally invite.
PKL franchises are simply not the kind of powerful brands that franchises of some other leagues have become. Not yet, at least.
Moreover, even though past evidence suggests otherwise, the prospect of playing matches every day for a duration of almost four months comes with the risk of giving the viewer too much, too often.
"Maybe in the future we can look at a longer league where the matches are more spread out and less frequent. But for now, I don't see any reason to change. This is working perfectly for us," says Sharma, adding, "We read the newspaper every day, don't we?"
Back on the mat, Pardeep, after applying some ice on his bruised right elbow, is snared three times straight. Singh, for once, applauds the defence.
The law of averages seems to have finally caught up with Pardeep. The league's organisers will be hoping that they are spared a similar fate. For a while, anyway.
Position of the teams in all seasons
Team
2014
2015
2016
Jan
2016
June
2017
Bengal Warriors
7th
6th
4th
8th
3rd
Bengaluru Bulls
4th
R
7th
6th
Group stage
Dabang Delhi
6th
7th
8th
7th
Group stage
Jaipur Pink Panthers
W
5th
6th
R
Group stage
Patna Pirates
3rd
4th
W
W
W
Puneri Paltan
8th
8th
3rd
3rd
4th
Telugu Titans
5th
3rd
5th
4th
Group stage
U Mumba
R
W
R
5th
Group stage
Gujarat Fortune Giants
NP
NP
NP
NP
R
Haryana Steelers
NP
NP
NP
NP
6th
UP Yoddha
NP
NP
NP
NP
5th
Tamil Thalaivas
NP
NP
NP
NP
Group stage