Federer, aged 36, won his 20th Grand Slam at Melbourne Park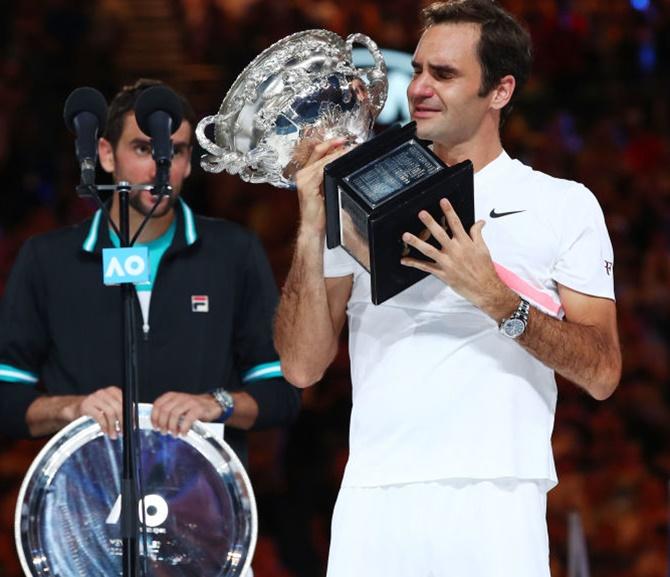 IMAGE: An emotional Roger Federer poses with the Norman Brookes Challenge Cup after winning the 2018 Australian Open final. Photograph: Clive Brunskill/Getty Images
Factbox on Switzerland's Roger Federer, who beat Croatia's Marin Cilic 6-2, 6-7(5), 6-3, 3-6, 6-1 to win a record-extending 20th Grand Slam title on Sunday:
Born: Aug. 8, 1981 in Basel, Switzerland. (Age: 36)
Grand Slam titles: 20 (Australian Open 2004, 2006, 2007, 2010, 2017, 2018; French Open 2009; Wimbledon, 2003, 2004, 2005, 2006, 2007, 2009, 2012, 2017; U.S. Open 2004, 2005, 2006, 2007, 2008).
MAKING HIS NAME
Born to Robert and Lynette. Has one sibling, Diana.
Began playing tennis at the age of eight.
Was a ball boy at his hometown event in Basel in 1993-94.
Bursts on to the scene in 2001, ending Pete Sampras's 31-match winning streak at Wimbledon in the fourth round before losing in the quarter-finals.
Becomes the first Swiss man to win a grand slam after beating Mark Philippoussis in the 2003 Wimbledon final.
PLAYING CAREER
Federer is the only man to win five consecutive titles at two different grand slams -- Wimbledon and US Open.
First man to win Wimbledon-US Open double four years in a row.
Only man in the professional era to win three consecutive majors twice in his career when he captured the 2007 Australian Open title.
Matched Bjorn Borg's record of five consecutive Wimbledon titles in 2007.
His run of reaching 10 consecutive Grand Slam finals is ended by Novak Djokovic in the 2008 Australian Open semi-finals.
His 2009 French Open crown made him the sixth man -- after Fred Perry, Don Budge, Rod Laver, Roy Emerson and Andre Agassi -- to have won all four Grand Slam titles during his career. Nadal later became the seventh to achieve the feat and Novak Djokovic joined the list in 2016.
Breaks American Pete Sampras's record of 14 Grand Slam titles with his 15th win in the 2009 Wimbledon final to reclaim the world number one spot from Nadal.
His record run of reaching 23 consecutive Grand Slam semi-finals or better from 2004 Wimbledon onwards is snapped by Robin Soderling in the last eight of the 2010 French Open. His streak is more than double the previous record held by Ivan Lendl and Rod Laver, who both reached 10 consecutive major semis.
Becomes the 23rd man to top the ATP rankings in 2004, and keeps the ranking for a record 237 consecutive weeks. By winning his seventh Wimbledon title, he also matches Sampras's record of spending 286 weeks as world number one.
Holds a record run of 24 consecutive final victories, which was snapped when he lost the 2005 Masters Cup final to David Nalbandian. Finished the 2005 season with an 81-4 win-loss record.
In 2006, he reached all four grand slam finals, winning in Australia, Wimbledon and the US among a haul of 12 titles and a 92-5 win-loss record.
In 2007, again reached all four major finals, winning in Melbourne Park, Wimbledon and Flushing Meadows.
Has a professional era record of 65 consecutive wins on grass, which was ended by Nadal in the 2008 Wimbledon final.
Won an Olympic men's doubles gold medal with Stanislas Wawrinka at the 2008 Beijing Games. Also won the silver medal in men's singles at the 2012 London Games.
Comes back from six-month injury lay-off to win the 2017 Australian Open and at 35, becomes the oldest player to win a grand slam title since Australia's Ken Rosewall won at Melbourne Park in 1972 at the age of 37.
Won an unprecedented eighth singles title at Wimbledon in 2017, pulling one ahead of Britain's William Renshaw and American Pete Sampras.
Aged 36, won his 20th Grand Slam at Melbourne Park. Equalled Rod Laver's record of claiming four grand slams after turning 30. Also became the third man after Roy Emerson and Djokovic to claim a record six Australian Open titles.