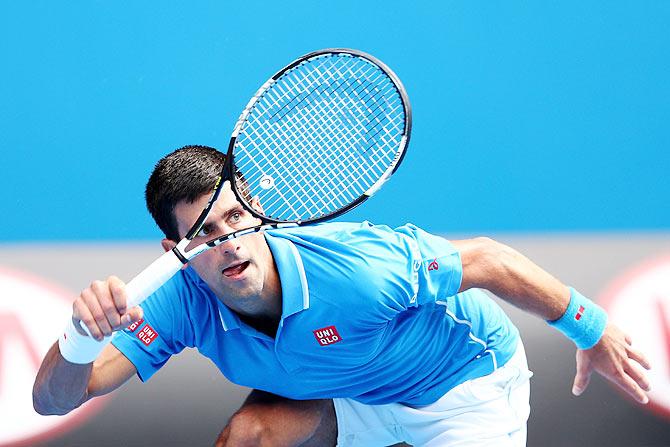 Novak Djokovic of Serbia plays a forehand in his first round match against Aljaz Bedene of Slovenia on Tuesday. Photograph: Cameron Spencer/Getty Images
Rafael Nadal has been shrugging his shoulders and suggesting he may not be ready mentally or physically to win this year's Australian Open after an injury-riddled 2014, but top seed Novak Djokovic is having none of it.
"Well, I don't know what his intentions are, how he feels, but he is definitely always one of the top favourites in every tournament that he plays," said Djokovic, who beat Slovenian qualifier Aljaz Bedene 6-3, 6-2, 6-4 to join the Spaniard in the second round on Tuesday.
"There is no question about it.
"We always talk prior to the big tournaments, during the first days of the Grand Slams, about who the potential players are for winning the trophy (and) more or less the same names have been going around for the last seven or eight years.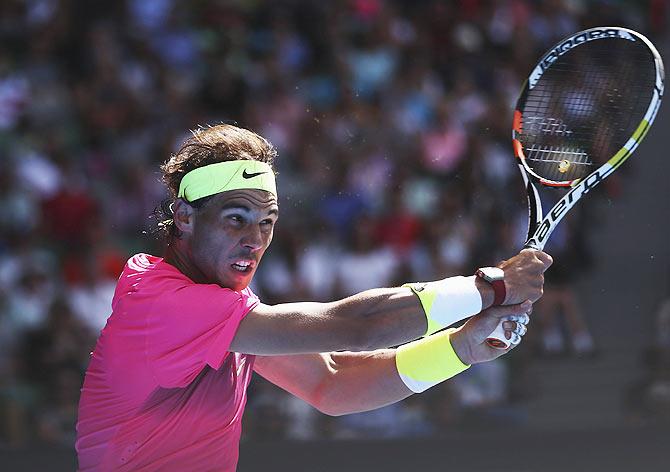 Rafael Nadal of Spain plays a forehand in his first round match against Mikhail Youzhny of Russia on Tuesday. Photograph: Ryan Pierse/Getty Images
"So I don't think there is any difference in terms of main favourites for this tournament."
The 27-year-old Serb is definitively among the favourites for his fifth title at Melbourne Park with his main rivals Nadal and Roger Federer suggesting as such, having won his second Wimbledon and fourth ATP Tour Finals title last year.
Djokovic also now holds a 44-6 record on Melbourne Park's hard courts, having reached at least the quarter-finals every year since his first Grand Slam title here in 2008.
He barely raised a sweat in his victory over the 25-year-old Bedene and won the match in a shade under two hours, though he was less impressed with his performance.
"Obviously the start was a bit slower performance, weaker performance, from my side (and) he had a couple of break points," Djokovic said.
"He's a good player, he felt confident (and) he had nothing to lose.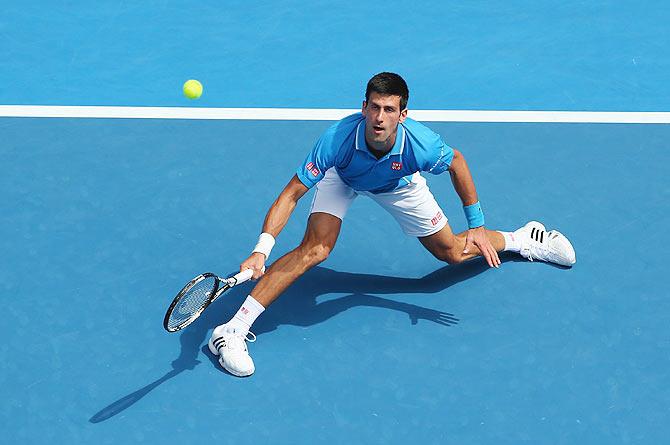 Novak Djokovic of Serbia plays a backhand against Aljaz Bedene of Slovenia in his first round match of the 2015 Australian Open at Melbourne Park on Tuesday. Photograph: Quinn Rooney/Getty Images
"On the other hand, I managed to stay tough and overcome some challenges that I faced in the beginning of the match and played much more comfortably in the rest."
Djokovic, who has been battling illness for much of January, said he felt the worst of it had now passed and he would be fine to face either Russia's Andrey Kuznetsov or Spain's Albert Ramos-Vinolas in the next round.
"It hasn't been an ideal couple of weeks in terms of health and preparation," he said.
"But I fought my way through (and) now it's behind me. I'm only looking forward.
"I think I did well in terms of responding to the slow start today, feeling a little bit rusty on the court.
"So hopefully the next one will be even better."