The Swiss magician is playing some of the best tennis of his career and appears completely recovered from a knee injury that kept him out of the second half of last year.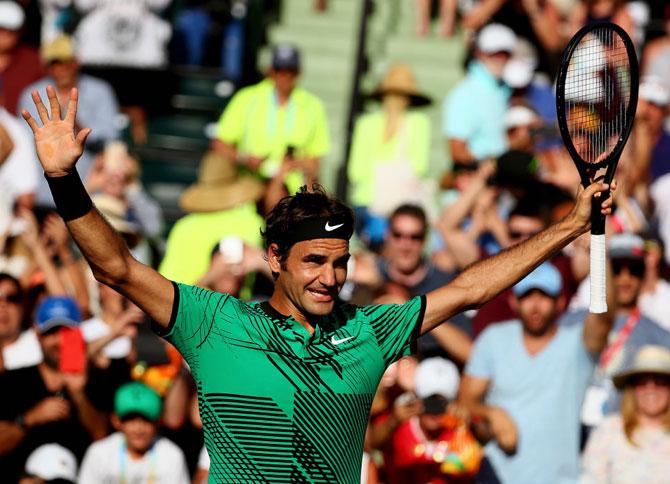 IMAGE: Roger Federer celebrates his win against Tomas Berdych. Photograph: Al Bello/Getty Images
Roger Federer stared down defeat and saved two match points before knocking Tomas Berdych out of the Miami Open on Thursday with a 6-2, 3-6, 7-6(6) victory in their thrilling quarter-final.

Federer will next face Nick Kyrgios on Friday after the 12th seeded Australian edged German teenager Alexander Zverev 6-4, 6-7(9), 6-3 in an evening quarter-final, finally clinching victory on his sixth match point.

Swiss magician Federer had to call upon all his resources of skill, poise and experience to edge the Czech in a third set tiebreak in front of a frenzied crowd at Crandon Park.

Berdych served for the match at 6-4 in the tiebreak but Federer reeled off four points in a row, including two unplayable serves, and secured the win when the 10th seed crumbled with an awful second serve.

Federer conceded he had rode his luck at times to advance.

"I've had some tough losses here where I should have won. They stay with you so I'm happy today to have come through somehow," he said courtside.

"I definitely got very lucky at the end but I think I showed great heart today and I fought. Tomas really stepped it up and it was a great match at the end but one guy had to win."

Australian Open champion Federer, who also won at Indian Wells two weeks ago, is playing some of the best tennis of his career and appears completely recovered from a knee injury that kept him out of the second half of last year.

The 35-year-old is 17-1 this season, his only loss a surprise defeat to Russian Evgeny Donskoy in Dubai.

Federer has won all seven of the tiebreaks he has faced during his current American campaign.

"I enjoy winning breakers because those are the ones that are going to make you win a tournament or not sometimes," he said.

"(My thought process is) don't mess up, hit a few aces, stay aggressive on the return, all those silly things that never work but they seem to be working now."

In the tiebreak, Berdych hit a backhand winner into the corner to set up two match points, the first on serve, but netted a forehand to squander the first.

Federer saved the second match point with a superb first serve and set up his own with an ace down the middle. The pressure reverted to Berdych and this time he cracked, his second serve landing closer to the baseline than the service line.

Kyrgios is looking forward to facing Federer after pulling out of their scheduled Indian Wells quarter-final with a virus.

"He's my favourite player, so I'm going to enjoy the moment," said the 21-year-old, who won their only career meeting, on clay in Madrid in 2015.

"He's the greatest of all time. We don't know how long he's going to hang around so it's a blessing."

Wozniacki beats second seed Pliskova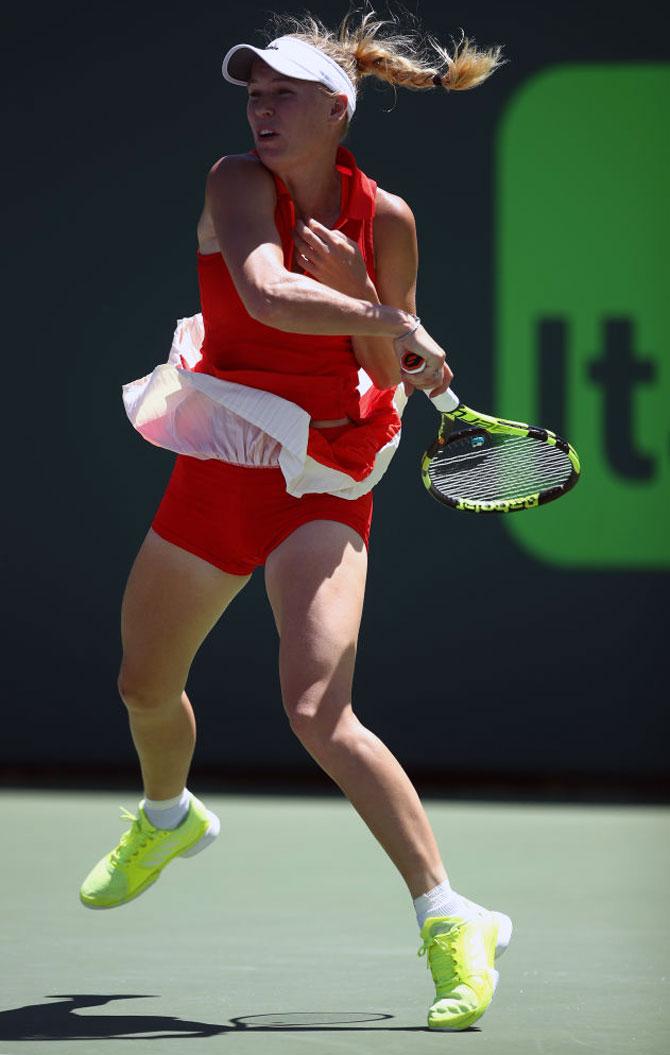 IMAGE: Caroline Wozniacki in action. Photograph: Julian Finney/Getty Images
Caroline Wozniacki capitalised on her renowned endurance as she made few unforced errors in wearing down Karolina Pliskova to win 5-7 6-1 6-1 in the Miami Open semi-finals on Thursday.

Danish 12th seed Wozniacki frittered away three set points in the first set, but she made amends to eventually ease past the Czech second seed on the Crandon Park hardcourt.

The result exacted a measure of revenge for Wozniacki, beaten by Pliskova in the Doha final last month.

"Fitness is something I'm working really hard on every day. It's a huge part of my game," Wozniacki, a sub-3:30 marathon runner, said in a courtside interview.

"It was definitely a mental grind. Having two or three set points in that first set and ending up losing it is kind of depressing, but I got a good start to the second set and that got me fired up and I just kept playing."

Wozniacki's final opponent will be the winner of Thursday's second semi between 11th-seeded American Venus Williams and Britain's number 10 seed Johanna Konta.

Wozniacki, a part-time south Florida resident, said she considered the Miami Open a local tournament.

"It's extremely special," she said of reaching her first Miami final. "Having a place here and training here in the off season, it's a home court."

The Dane said she might watch a bit of the Williams-Konta match, but more likely would leave the scouting report to her father Piotr and assistant coach Sascha Bajin.

Rivals play blame game as Kyrgios wins feisty encounter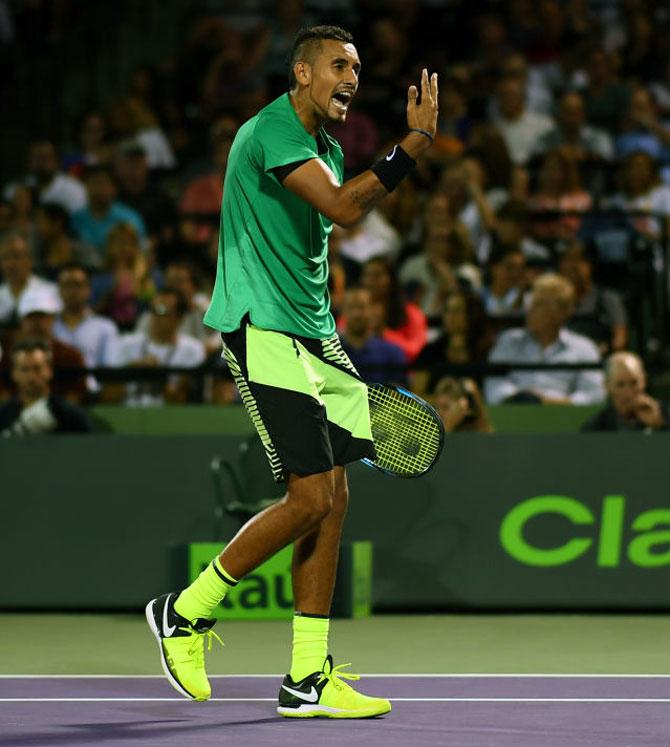 IMAGE: Nick Kyrgios reacts during his quarter-final match. Photograph: Rob Foldy/Getty Images
Tempers flared between Nick Kyrgios and Alexander Zverev late in their Miami Open quarter-final on Thursday when a botched line call and contentious decision by the chair umpire to allow a challenge on the point caused both players to react angrily.

The pivotal moment of the Australian's 6-4, 6-7(9,) 6-3 triumph came on the first point of the sixth game in the deciding set, when a lob from Germany's Zverev sailed long.

The linesman mistakenly called the ball in and Kyrgios, despite believing it was out, decided to try a low percentage 'tweener' shot between his legs before challenging.

Chair umpire Fergus Murphy allowed the challenge, a decision that former player Brad Gilbert called "wrong" during television coverage, and replays showed the ball was indeed out.

The point was awarded to Kyrgios, which left Zverev seething, the German arguing that the 12th seed should not have been allowed to challenge the call after hitting the ball.

Flustered, he lost the game, which turned out to be the only service break of the set, and Zverev gave Murphy a piece of his mind at the next change over.

"You might cost me the match," he said. "You know that. The decision is absolute crap."