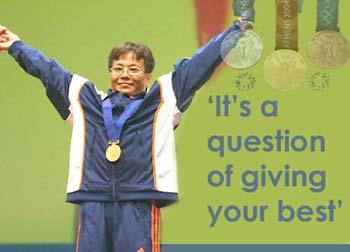 The strains of Kuch Kuch Hota Hai are punctuated at regular intervals by the clanking and thudding of iron as India's Olympics-bound weightlifters go through their routine 'clean and jerks' under the watchful eye of Belarus coach Leonid Taranenko at the Sports Authority of India's Centre for Sporting Excellence in Bangalore.
Among them are Karnam Malleswari, who won India's only medal -- a bronze -- at the Sydney Olympics in 2000 and three other strongwomen making the trip to Athens this month.
Malleswari has been out of competition for two years after her pregnancy and the birth of her first child. Her stamina isn't what it used to be. She sits down exhausted by the rigorous routine she is put through.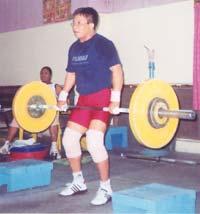 Just then a voice from across the gymnasium encourages her to get up and continue with her training.
It is not the coach who is exhorting her, but Kunjarani Devi, who at 36 is the grand old lady of Indian weightlifting, the first woman weightlifter to win the Arjuna award, way back in 1992.
Didi [big sister] to the other wrestlers, Kunjarani has a work ethic that is truly admirable. So much so that in reply to her words of encouragement, a visibly tired Malleshwari says: "Aap toh machine hai; aapko pain nahi hota; aapko thakaan nahi hoti; bus machine ki tarah chalte jaate ho [You are like a machine; you don't feel any pain, don't get tired. Like a machine you keep going on]."
Pratima Kumari, who will also travel to Athens, joins in the fun, adding: "Aap to manav jaati ke hi nahi. Kabhi thakte hi nahi [you are not human; you never get tired]."
This is the kind of adulation fellow weightlifters reserve for Kunjarani. 
She not only pushes her mates hard, she pushes herself even harder.
For the diminutive lady, the climb to the top has been arduous.
When she first took up the sport she faced a lot of resistance not only from her family but others as well in her native Manipur.
"They used to taunt me. They used to say 'ladki hai aur ladko ka sport khelti hai. Yeh to mar jayegi [you are a girl and participating in a man's sport; you will die]'. They used to make fun of me. But I was determined. I wanted to make something out of myself. I wanted to achieve something for the country," she says.
"P T Usha is my idol. She won a lot of medals in the 1982 Asian Games. I wanted to do that too; I wanted to be just like her."
Kunjarani is an extremely talented athlete, having represented Manipur in hockey, football and kho-kho. So when it came to deciding on which sport to specialise in, it was not easy.
"In the end I chose weightlifting, simply because it is not easy for one to become famous in a team sport."
Having decided on making weightlifting a career, she worked tirelessly and tasted success early. She started winning almost everything at the national level, which encouraged her to strive for honours internationally.
Winning the Arjuna Award in 1992 remains one of the most cherished moments of her life. But her biggest hurdle to international success has always been the Chinese.
"The Chinese have a very good system. They build up their weightlifters step by step. In India, there is virtually no system. The Chinese have over 2,000 weightlifters. We have around 12. The numbers give them the advantage to pick and choose the competitions for their best lifters.
"They compete for one year, then they rest the next year. Come the big competitions, they are rested and ready "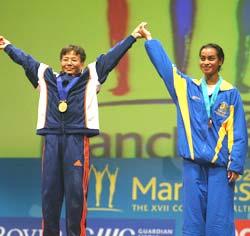 At Sydney, India won only two slots for weightlifting. Malleswari and Sanamacha Chanu were preferred over Kunjarani. So having made it to the team this time around, she is hoping it will be payback time at her first Olympics, where she will participate in the 48-kg division.
With 61 international medals under her belt she is confident that with a little luck she can strike it rich at Athens and earn India only its fourth individual Olympic medal ever.
"I am not really nervous. I have competed and won in world championships, the Asian Games, the Commonwealth Games. So it is just a question of going there and giving your best. Hum wahan jayenge toh kuch lekar zaroor aayenge [I will go there and surely back laurels]. "
Kunjarani hit the headlines when she was rated by the International Weightlifting Federation as one of the finest lifters of the 20th century. She is currently ranked No. 4 in the world, with lifts of 82.5 kgs in the snatch and 105 kgs in the clean and jerk.
If she performs true to form, there is no doubt about her returning from Athens with the precious metal, whatever the hue.