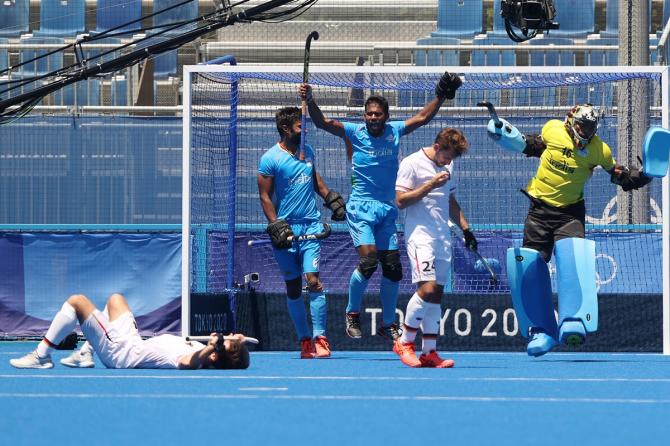 Eight-time champions India staged a splendid recovery to defeat Germany 5-4 in a thrilling men's hockey bronze medal play-off and win an Olympic medal after 41 years, at the Tokyo Games, on Thursday.
When goalkeeper P R Sreejesh saved Germany's last penalty-corner with 6.8 seconds to go for the hooter, India's players broke into celebration after a super effort.
Simranjeet Singh (17th, 34th minute) scored a brace, while Hardik Singh (27th), Harmanpreet Singh (29th) and Rupinder Pal Singh (31st) were India's other scorers.
Timur Oruz (2nd), Niklas Wellen (24th), Benedikt Furk (25th) and Lukas Windfeder (48th) scored for Germany.
India's last medal at the Olympics was a gold, at Moscow in 1980.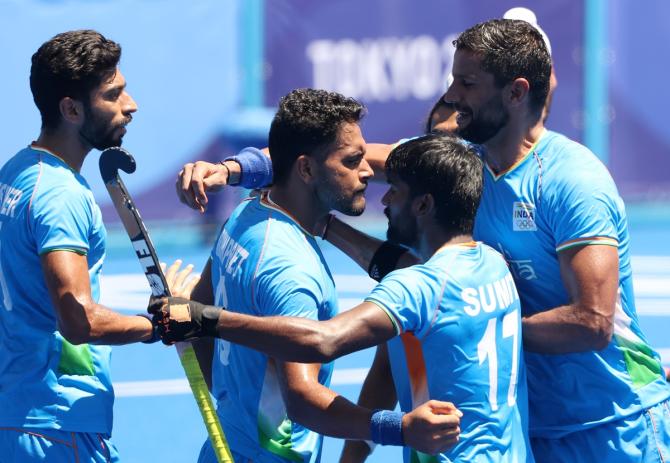 Determined to clinch a medal, the Indians staged one of the most memorable comebacks in the history of the game, fighting back from a two-goal deficit (1-3) to turn the match around.
There were tears and hugs on the field as the Indian players savoured the historic moment.
This is India's third hockey bronze medal at the Olympics. The other two came in 1968 at Mexico City and 1972 at the Munich Games.
Germany went ahead as early as the second minute through Timur Oruz and held ascendancy, making as many as seven circle penetrations and forcing four penalty-corners in the first quarter. Thanks to some good goalkeeping by Sreejesh, India went into the second period just a goal in arrears.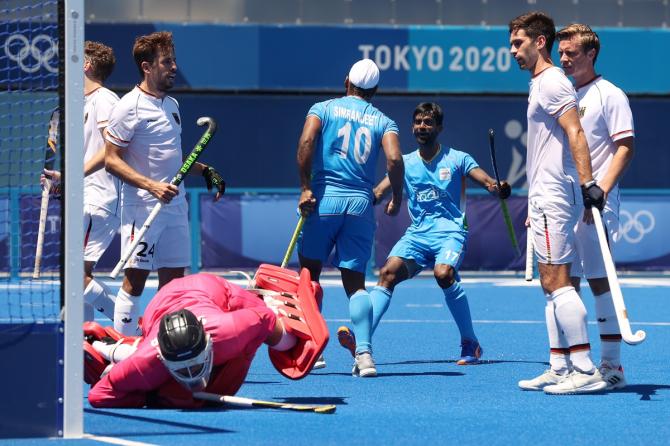 India drew level in the 17th minute through Simranjeet Singh, who trapped a long ball down the centre from Nilakanta Sharma, turned and fired home.
However, the Germans regained the lead seven minutes later after Nilakanta lost possession of the ball. Christopher Ruhr sent in a fine pass to Niklas Wellen, who made it 2-1.
India conceded again within a minute. Surender Kumar lost possession inside the circle and Benedikt Furk wasted no time in seizing the opportunity and score.
However, the Indians came back strongly from the restart and pulled a goal back from a penalty-corner in the 26th minute, Harmanpreet Singh scoring his sixth goal of the Games with an excellent drag-flick.
A minute later they were on level terms. Rupinder Pal Singh took the penalty-corner flick and Germany's 'keeper Alexander Stadler effected a good save, only to see Hardik Singh slam the rebound into goal.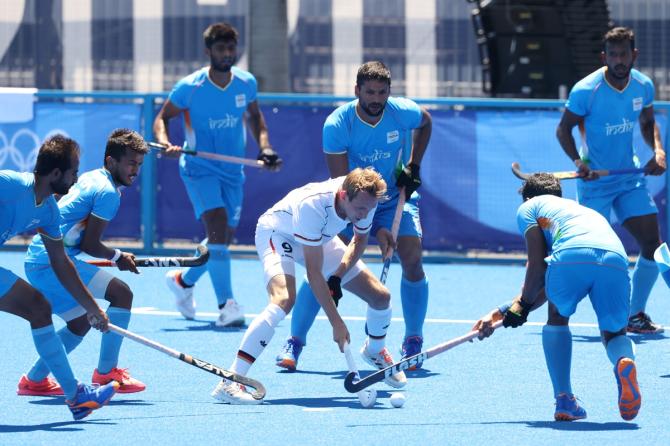 India, buoyed by those goals, scored again in the 31st minute to take the lead for the first time in the match when Rupinder Pal Singh converted his third penalty-stroke, after Germany lost a referral.
Three minutes later, India were ahead 5-3 through Simranjeet Singh, who finished on a fine run by Gurjant Singh on the right flank.
With eight minutes to go Germany were down to ten men after Mats Grambusch was sent off for a foul and India forced a couple of penalty-corners, but Rupinder Pal Singh wasn't able to score from them.
Germany started aggressively in the fourth quarter and reduced the deficit when Lukas Windfeder scored from a penalty-corner.
India had a change to increase their tally in the 52nd minute, but Mandeep fired the ball wide with only goalkeeper to beat.

Germany, again down to ten men after the captain Tobias Hauke was sent off for a dangerous tackle, forced their seventh penalty-corner, with eight minutes to go, but were denied by Sreejesh, who made a fine save.
With six seconds to go for the hooter Germany forced a penalty-corner and Sreejesh saved again to spark off Indian celebrations.