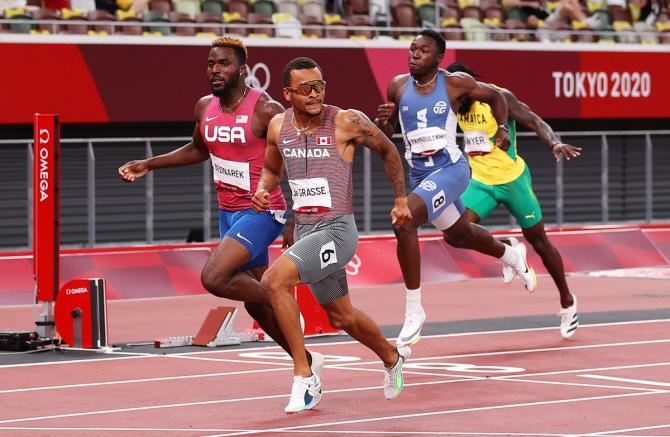 Canada's Andre De Grasse ended a long run of finishing with minor medals by winning the Olympic men's 200 metres gold medal with a scorching time of 19.62 seconds on Wednesday to become the eighth fastest man over the distance.
De Grasse, who claimed the 100m bronze and 200m silver at the 2016 Olympics and 2019 World Championships, finally fulfilled his potential under the clear night sky at the Olympic Stadium in Tokyo.
The 26-year-old Canadian became the first Olympic 200m champion since Jamaican Usain Bolt, who won gold at three consecutive Olympics from the 2008 Beijing Games before retiring in 2017.
For most of the race, however, it looked like De Grasse would again finish with any medal but gold.
He came into the turn third but seemed to find a higher gear to surge past his American rivals in the last 40 metres and claim victory with a Canadian national record.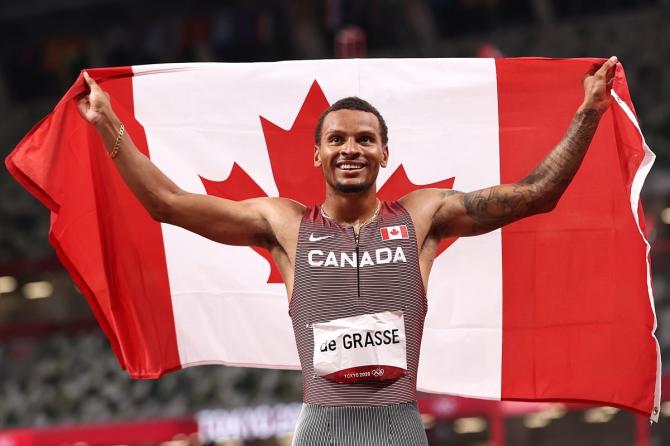 The last time the United States won this event was in 2004, when they swept the medals.
Noah Lyles had established himself as the world's top 200m sprinter in 2018 by winning all his races over the distance and posting a series of sub-19.7 times.
World champion Lyles, who came to Tokyo with a 2021 world-leading time of 19.74 set in the U.S. trials, appeared poised to end his country's long wait.
But Lyles was passed by his team mate Kenny Bednarek, who took the silver medal with a time 19.68, and had to settle for bronze in 19.74.
Bednarek had arrived in Tokyo in red-hot form after his 19.78 personal best at the U.S. Olympic trials and running in the lane next to De Grasse helped him through.
American Erriyon Knighton, 17, who has taken Bolt's Under-20 world record, missed out on becoming the youngest medallist in a men's athletics event by finishing fourth.
McLaughlin breaks women's 400 hurdles world record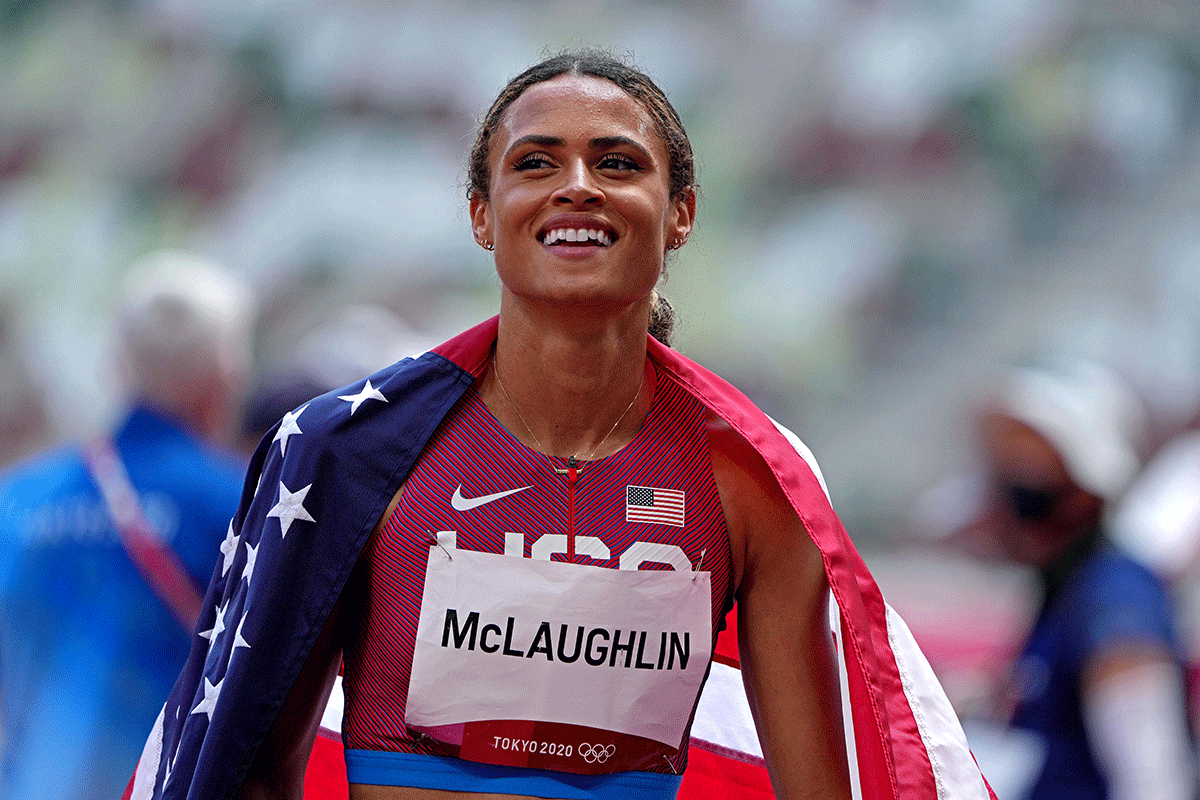 Sydney McLaughlin shattered her own 400 metres hurdles world record to win gold in 51.46 seconds on Wednesday, getting the better of fellow American Dalilah Muhammad in a thrilling Tokyo Olympics final that lived up to all expectations.
The 21-year-old stuttered on the penultimate barrier but surged down the home stretch to power across the line and beat her previous record of 51.90 set at the U.S. trials in June.
Muhammad, the 2019 world and 2016 Olympic champion, ran the race of her life to take silver, coming home in a personal best 51.58, while Femke Bol of the Netherlands took bronze in a European record 52.03.
"I'm absolutely delighted. What a great race. I'm just grateful to be out here celebrating that extraordinary race and representing my country," said McLaughlin. "I saw Dalilah ahead of me with one to go. I just thought, 'Run your race'.
"The race doesn't really start until hurdle seven. I just wanted to go out there and give it everything I had."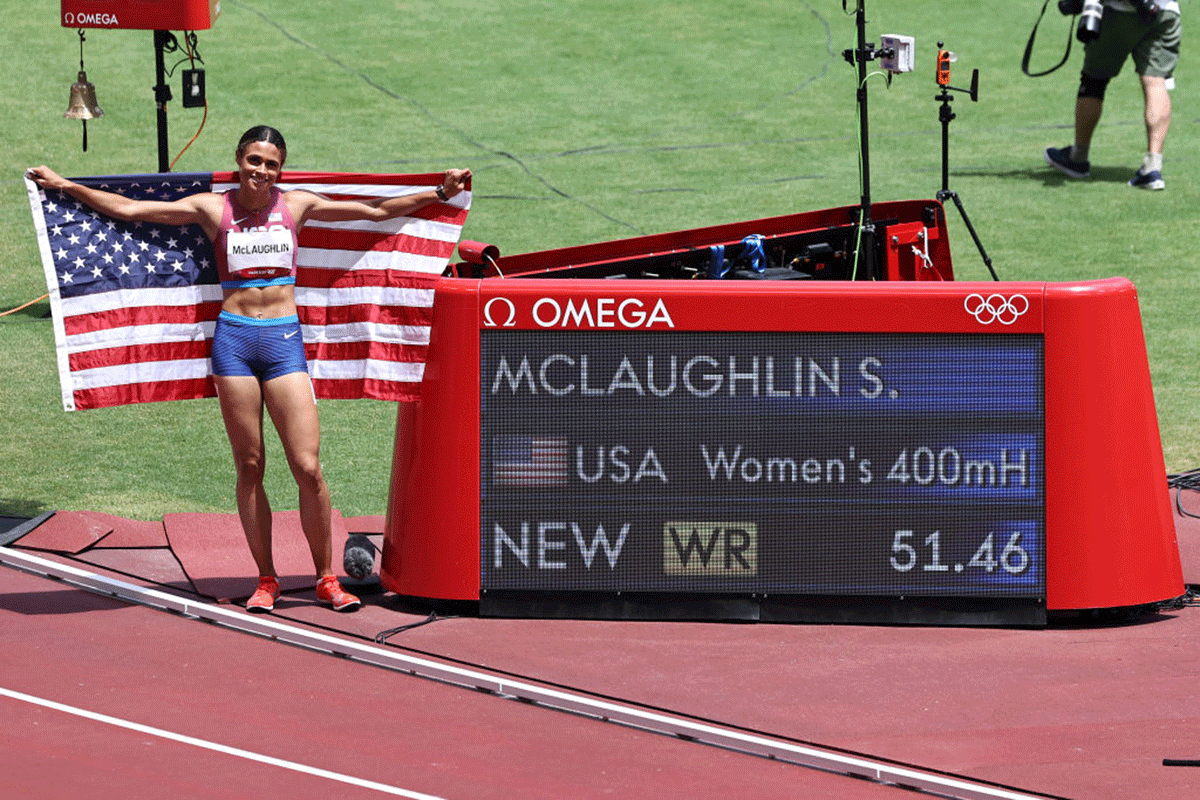 The showdown between McLaughlin and Muhammad, 31, was among the most highly anticipated of the athletics programme at the Tokyo Games and came a day after Norway's Karsten Warholm destroyed his own world record in the men's event.
"I can't really (get) it straight in my head yet. I'm sure I'll process it and celebrate later," said McLaughlin.
It was McLaughlin's latest blockbuster performance since joining forces in 2020 with famed coach Bob Kersee, whom she credits with taking her to the next level of the sport after she failed to reach the final at the 2016 Olympics.
The pairing also turned her idol - six-time Olympic gold medallist Allyson Felix - into her training partner.
"It's just about trusting your training, trusting your coach, and that will get your all the way round the track," she said.
Bol, who beat fourth-place finisher Janieve Russell of Jamaica by more than a second for her first Olympic medal, said she knew she had to bring her "A-game" just to get on the podium.
"Those other girls are so strong," said Bol.
"I felt that I was super-fit. I thought, 'I'm going to go in hard and see where I finish'. I knew I was fast and I think I proved that to myself."
Korir extends Kenya's 800m dominance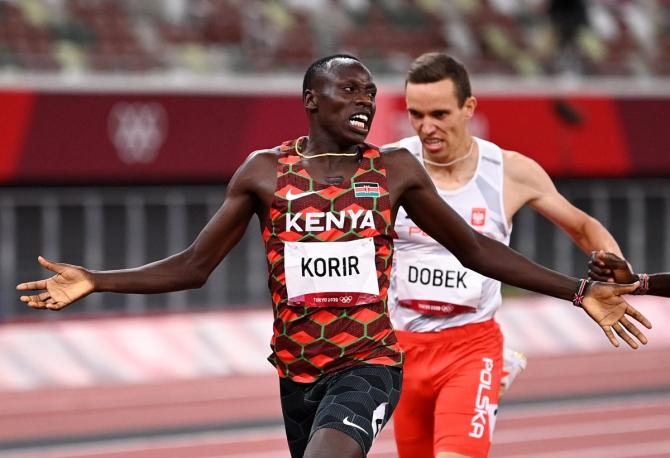 Kenya's Emmanuel Korir won the Olympic men's 800 metres gold medal on Wednesday, extending the East African nation's dominance of an event they have now won four times in a row.
His compatriot Ferguson Rotich took silver and Patryk Dobek of Poland claimed the bronze.
Kenya's double Olympic gold medallist David Rudisha's persistent injuries denied him the chance to defend his title, opening a path for a new champion to emerge and Korir powered his way to victory with a time of 1:45.06.
He spread his arms wide as he crossed the line as if to announce that he was ready to assume Rudisha's mantle as king of the 800 metres.
"I don't know what to say, just thanks to God," he said. "This is a big thing for me after failing to qualify for the final in the 2017 and 2019 world championships. But today is my day.
"It's been my prayer to be an Olympian, and today I am," he added.
Arriving in Japan boasting the second leading time of the year, Korir began the race fast, moving up to second behind Australia's Peter Bol who set the early pace.
"There was nobody who wanted to take the pace, so I just said I was going to control it," Korir said. "The Australian guy, Bol (Peter, who led off the last bend), he did something good for me."
Korir accelerated with 200 metres left and surged to the line ahead of Rotich, who pushed hard in the last 50m to make it a Kenyan one-two as he clocked 1:45.23.
"My prediction was that we would get a one-two-three," he said, referring to Michael Saruni, who failed to advance to the final.
Rotich said he was pleased with the result for Kenya.
"We have been able to bring a gold medal to our country. Today we brought a silver and a gold, so it's a plus to our country and our lives," he said.
As the race was coming to its last stretch, Rotich said that he realized he was not in a medal position.
"A thought came in my mind that 'oh, you are late'. And I just came out very quickly and I moved forward," he said.
Dobek's bronze was Poland's first Olympic medal in the 800m and first medal in an individual running event since 1980.
"This is a historic medal for Poland at the Olympic Games. I'm very excited," Dobek said.
The Pole had only started running the 800m in 2021. "I am a new 800 runner. I switched from 400 hurdles. This was a good idea to switch the distance," he added.
Canada's Warner grabs half-way lead in Decathlon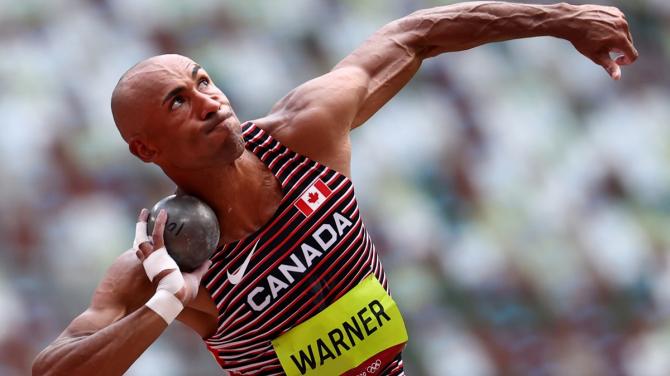 Canada's Damian Warner rode a blistering start to take the halfway lead in the Olympic decathlon on Wednesday, tying his own world record in 100 metres and bettering the Games' best in long jump.
The all-round athletics test, which covers 10 disciplines spread over two days, opened on Wednesday in sweltering conditions at the Olympic Stadium.
But the heat and humidity were no problem for the 31-year-old Warner, who got proceedings underway by equalling his own world decathlon best of 10.12 seconds in the 100m.
"It was kind of advertised that these were going to be the hottest Games ever. I am at my third Olympics, and I can verify that these are the hottest ones in which I have competed," Warner said.
Warner arrived in Tokyo as the leading decathlete in the world in 2021 after scoring 8,995 points at a meet in Gotzis, Austria in May - the fifth best in history with France's decathlon world record holder Kevin Mayer's 9,126 from 2018 topping the all-time list.
Warner soared to an incredible 8.24m in the long jump, four centimetres short off his world decathlon best but a new Olympic record in the sport.
The leap would have earned Warner a bronze medal in the men's long jump event ahead of Cuban Maykel Masso's third-place finish of 8.21.
Warner sent his shot put to a distance of 14.80m in the final event of the morning to open up a lead of close to 200 points over compatriot Pierce LePage.
But his lead was cut in relatively better conditions in the evening by Australian Ash Moloney, who topped the high jump and the 400m to climb up to second spot.
Warner totalled 4,722 points and will go into the final day with a lead of 81 over the Australian with LePage lurking in third spot on 4,529.
World champion Niklas Kaul also cleared 2.11m in the high jump but the German ended up getting injured in the 400m and needed to be carried off the track in a wheelchair.
Kaul was ruled out of the competition as was Belgium's Thomas van der Plaetsen, who suffered a serious injury on his first attempt in the long jump.
Warner managed 2.02 in the high jump and closed out his night with third spot in the 400m.
Mayer finished the day in fifth place with 4,340 points.
The participants will return on Thursday for the 110m hurdles, discus, pole vault, javelin and 1,500m.
Poland's Nowicki wins men's hammer throw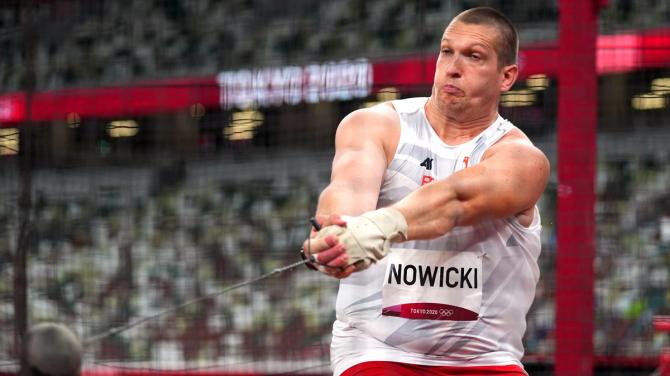 Poland's Wojciech Nowicki won the men's hammer throw with a personal best of 82.52 metres on Wednesday, while his compatriot Pawel Fajdek avoided another Olympic disappointment by picking up the bronze.
Nowicki, who finished third at the 2016 Games and has three world bronze medals, was dominant from the start with an 81.18 opener, clearing more than 80 metres on his first five rounds in a show of remarkable consistency.
"I didn't expect to win but I was very well prepared," said Nowicki, who added that it was "a dream" to share the podium with his compatriot. "I tried my best and it worked out."
Norway's Eivind Henriksen produced a national record 81.58 for silver, a performance that rendered him "just shocked."
"I really don't understand," he said. "I had a feeling I could throw 80 (metres) today, but I had no idea I had 81 and a half in me."
With the year's best throw of 82.98 metres and the last four World Championships titles, Fajdek had seemed an obvious frontrunner in Tokyo.
But his two previous Olympics were memorable for all the wrong reasons, as he failed to make it past qualifying in London 2012 after fouling his first three throws and had a best throw of 72 metres in Rio 2016.
After four underwhelming attempts on Wednesday, he produced enough power for the podium with 81.53.
"For me this bronze medal is like a gold," he said.
"Everyone knows what happened in London and Rio but now everything has changed. Now I am an Olympic medallist, my mind will be free."
He added he planned to spend next year chasing Yuriy Sedykh's 35-year-old world record of 86.74.
The results added to Poland's medal run, after Anita Wlodarczyk won a historic third straight Olympic gold in the women's hammer on Tuesday and Malwina Kopron took the bronze.