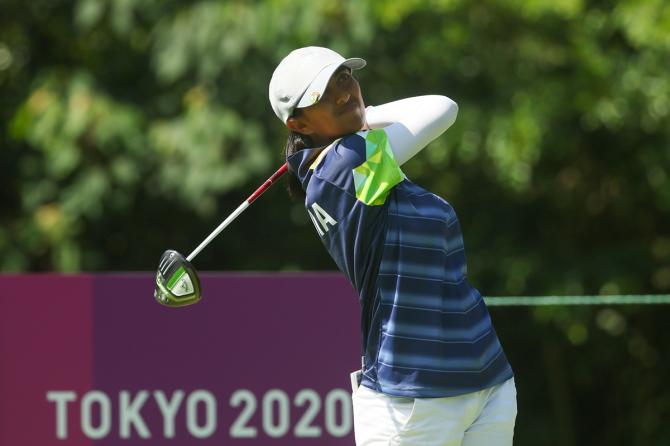 A medal proved elusive, but India's women's hockey team earned the plaudits after a superb showing before going down 3-4 to Rio Games gold medallists Great Britain in the bronze medal play-off and finishing fourth at the Tokyo Olympics on Friday.
Star wrestler Bajrang Punia also disappointed after losing in the semi-finals.
However, 23-year-old Aditi Ashok raised hopes of a medal in golf after placing sole second on the leaderboard, carding a three-under 68 in the third round.
She fired five birdies and two bogeys on the day. She was three-under after picking up shots on the fourth, sixth and seventh holes before bogeys on ninth and 11th pulled her back. She made amends with birdies on the 15th and 17th to keep herself in the hunt.
With a storm forecast for the next two days, there is every possibility that she may just clinch a first Olympics medal in golf for India if she holds on or play does not resume because of the bad weather.
Here's how the country's athletes fared at the Games on Friday, August 6.
ATHLETICS
Priyanka Goswami and Bhawna Jat finished 17th and 32nd respectively in the women's 20km race walk event.
Gurpreet Singh did not finish the men's 50km race walk event.
India's team of Muhammed Anas Yahiya, Tom Noah Nirmal, Rajiv Arokia and Amoj Jacob finished fourth in Heat 2 and ninth overall in men's 4x400 relay race; failed to qualify for final.
GOLF
Aditi Ashok and Diksha Dagar at second and tied 51st respectively at the end of women's Individual stroke play Round 3.
HOCKEY
India lost to Great Britain 3-4 in women's bronze medal play-off match.
WRESTLING
Bajrang Punia beat Kyrgyzstan's Ernazar Akmataliev 3-3 (after high scoring move, a two-pointer take down) in opening round; beat Iran's Morteza Cheka Ghiasi 2-1 in quarter-finals; lost to Azerbaijan's Haji Aliyev 5-12 in semi-finals of men's 65kg Freestyle event; will play for the bronze medal on Saturday.
Seema Bisla lost to Tunisia's Sarra Hamdi 1-3 in first round of women's 50kg Freestyle event.