The double Olympic medallist is looking forward to better results this year following her first round exit from the Malaysian Open.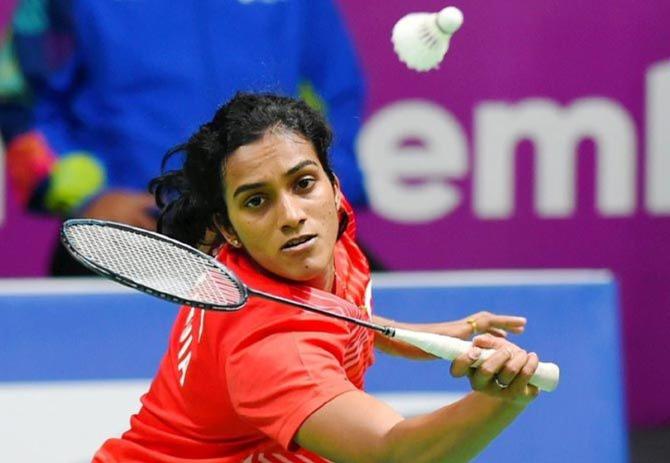 PV Sindhu's comeback from a five-month injury layoff ended in a first-round defeat to nemesis Carolina Marin. Mindful of her long absence from the court, coach Park Tae-sang shared an emotional post after the loss.
On Monday, the double Olympic medallist acknowledged the support she received from the foreign coach after the reverse in the Malaysia Open, saying making a comeback itself is difficult after an injury.
"Returned after 5 months. And unfortunate results. Everyone, her lack (of success) is my fault as a coach. We will prepare for the Indian Open in Delhi next week. Please encourage @pvsindhu1 rather than reprimand. I'll try harder," the coach wrote on Instagram.
Asked about the post, Sindhu said, "After the injury, comeback itself is a hard thing. My coach put up (out) his feeling because for the last five months we haven't played. But we have to be happy that we attempted to play against Marin after the injury. I hope there will be good days."
As far as head-to-head goes, this was Sindhu's 10th defeat to Marin, who also prevailed over the Indian ace in the final of the 2016 Rio Olympics.
On a comeback trail, Sindhu said she is satisfied with her recovery and hoped to display her new skills at the India Open Super 750 tournament, beginning in New Delhi on Tuesday.
Sindhu had sustained a stress fracture on her left ankle on way to her Commonwealth Games gold in August last year. She suffered a narrow defeat against Marin in Kuala Lumpur last week.
"I have been on a break for 5 months, so when I was back in January, playing in Malaysia, I was happy to be back on court," Sindhu told PTI on the eve of the India Open tournament.
"In Malaysia, I was happy I could play my best against Marin. Overall, I was satisfied with my game. To play at a certain level, to get up there and play at that level after returning from injury is not easy. Winning and losing is part and parcel but you have to be satisfied."
In the first round, former champion Sindhu will be up against Thailand's Supanida Katethong, an opponent she had lost to in the last edition.
"I am playing Supanida, you can't take her easy. I have played her a few times, and I have lost to her at India Open last time, so it is not going to be easy. Hope this time it will be the other way round.
"Every match will be harder for me as all top players will be here, so every round will be tough. I can't say I will win it but I will give my best.
"It is going to be exciting with lot of crowd this time. I remember playing amid the home crowd, it is a different feeling."
Sindhu, who claimed a silver and bronze in the last two editions, will be embarking on yet another pre-Olympic year.
"It is already 2023. It is also an Olympic qualification year, there will be lots of tournament, so we will have to plan things, which event to play and which not to. Each tournament will be important for me."