"How does it feel
How does it feel
To be without a home
Like a complete unknown
Like a rolling stone..."
Bob Dylan's immortal words in the song 'Like a Rolling Stone'.
Shooter Whitly Loper is surely not an unknown anymore. She was five years old when it began to dawn on her that she was different from other children because she kept bumping into walls and doors.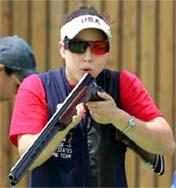 Diagnosed with a hereditary vision disorder that left the American sharpshooter blind in her right eye from birth, Loper did not let that the setback stop her and came within one successful shot of winning a bronze medal in trap shooting -- at age 17.
Loper, who finished fourth after a thrilling challenge for the first U.S. Olympic shooting medal of the Games, has won her greatest battle and made us all realise the true power of sport and the Olympic Spirit.
The irrepressible high school student from Indian Springs, Alabama is right-handed but learned how to shoot, with ample encouragement from her father, left-handed. She began shooting a kids' gun at a frisbee thrown by her father at the age of eight.
Loper was outshining the world's best trap shooters on Monday with a perfect 13 for 13 in the final round but then stuttered only to find that the bronze slipped from her grasp.
Australia's Suzanne Balogh claimed the gold medal in the event but Loper was as much a victor as any of the gold medallists at this Olympics.
Whitly Loper is our Olympian of the day.
Yesterday's Olympian of the day: Japan's Rising Son